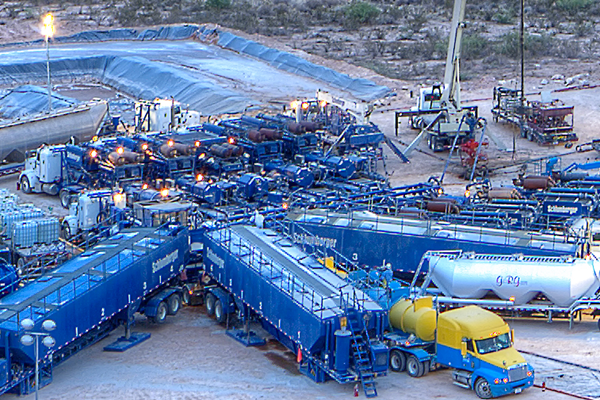 A common challenge in maintaining equipment used in hydraulic fracturing operations is eliminating and preventing leaks of hazardous and non-hazardous fluids. Equipment such as blenders, hydration units, and missiles contain several flange adapters, each having welds and threads. The costs of safety, environmental, and maintenance continue to increase as the equipment is used in this demanding service.
Companies require more efficient and low cost systems, and the performance of their hydraulic fracturing service is critical to their long-term success. They are looking for solutions to resolve their challenges.
Product Facts
Flange adapters are used in many hydraulic fracturing applications to transfer water-based fluids including brine, chemicals, acids, sand slurries, and produced water.
Depending on the configuration, there are 1 - 4 welds and/or threads in a traditional steel fabricated flange adapter.
3 Reasons: No Welds, No Threads, No Leaks Solution
In response to this challenge Dixon developed a performance line of flange adapters with no welds or pipe threads to fail. These one-piece adapters are designed for the numerous low pressure manifold applications used in hydraulic fracturing operations. The design process started by utilizing Dixon's iron and steel manufacturing technologies to create various 4" flange by hammer union and flange by butt-weld connections offerings and has evolved based on customer demand.
Learn more about Dixon's Boss Low Pressure System products.
For more information on how we can help you save time and money in your hydraulic fracturing operations email sales@dixonvalve.com. Remember, no welds, no threads, and no leaks!