Overfill prevention should be a top focus in liquid transfer applications. Obviously, the risks of an overfill vary considerably depending on the media, but any overfill costs money and effort to clean up, especially when nearby equipment is in danger of being damaged.
Rail car, tank truck, and storage tank overfill prevention is necessary if these vessels contain liquids such as hazardous or costly chemicals, or petroleum products. Employees and the general public's health and safety are jeopardized, not to mention the financial costs associated with material clean-up costs plus the high cost of non-conformance fines. It is well worth the expense to implement an overfill protection system. Nobody wants to be the cause of a catastrophic mistake, but there is more to it than that. Companies that use a management system to prevent overfills may also see improvements in their day-to-day operating efficiency.

Liquid terminal operations are closely monitored to ensure that the appropriate equipment and procedures are in place. Whether you are transferring materials from rail cars, tank trucks, or storage tanks, Dixon has your overfill protection needs covered with our system-based approach.

Dixon ADS overfill protection systems span a wide range of liquid transfer and dry bulk processes, that include:
Petroleum products: gasoline, diesel, kerosene, and jet fuel
Biodiesel
Water-based products
Water/petroleum waste
Ether
Esters
Surfactants
Sulfuric acid
Amines
Molten sulfur
Sodium hydroxide
Methyl diphenyl diisocyanate (MDI)
Vinyl chloride monomer
Alcohol and methanol
Brine
Salt
Plastic pellets
Flour
Dixon ADS Products
A100 Outalarm® with Probe:
The ADS A100 Outalarm with a probe is specifically designed for liquid terminal operation, providing batch loading and overfill protection on rail cars and tank trucks, and is suitable for open and closed domes. Also, custom designs are available to meet your specific application.

Features:
Self-contained; no wires, tubing, or external power
Rugged weather-and corrosion-resistant construction
No moving parts, tip sensitive phase shift digital capacitance sensor for conductive and non-conductive liquid; conductivity sensor available for conductive liquids
Requires no calibration or adjustment
High-intensity audible and flashing visual outputs
Optional optoisolated solid-state contact output
Full, hard, graduated, laser-engraved rod
A100 operates up to 2,500 hours on a single 9V alkaline battery in standby mode
Adjustable insertion length through a standard 1/2" NPT fitting
Fail-safe, continuous battery monitor goes to alarm state on low battery
Approvals:
Intrinsically safe design per ANSI/UL 913 for Class I, Div I Groups A, B, C, and D Hazardous Areas
A210 ADS Spillguard® System:
The A210 ADS Spillguard is a shutdown and alarm system designed for rail cars, tank trucks, barges, and ships that are also suitable for open and closed domes.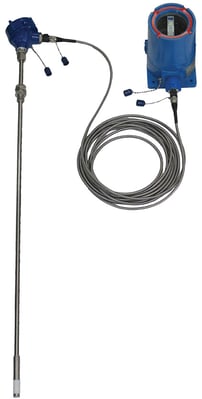 Features:
Rugged, explosion-proof, weather-, chemical-, and corrosion-resistant
LED status lights are visible through a glass cover
Inserts into the tank through standard 1/2" NPT fitting
The probe can be portable or permanently installed in the vessel
Laser-engraved graduated rod with 1/4" graduations
Probe-to-controller cable protected by stainless steel interlocking armor sheath and heavy-duty latching connectors at both ends
Fail-safe design, unit trips in the event of an open or shorted cable or loss of power
Choice of capacitance, conductivity, or single-point ultrasonic sensors
Input power: 120 VAC, 240 VAC, or 24 VDC, 2.5 watts
Output relay de-energizes on high level, broken or shorted sensor cables, or loss of power
Sensor excitation open circuit voltage 8 VDC, short circuit current 8 mA with built-in FM-approved barrier
Optional self-test feature, tilt, and ground verification interlocks, and latching circuit available
Approvals:
Cable connectors designed for repeated mating meet IP 65 mechanical and

environmental specifications
FM, CSA HAZ Loc Class I Div I, Groups B, C, D, enclosure, and barrier components.
ADS Spillguard Probes:

A200-Series
ADS Spillguard Capacitance Probes
For use with materials with dielectric constant > 1.8; liquids, powders, and slurries.
Features:
1/2" NPT sliding fitting standard, 3/4" fitting optional
Open dome adapter and washout fitting available
Tilt sensor optional
ADS Spillguard Conductivity Probes
For use with conductive liquids such as acids and water-based mixtures.
Features:
1/2" NPT sliding fitting standard, 3/4" fitting optional
50 PSIG, 150 PSIG, or 300 PSIG fittings available
Open dome adapter and washout fitting available
Tilt sensor option
Single electrode protected in housing
Dual electrodes are exposed for easy cleaning

ADS Outage Gauges:
ADS Outage Gauges are used to set level fill points for manual/visual control. They also measure outage requirements on mobile tanks.
Feature: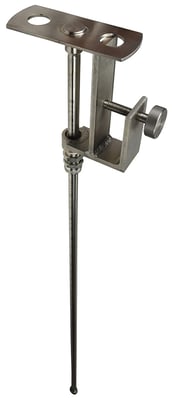 Standard Outage Gauge

Outage Gauge with J bar
Dixon manufactures and supplies industry-leading overfill protection packages and accessories to support your liquid transfer needs. Here at Dixon, our customer's safety and well-being are one of our top priorities. We have sales professionals who can help you select the right product for your application, backed by our 24x7 technical support team. If you enjoyed this blog post, please share it with your colleagues.
If you have questions or want to learn more about Dixon ADS products and accessories, please contact a specialist at 513.874.8499 or visit dixonvalve.com.