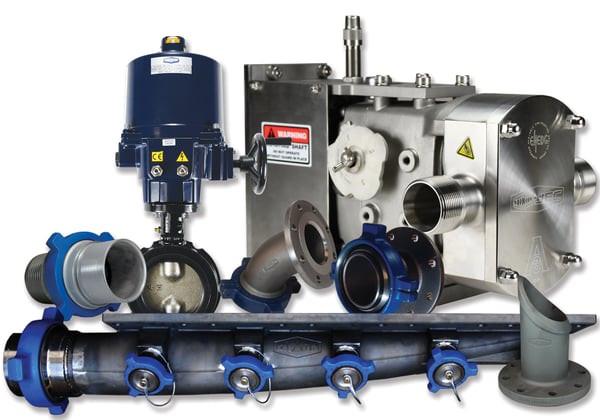 The Bakken Region, home to one of the largest contiguous deposits of oil and natural gas in North America, is no stranger to extreme weather, easily dropping to sub-zero temperatures in winter and rising to over 100°F in the summer.
But even more significant than the extremes is the fast fluctuation of temperature, often swinging from -20°F to 40°F in less than a day. In January of 1943, for example, Spearfish, South Dakota, experienced a 49-degree increase in temperature in only two minutes, crashing back down to where it started 27 minutes later. And on February 13 of just last year, Fort Belknap, Montana, experienced a temperature flux of 82 degrees between its morning low and afternoon high.
"Thermal cycling can wreak havoc on any connection, especially with the large temperature gradients that can exist between the internal product and external climate," says Marty Rodriguez, VP of Engineering for the Boss Division. "We develop one-piece castings for items that are typically fabricated as weldments. We design our parts to eliminate as many weld seams and connections as possible. They get cold temperature tested and rated for -20°F to capture those extreme conditions." Temperature variations like these demand incredible strength, flexibility, and durability from machines, parts, and people—including those in the hydraulic fracturing industry.
Crimping a hose with the right amount of force is difficult because extreme weather conditions can cause major dimensional changes through thermal expansion and contraction—too tight and the hose is damaged, too loose and the hose can leak, which may cause an environmental issue and equipment downtime.
One way to mitigate this risk is by offering a wide array of sleeves and ferrules. This allows end users to produce the perfect crimp on nearly any hose, based on its OD. A consistent, machined pattern of serrations when matched with the right-sized sleeve or ferrule makes this coupling very easy to assemble and creates an ideal and reliable seal. "Dixon has done a very good job of simplifying the process," says James Henderson, energy market specialist.
Another challenge in the Bakken Region is extending the lifespan of couplings that undergo constant abusive wear from abrasive slurries. As the sand slurries are pumped from the blender to the missile to the pressure pumper the fittings and connections are sandblasted and seams are prematurely eaten away. "So, again, we've removed as many weld seams as we can," says Henderson. "When we came to market with our Boss LPS products, our goal was to provide low-pressure, one-piece weld and flange adapters to replace fabricated flange adapters that are traditionally welded together."
Extending the life of equipment with single-cast fittings, offering a wide selection of sleeves and ferrules that alleviate the dimensional challenges caused by extreme temperatures and also protect against leaks saves valuable production time and the cost of maintenance. "Hoses and fittings are part of every process in hydraulic fracturing, and Dixon products will outperform traditional components based on our design and engineering," says Henderson. "We make it our mission to deliver no welds, no threads, and no leaks, by eliminating as many weld seams and threads as possible at every step of the process."
See our product solutions here. Do you have questions about your specific application? We're here to help,