The chlor-alkali industry is broken down into three distinct business types. Each has its own set of data, including incident reports and market tracking.
Producers are facilities that produce, ship, sell, or use chlorine internally when creating other products.
Sodium hypochlorite manufacturers produce sodium hypochlorite by using chlorine that was produced outside of the facility.
Packagers receive chlorine in bulk. Their task is to package the product into smaller containers for sale.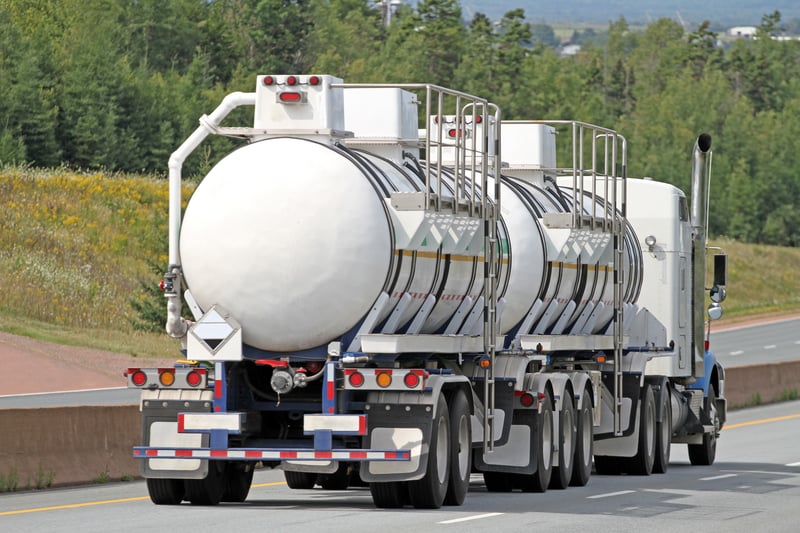 Photo courtesy of iStock/kozmoat98
Semi-tanker truck traveling the highway with chemical cargo stock.
The Chlorine Institute publishes monthly statistics and production reports on producers and sodium hypochlorite manufacturers, which are available by online subscription. Euro Chlor has a similar program available for those interested in the European market.
A wide range of industries—from pharmaceuticals to water treatment, to crop protection—depend on the chlor-alkali process, making it difficult to truly value the scope and power of the industry. A 2016 economic study found that chlor-alkali chemistry saved consumers in the U.S. and Canada more than
$421.5 billion annually. (4) For example, there are available alternatives to the chlor-alkali water treatment process, but many of these technologies require new systems to be constructed and the increase in cost would be passed on to consumers.
A Few Major Producers
The United States is home to several of the world's top producers, including(5):
• Axiall Corporation, A Westlake Company, Houston, TX
• Occidental Chemical Corporation, Houston, TX
• Olin Corporation, Clayton, MO

Outside of the U.S., some of the biggest producers are:
• AkzoNobel, Amsterdam, Netherlands
• Tata Chemicals, Mumbai, India
• Solvay S.A., Brussels, Belgium


Regulations and Safety
Because the chlor-alkali industry deals with some hazardous chemicals, producers, packagers, and manufacturers follow market regulations created and enforced by governing entities.
Producers, Packagers, and Sodium Hypochlorite Manufacturers
The official governing agencies for plants, producers, packagers, and manufacturers in America are the Occupational Safety and Health Administration, the Environmental Protection Agency, and occasionally the Food and Drug Administration. Chlorine process plants in the U.S. generally look to the Chlorine Institute's informational pamphlets for compliance, which list preferred materials, construction features,
and recommended safety guidelines.
Transporting
Because chlorine can be transported by boat, truck, pipe, or rail, transporting is regulated by a host of governing agencies in North America. These agencies include The U.S. Department of Transportation,
the Federal Railroad Administration, the American Association of Railroads, and the Pipeline and Hazardous Materials Safety Administration (PHMSA).
In Europe, the majority of chlorine is moved by pipeline, with rail and road amounting to little more than 5% of transportation. In contrast, more than two-thirds of American chlorine is used in the same manufacturing plant where it was produced—no need to transport it at all. Roughly 21% of liquefied
chlorine is transported by truck, rail, or barge. (8) There are about 22 miles of chlorine pipeline being regulated by PHMSA.
Transportation Challenges
In comparison with other hazardous chemicals, the incident rate for rail transportation of chlorine is low. In 2016, chlorine made up only 0.87% of all hazardous materials rail incidents. (9) There have been
occasional train collisions and equipment failures that have resulted in chlorine exposure. In 2002, for example, a transfer hose ruptured, releasing 48,000 pounds of chlorine into the surrounding environment.
In 2016, a rail tank car ruptured, releasing 178,400 pounds of chlorine and prompting an investigation by the National Transportation Safety Board. Their inquiry concluded in February 2019, resulting in new safety recommendations for chlorine transport. These recommendations include prohibiting the use of tank cars not constructed of steel that meets the highest available fracture toughness specifications when transporting hazardous materials, as well as stricter maintenance guidelines. (10)
Dixon, A Transportation Ally
Dixon has provided the chemical processing industry with reliable, high-quality connections for various chemical needs for decades, and the chlor-alkali industry is no exception. Dixon's angle valve for chlorine rail cars has been trusted on North American railways for more than 15 years making it an ideal choice
for the industry. Its bellow sealed valve helps eliminate unwanted emissions, preventing waste and harmful atmospheric conditions.
This blog post was excerpted from the Chlor-Alkali: State of the Market 2020 whitepaper.
If you'd like to speak with a specialist about your application or questions,
Sources:
https://www.phmsa.dot.gov/sites/phmsa.dot.gov/files/docs/news/55526/study-nonpetroleumhazardous-liquids-transported-pipeline-july-13-2015.pdf