The Dixon Innovation Center in Chestertown, MD is one of the few places in the world where research on products and systems for cryogenic service is happening. A specially designed cryogenic workstation at the Center allows for R&D testing and repair in environments that replicate those encountered "real-life" in the field. The workstation uses liquid nitrogen to test product designs – a substance that is even colder than liquefied natural gas.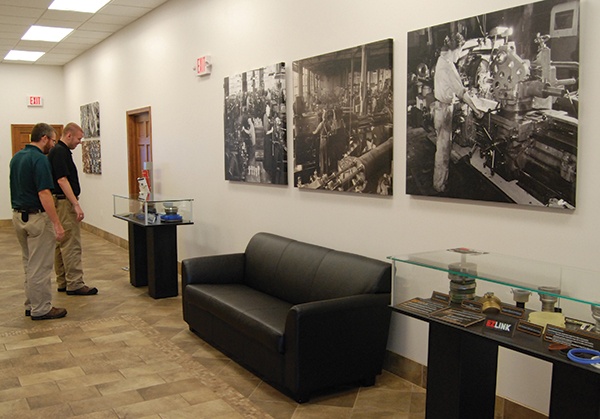 Engineers at the Center are committed to providing more than "standard" product solutions. It begins with carefully studying products already in use in the field – then using that knowledge to create new products that are practical in their application and that often possess unique performance characteristics.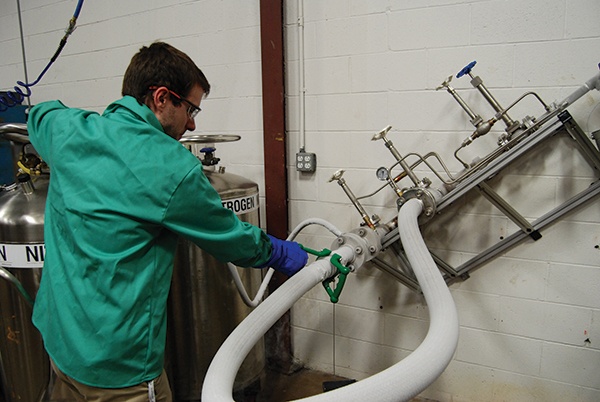 Cryogenic product development can't be rushed, as each aspect of materials selection, sealing functionality, surface finishes, cycle testing and other key performance factors are developed. Working in concert with ISO specifications, ASTM specifications and other outside specs that pertain to cryogenics, Dixon's own specs are developed – and these can be more stringent. It's part of the commitment Dixon has made to perform and control all key steps in the development process for cryogenic products: designing, testing and fabricating.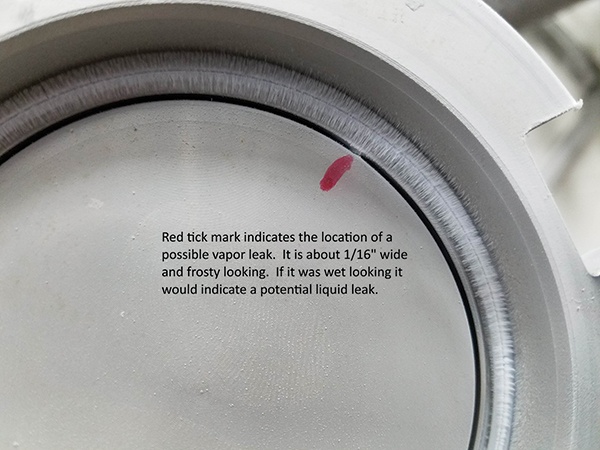 Above: The cryogenic workstation at the Dixon Innovation Center enables design engineers to test and evaluate products, as in this example of checking a product prototype for a potential vapor leak.
The Dixon Innovation Center also offers cryogenic design workshops and classes for engineers and operators, led by leading technical specialists. Customers, fellow manufacturers, and key end-user personnel from entities like shipping companies and port facilities are also welcomed to the Center to consult with Dixon engineers in evaluating and designing products and systems that will meet their specific requirements.
Dixon's engineering expertise goes beyond developing products. The company is also being tapped by the American Society of Testing and Measurement (ASTM) in its endeavors to establish specifications for LNG bunkering systems. Those specifications are currently under development by the F25 Committee on Ships and Marine Technology's LNG working group. Dixon specialists serve on the U.S. Coast Guard's Chemical Transportation Advisory Committee (CTAC) Sub-Committee on LNG, which is working in concert with the Coast Guard to identify gaps in existing policies and regulation that pertain to the design of LNG vessels, and to develop criteria to fill those gaps.
To learn more about meeting the challenges of designing, testing and commercializing new product solutions for LNG and other fast-growing cryogenic operations: