When you purchase a car, you do so with confidence knowing all of the components were tested and met the required safety and technical standards. While we may not think about the importance of testing hoses and fittings before use, the same principle applies.
Product testing proves the reliability of a product and provides insight into what a product can endure. Through testing, the manufacturer and user can be assured a product will do what it was designed to do and that it can handle the task repeatedly even outside of ideal conditions.
The importance of product testing cannot be understated, which is why Dixon offers testing services.
Overview
Not only does Dixon test manufactured products before they go to market, but products for distributors are also tested. Testing services have been offered since the 1980s. The tests are conducted at the Innovation Center Test Lab in Chestertown, Maryland.

Dixon's testing services are offered for quality assurance. Testing confirms that hose assemblies are constructed properly and operate according to product specifications and industry standards.
Innovation Center Testing Services
Dixon offers a variety of testing services to meet a wide range of needs. At the Innovation Center Test Lab, these tests include hydrostatic testing, cycle testing, pull/axial force testing, steam testing, air/gas testing, and environmental chamber testing.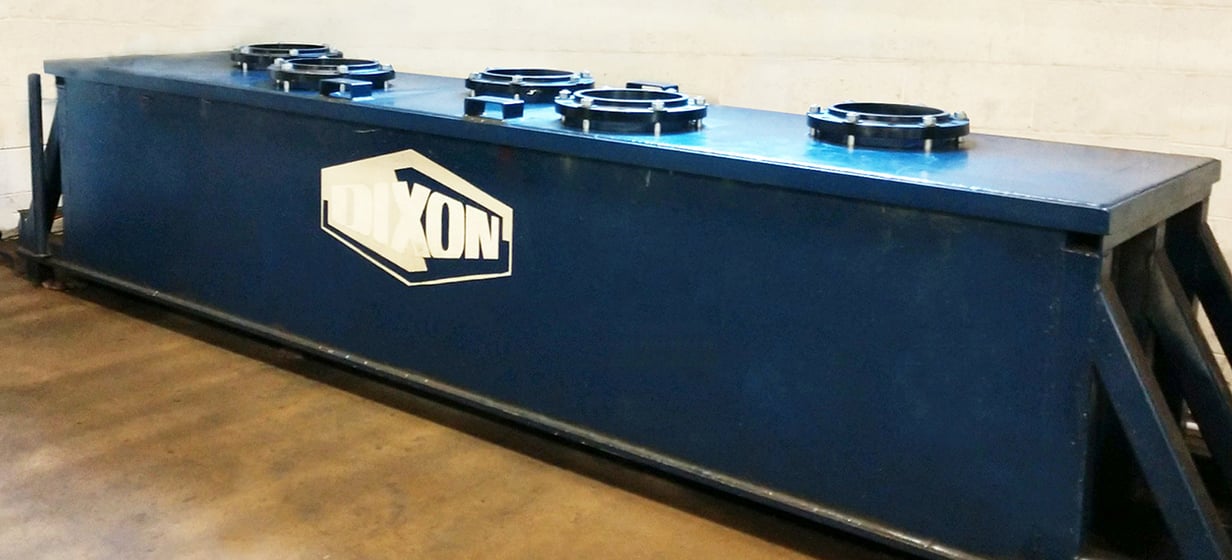 Hydrostatic Testing
Hydrostatic testing is a water-pressure test to confirm the strength of an assembly and demonstrate the absence of leaks. The test requires a hand pump or a power-driven hydraulic pump. All trapped air is released from the hose. Then, the hose is filled with water. The pressure is raised and held at the desired pressure, typically 1-1/2 times the working pressure. The maximum pressure available for a hydrostatic test at Dixon is 15,000 PSI.

The assembly is tested for a certain amount of time specified by the customer. The typical range is 1-5 minutes. A visual inspection is performed to determine if the assembly passes or fails the test. Signs of failure include weeping, which is indicated by drips, excessive elongation of the hose, poor barb retention, and bubbling in the cover. The most obvious sign of failure, however, is if the hose bursts.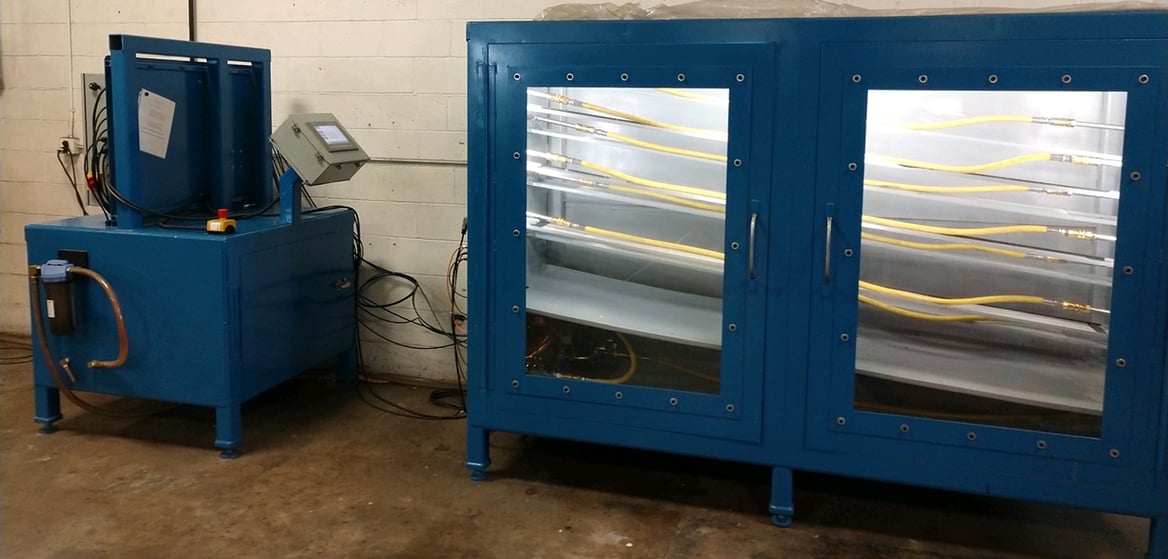 Cycle Testing
Cycle testing is used to look at the integrity of hose assembly components when exposed to cyclic loading. The test involves the repeated pressurization of a hose to maximum pressure. Pressure is built up, held for a set time, released, and held for another set time. This is repeated for a specified number of cycles. At Dixon's Innovation Center, the maximum pressure setting for cycle testing is 600 PSI.

Pull/Axial Force Testing
Pull/axial force testing looks at the ability of a hose to withstand linear pressure as it is elongated. The setup pulls the sample along the centerline of the hose assembly, generally using specifically designed NPT threaded caps with eye bolts. A proper hose assembly should have the elasticity to elongate and return to normal without any stretching or breaking. With this test, the sample is pulled until failure occurs to measure the load capacity of the hose. Dixon's pull/axial force testing has a maximum load capacity of 50,000 pounds.

Steam Testing
Steam testing is conducted to prove Dixon's Crimp Boss® steam fittings are capable of withstanding steam service. To conduct the test, samples are exposed to steam for an extended period of time with daily breaks. The test assesses the assembly's ability to hold pressure after steam exposure. The maximum pressure for Dixon's steam testing is 200 PSI, and the maximum temperature is 390°F (199°C).

Air/Gas Testing
Air/gas testing identifies leaks that may not appear as easily with a standard hydrostatic test. Shop air or nitrogen gas from canisters is used to pressurize the sample. Then, it is submerged underwater and monitored for the appearance of bubbles, which indicates a leak of air/gas. The maximum nitrogen pressure for air/gas testing at Dixon's Innovation Center is 1,000 PSI.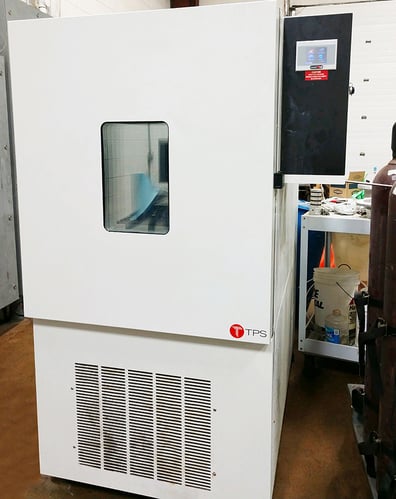 Environmental Chamber Testing
An environmental chamber is an enclosed space used to simulate the effect of various environmental conditions on a hose assembly. For example, environmental chamber testing can look at the effects of temperature or humidity on fittings and hose assemblies. The temperature range currently available for testing at the Dixon Innovation Center is -50°F to 180°F (-46°C to 82°C).

At the conclusion of every test, a complete test packet is provided to share the test summary, results, and analysis.
Testing at Dixon Divisions
In addition to the testing services offered at Dixon's Innovation Center, Dixon divisions also conduct testing.
Dixon Bayco:
Flow and pressure drop testing
Electrical functional tests
CMM inspection
Dixon Boss:
Dixon Quick Coupling:
Dixon Sanitary:
Dixon Speciality Products:
Cycle testing
Load testing
Summary
Dixon currently offers six different testing services at the Innovation Center Test Lab, as well as testing at different Dixon divisions. Each test can be adapted to meet the requirements of the specified testing parameters. Providing testing services is just another way Dixon strives to delight customers and provide high-quality products built to last.

If you are interested in any testing not described here, please let us know and we will look into providing additional test capabilities. Contact testing@dixonvalve.com or visit dixonvalve.com for more information.