There is a sign hanging at my local barbershop. It reads, "We give three kinds of haircuts here: good, fast, and cheap. If it is fast and cheap, it won't be good. If it is good and cheap, it won't be fast. And if it is good and fast, it won't be cheap."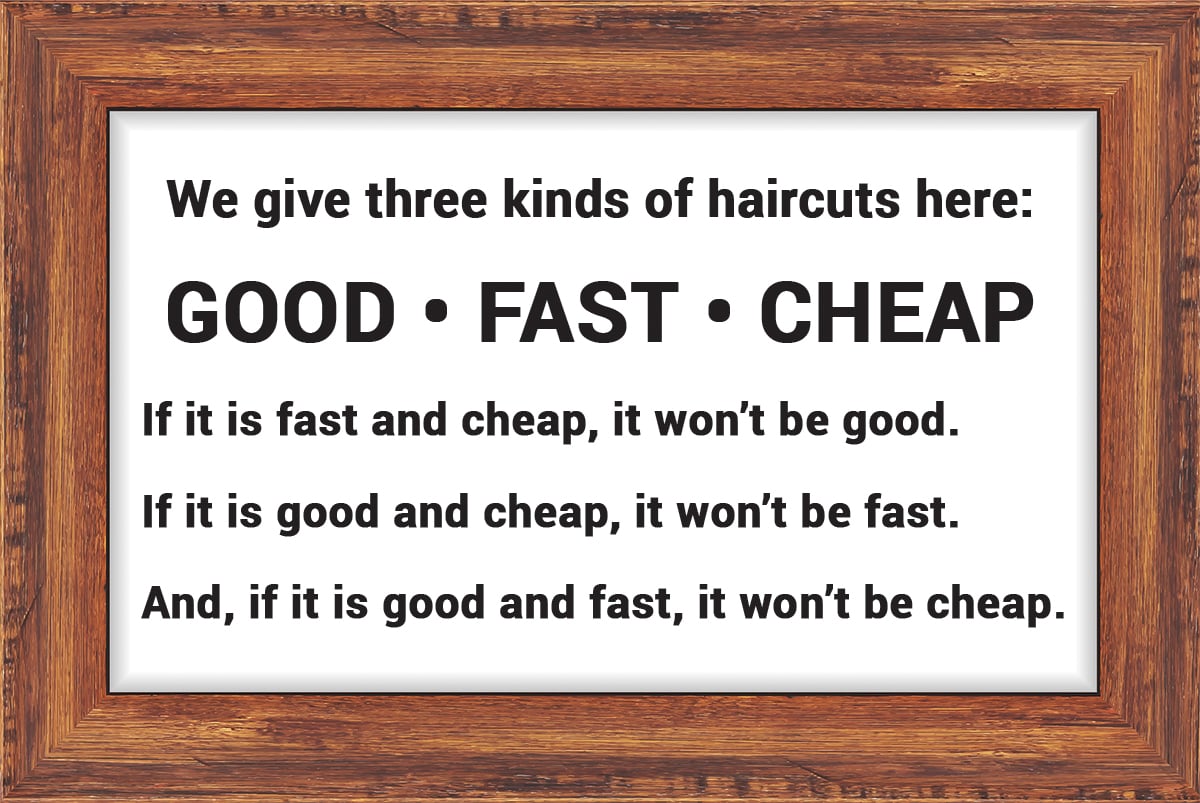 At first, it just made me chuckle to myself. But then as I re-read it, it made me think. Good, fast, and cheap are words that represent a company's value proposition. In its basic form, a value proposition is centered around price (cheap), quality (good), or service (fast). The funny sign at the barbershop carries an important message – you cannot be all things to all people. And those that claim to deliver the highest quality with the best service at the lowest price should be scrutinized. As we all know, if it sounds too good to be true, it usually is.
Successful companies often pursue a strategy that adheres to one of the three components of a value proposition. Walmart, with its "low price guarantee" has grown to be the largest retailer in the world. If you do a Google search for luxury watch brands, Rolex comes up every time (quality), and Amazon has raised the bar for all companies with its free shipping and fast deliveries (service). We rarely shop at Walmart for luxury brands. We don't wait for Rolex watches to go on sale. Amazon makes it easy to do business, but it does not promise to always have the lowest prices or luxury brands. In most cases, a company can be identified as a price, quality, or service-focused company.
But as I learned at the barbershop, it is possible to pursue two of the three components of a value proposition. It may be nearly impossible to combine the highest quality with the lowest price, but some companies have been able to combine unique strengths in the combination of service and price, or service and quality. Two companies come to mind. Chick-Fil-A® is a successful fast-food restaurant. You often see lines stretching around the store waiting for drive-through service while a competitor's parking lot sits idle across the street. Why is that? Many customers would tell you it is because of the quality of the food. Chick-Fil-A chicken sandwiches taste better than the competition. Others prefer going to Chick-Fil-A because of the service. We all have been let down by the service we receive at fast-food restaurants, but Chick-Fil-A's employees are well-trained and eager to help. The result is long lines and happy customers that don't mind paying 25-30% more than a similar meal at a competitor's restaurant. Southwest® airlines advertised "peanut fares" years ago, promising to make flying affordable for everyone. The no-frills airline used low prices as the hook to entice new customers to fly with them. Southwest now enjoys loyalty not just from middle-class Americans that want to visit family or friends across the country but also from business travelers, people who can and would spend more to travel, but enjoy how convenient and even fun it is to fly Southwest.
Chick-Fil-A and Southwest airlines are considered "best in class" in their respective spaces, as voted on by the most important judges – their customers! Maybe there is a lesson to be learned about passionately pursuing your value proposition in one area, but then adding service to it? I would argue that Southwest used low prices to get their customers to try them, but they used a service model to create loyalty. The same goes for Chick-Fil-A. They created a great-tasting chicken sandwich to pull their customer base in, but then made the experience at their restaurant memorable, which created not only loyal customers but true advocates that ultimately became unofficial sales team members for Chick-Fil-A!
I have personal experience with becoming an advocate for a company after a memorable customer service experience. My wife Deeann and I are parents of quadruplets. When Dee was close to giving birth, we wrote to many of the major companies that supply baby products. We were advised that they may offer discounts or coupons for their products (we knew every bit would help!). Gerber® sent us a letter back, congratulating us on our upcoming big day and asked if we would send them copies of our baby's birth certificates once they were born. We assumed Gerber wanted to make sure we were not misrepresenting ourselves, so we took the step and sent them the copies.
About three weeks later, we received a box from Gerber that was filled with coupons for free jars of baby food! It was very generous of them. But, beneath the stack of coupons were four smaller boxes, each one containing a silver spoon. When we opened those boxes, we realized that each spoon was engraved with our child's name and birthdate. Gerber found a way to personalize our customer service experience. We were so touched by the act that we made sure we supported Gerber's baby products, not just food but other accessories that Gerber sold. And we still love to tell our story to every set of expectant parents we meet, encouraging them to buy Gerber products as well.
Now that we have established the components of a value proposition and the importance of a positive and memorable customer service experience, let's turn to Dixon.
As a North American manufacturer of industrial fluid handling products, Dixon's value proposition originated with quality. For 105 years, our brand has been synonymous with the high-performing products that our customers rely on to get the job done. However, simply making great products is no guarantee of a company's success, especially in the industrial sector when many products become "commoditized" over time. We committed to an improved model at Dixon back in the 1980s that changed our position in the market and led to robust growth for our company. We added many additional accessory products to our core manufactured items. We enhanced our service model by increasing inventory and adding distribution centers around the country with the goal of next-day service to most customers. Manufacturer's reps were replaced by direct sales team members. And by the early 2000s, we formalized our value proposition to our customers.
OUR VALUE PROPOSITION
Dixon is committed to delighting our customers by being the easiest company they do business with every day.
SERVICE
Customer service that supports our customers before, during, and after the sale.
QUALITY MANUFACTURING
Innovative manufacturing that continues to build the Dixon brand recognized by our customers as "The Quality Line".
PRODUCT MIX
A broad product offering that provides our customers with market-based solutions supported by extensive customer training.
Why do our customers buy from us? When we ask them, through annual surveys, we hear a common theme: "we wish all of our suppliers were as easy to do business with as Dixon". Easy is the keyword. People shop at Walmart for the prices. They buy Rolex watches because they are of the highest quality. They order from Amazon because of the service. Dixon customers buy because we are known as "The Quality Line" by end-user customers, and often requested by name or Dixon part number. Distributor customers often buy because of our same-day shipping, next-day delivery, and friendly and knowledgeable customer service support. We try to make it easy for them. Like Chick-Fil-A and Southwest Airlines, Dixon committed to adding a service model to a value proposition centered around high-quality U.S. manufacturing. We emphasize the things that make us unique, including the product mix that allows customers the one-stop-shop convenience of ordering from a single supplier.
Whatever the unique value proposition is that a company chooses to pursue, it must be an "all-in" commitment, from the top of the organization down. Customers don't buy from companies because of the words on a value proposition statement. It's the actions that matter. Delivering high-quality, high-performing products consistently is not easy. Making it "easy" for your customers to do business with you is often anything but "easy" to execute. The best advice I can give is to listen. Listen to your customers every day, with the intention to understand from their perspective what is important to them. And then passionately pursue a strategy that is wrapped around your customer's best interests. And do not forget the lesson learned from that sign hanging at the barbershop!
If you enjoyed the article please share it with your colleagues!