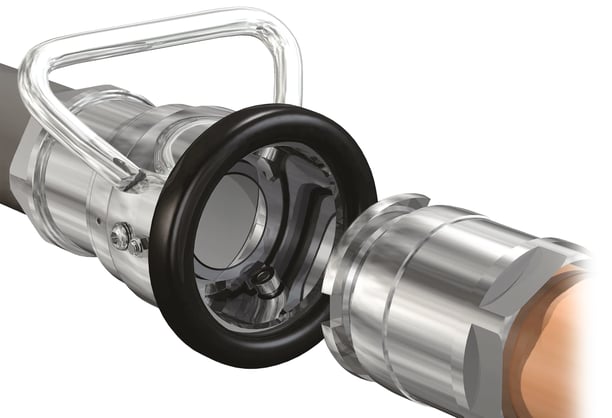 Caustic soda (sodium hydroxide) is widely used in the manufacturing of many products—including pulp and paper, soap and detergent, and mineral oils—and for metal processing and glassmaking.
Caustic soda is also dangerous to handle. It is highly reactive and highly combustible and can result in burns if it comes in contact with the skin. Thus, manufacturers and chemical plants must take every possible step to reduce the potential for spills.
With Dixon's Mann Tek Dry Disconnect system, that job has gotten a lot easier.
Case Study
Consider the recent experience of a chemical plant in Georgia, which had been receiving eight truckloads of caustic soda each month (32,000 gallons per month). With every delivery, truck drivers spilled a significant amount of the substance, leading to big headaches for the plant manager who had to devote time and money to extensive cleanup. The spills also raised safety concerns for the plant's workers.
When a new rail spur was established on the plant's property, the manager decided to switch from truck to rail delivery: Two rail cars per month would deliver 16,000 gallons of caustic soda each. But what connections would provide the safest environment for the operators working on top of the pressurized cars to offload the caustic soda?
Leak-Free Solution

Enter Dixon and the Mann Tek Dry Disconnect System—a leak-free solution. After consulting with Dixon salespeople, the plant's engineers decided on the 3" dry disconnect option, with a safety breakaway on the pipe inlet. For added safety, proximity switches were wired to an actuated valve that controlled air pressure to the rail car. That way, the caustic soda could only be offloaded if the dry disconnects were fully engaged.
The result? When connecting, and disconnecting the hoses, plant workers could operate safely, without spilling product.
By making the switch from truck to rail delivery, the plant estimates that it will save $100,000 annually in transportation costs.
To find out how Dixon's Mann Tek Dry Disconnect System can provide a leak-free solution to your needs, boosting safety and saving time and money email sales@dixonvalve.
For more information download Dixon's