In honor of Manufacturing Day, Dixon offers insight into our own history as a U.S. manufacturer. We're proud of our history and hope you'll take the time to learn something new about us!
How and why did the company start?
In 1887, with an eighth-grade education, 15-year old Howard W. Goodall ("HW") quit school to take a job as a general clerk and errand boy for Philadelphia rubber distributor Latta & Mulconroy Company. As the son of a cabinetmaker, he loved to tinker and was soon designing hose couplings and clamps as accessories to Latta & Mulconroy's hose line. He went on to later found the Goodall Rubber Company and the Knox Manufacturing Company in order to manufacture and sell hose and couplings. He was more than an astute inventor and engineer—he was a gifted salesman who recognized the importance of asking industry leaders what products they needed to do their jobs better. In an age before airplanes made travel easy, he crisscrossed the country, visiting every major construction site he could locate, identifying its hose and coupling needs, and then manufacturing the necessary products.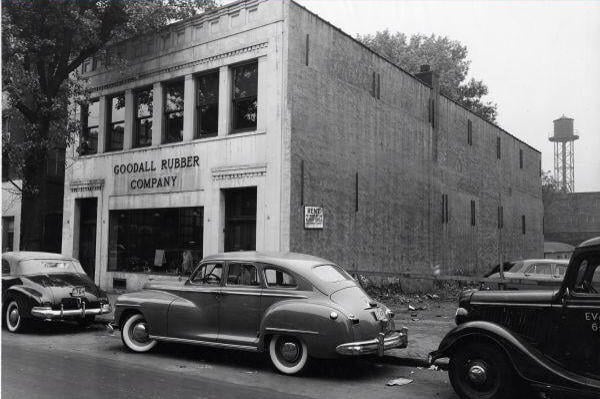 Above: The Goodall Rubber Company building.
29 years later, armed with first hand knowledge of the needs of the United States' growing mining, oil drilling, construction, and railroad industries, HW Goodall founded Dixon Valve and Coupling Co. in Philadelphia, PA, on March 21, 1916. Since then, Dixon has grown into a global company with factories and distribution centers across the U.S. and around the world.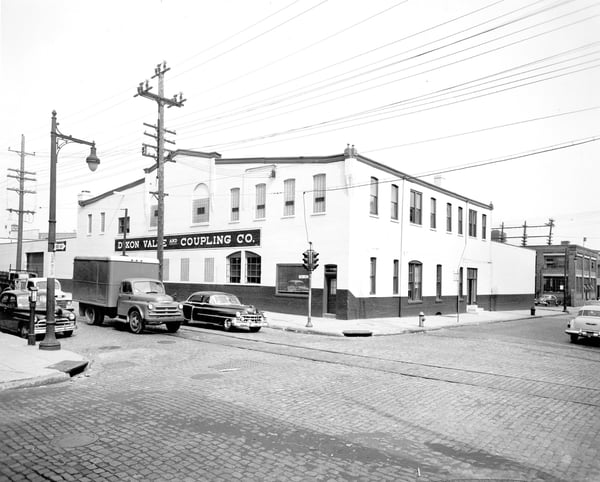 Above: The first Dixon Valve and Coupling Co. building in Philadelphia, PA.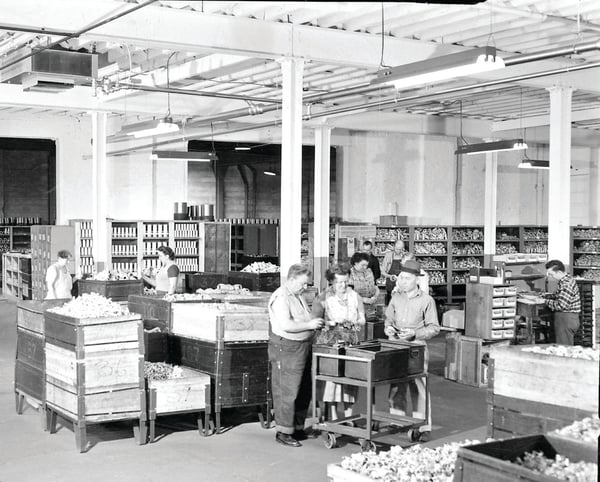 Above: Dixon Valve and Coupling Co. warehouse in Philadelphia, PA in the 1930s.
How many manufacturing facilities does Dixon have and what is manufactured in each?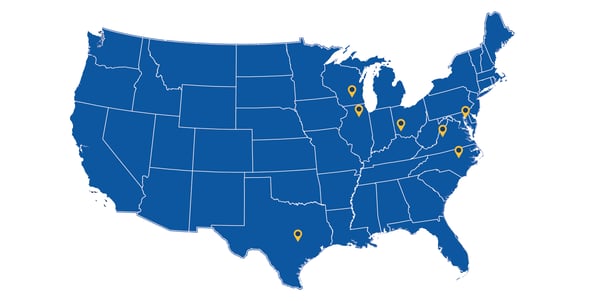 Dixon has 8 manufacturing facilities in the U.S. They include:
Dixon BOSS, Chestertown, MD and Houston, TX [hose fitting accessories and systems such as Boss™, Boss LPS™, Holedall™, Air King™, King Crimp™, and Dixon Eagle Bellows Seal Valves]
Dixon Bayco, West Chester, OH [Dixon dry disconnects, terminal rack monitors, and ADS and FloTech™ overflow detection systems]
Dixon Brass, Westmont, IL [brass hose fittings]
Dixon Fire, Winchester, VA [fire protection products]
Dixon Quick Coupling, Dallas, NC [hydraulic and pneumatic quick disconnects]
Dixon Sanitary, Pewaukee, WI [stainless steel sanitary fittings and pumps]
Dixon Specialty Products, Chestertown, MD [ball joint armored and PTFE hose assemblies, cam and groove, swivels, and loading arms]

Dixon is known for working alongside customers and end-users to design and manufacture real solutions for real challenges. Can you give an example of a few of these solutions?
Residual pressure in hot water lines causing injuries
Standard cam and groove fittings were installed on a distillery's hot water lines. While disconnecting the lines, several employees were sprayed with scalding hot water due to the residual pressure in the lines. This resulted in lost time injuries and accidents.
Dixon had previously worked with several companies facing challenges caused by residual pressure in their lines, so we offered the proven solution of our Vent-Lock­™ Safety Cam and Groove couplings. Vent-Lock™ allows safe venting of static pressure before it's disconnected. While our solution was born in the oil field, its application across many industries, including distilleries, has proven to be very effective. The distillery installed Vent-Lock™ on their hot water lines to prevent future injuries.
Leaking of hazardous and non-hazardous fluids
A common challenge in maintaining equipment used in hydraulic fracturing operations is eliminating and preventing leaks of hazardous and non-hazardous fluids. Flange adapters are used in many hydraulic fracturing applications to transfer water-based fluids including brine, chemicals, acids, sand slurries, and water produced as a byproduct. Depending on the configuration, there are 1-4 welds and/or threads in a traditional steel fabricated flange adapter.
Dixon developed a performance line of flange adapters with no welds or threads, which are the locations that typically lead to failure in the field. Utilizing time-tested iron and steel manufacturing technologies, we produced one-piece adapters for numerous low-pressure manifold applications that are used in hydraulic fracturing operations.
No Welds, No Threads, No Leaks!
Interested in related solutions? Here is a case study about our two-piece repair nut and a whitepaper about our one-piece intake manifolds.

Major safety problem with a hygienic tanker valve
As a hygienic fittings supplier, we often deal with products found inside food and beverage processing plants. The plunger-style valves currently used on dairy and food-grade bulk transport trailers have a well-documented safety issue across the industry. During valve operation, the operator's fingers can be pinched between the handle of the valve and an adjoining component, resulting in severing of the finger.
After working with and observing end-users in the field, we developed a patent-pending closure system on the DX60 series hygienic tanker outlet valve that completely eliminates the dangerous pinch point. The new DX60 closure design provides a safe work environment for drivers and terminal operators. Through this process, we learned there were also issues with seal durability and overall cleanability. So, we applied our hygienic valve design knowledge to the DX60 design to create a 3A clean-in-place certified valve with a robust seal and optimal cleanability.
How is Dixon investing in U.S. manufacturing?
We have continued our focus on automation by investing in equipment that increases our production capabilities. In addition to automation projects, the company has made numerous real property investments in the past few years that illustrate our support and commitment to U.S. manufacturing:
Opened 170,000 ft² Dixon Quick Coupling facility in Dallas, NC
Recently completed 28,800 ft² expansion of Dixon Specialty Products in Chestertown, MD
Recently opened 40,000 ft² Dixon Bayco building in West Chester, OH
Planned 100,000 ft² Boss building in Chestertown, MD in 2020
Under construction 60,000 ft² Dixon Headquarters building
Recently completed 170,000 ft² Dixon Distribution building in Chestertown, MD

150,000 ft² warehouse portion with 20,000 ft² office/training area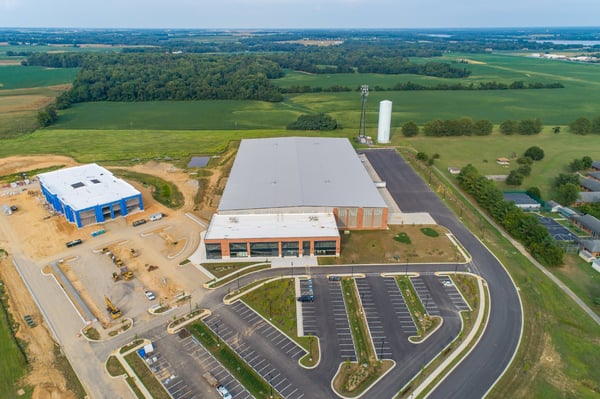 Above: The Dixon Distribution Center and construction of the new headquarters building in Chestertown, MD.


How is Dixon involved with the global community in setting ASTM standards?
Dixon has been involved in setting standards in a variety of ways over the years. Most recently one of our employees contributed to the development of the first LNG bunkering standard.
"I am the official co-sponsor and author of the first-ever bunkering standard for ASTM F25, F3312/F3312M - 18: Standard Practice for Liquefied Natural Gas (LNG) Bunkering Hose Transfer Assembly, which was published in May 2018", says Sean Andersen, Dixon Product Manager. ASTM 25 is an international marine working group that develops LNG bunkering hose and assembly specifications. To learn more about Sean's ASTM standard read our whitepaper.
As a current and active member of the F25 group, Sean reviews between 10-20 active ASTM documents and comments and votes on their approval. He also engages outside contacts and internal divisions, such as our Dixon Fire division, when reviewing documents for comments before voting. Sean is also invited to comment on ISO documents for the International Marine Organization to help formulate the U.S. delegation's vote on specifications and regulations at international meetings.
How is Dixon utilizing robotics or other advanced manufacturing?
Multiple 6-axis and Selective Compliance Assembly Robot Arm (SCARA) robots perform material handling, machine tending, and deburring across numerous manufacturing facilities. Various pallet and gantry load CNC machining centers throughout our facilities increase throughput and enable 'lights-out' machining. For high volume or specialized parts, we have many pieces of custom equipment that were designed and built to machine features or perform assembly work that would otherwise be challenging. Finally, we are always investigating new software that allows us to better monitor manufacturing processes and simulate work cells for optimization.
How does Dixon educate its workforce?
Dixon is very focused on educating and developing our workforce. With our redesigned apprenticeship course supported by the Maryland Manufacturing Extension Partnership (MD MEP), we concentrated on a competency-based training structure. We've previously written about our program here. In addition to the apprenticeship program, the company has expanded competency-based training to all levels of our manufacturing processes.

We recently launched a Youth Apprenticeship program that is approved by the Maryland Apprenticeship and Training Council. This program helps transition students into the workforce by allowing them to enroll in our Level 1 course and begin training immediately. Dixon also offers a number of internships for area high school students at our headquarters. Additionally, we work with the Maryland Business Roundtable for Education on a program called Next Generation Scholars which targets students in grades 7-11. The program allows students to learn more about Dixon and what it's like to work for a manufacturer.

An exciting addition to our education program has been Dixon University. All employee training is located in this centralized system and available to our employees around the globe. Training is assigned through the Dixon University software and employees receive credit as they work through and complete assigned courses. The apprenticeship program will be added to the university along with a library that allows employees to access and check out books in print or digital format.

In addition to the specialized product training in Dixon University, we develop insight selling playbooks for our outside sales team and review these best practices in monthly webinars. And, new sales employees are assigned a senior-level mentor and also attend customer training events like the Hose Coupling Workshops for additional hands-on product training.

By continually focusing on educating our workforce we can continue to delight our customers by providing them with real, knowledgeable solutions.
What are the top 10 markets served by Dixon products?
Dixon's products are used in many applications across numerous markets. The top market industries we currently serve include:
Oil and Gas
Transportation
Mining
Steel
Food and Beverage
Construction
Fire Protection
Chemical Processing (related to Energy-Refining)
Agriculture
Forestry
What changes do you expect to see in manufacturing in the next 5-10 years?
"The last 5-10 years have seen many advancements in manufacturing with a strong uptick in automation. The next 5-10 years is sure to see more growth in automation, robotics, and high-efficiency equipment," says Scott Jones, vice president of sales & marketing for Dixon. Additionally, expect to see the expansion of additive manufactured (3D printed) tooling and parts, new artificial intelligence (AI) used to design manufacturing systems for maximum output and efficiency, and greener manufacturing processes.
"Manufacturing is increasingly becoming more competitive and reliant on advanced technology. And we'll need a highly skilled labor pool capable of programming and running higher-tech equipment to meet this demand," says Jones.
"The world will always have the need for industrial goods, so there will always be a need to manufacture products, but how they are manufactured and where is the question. Our goal is to continue to manufacture here in the U.S. and North America as much as possible," says Taylor Goodall, president of The Dixon Group, "so we plan to continue to invest in our employees, automation, and facilities to make this possible".
Download the infographic below here.