In today's world, it seems everything needs to be done quickly. Internet speeds are faster than ever, so we can stream videos from YouTube and music from Pandora. Grocery stores are offering curbside pickup, so we can get our food faster. Amazon now has a store, Amazon Go, where customers can grab what they want and leave, without waiting in line. Time is a valuable commodity and there is a finite number of hours, minutes and seconds in a day.
In the world of construction, deadlines are tighter and penalties are increasing when deadlines aren't met. Because each job has a timeframe, efficient and safe work practices can be compromised … just to get the job done, and get it done "quickly".
Consider a specific area of the job site — the hydraulic submersible pump that pumps water out of a hole that's being excavated, and the dump trailer that hauls that dirt away. Both systems, the pump and the dump trailer, play a critical role in the efficiency and time it takes to get the job done "quickly." If either system (or a component of one system) fails, it stalls the process and creates down time.
It's worth noting that both systems share an important component, the wingstyle hydraulic quick disconnect. This threaded connection allows the pump head to be quickly connected to the power unit, and the trailer to be connected to the truck without spilling hydraulic oil.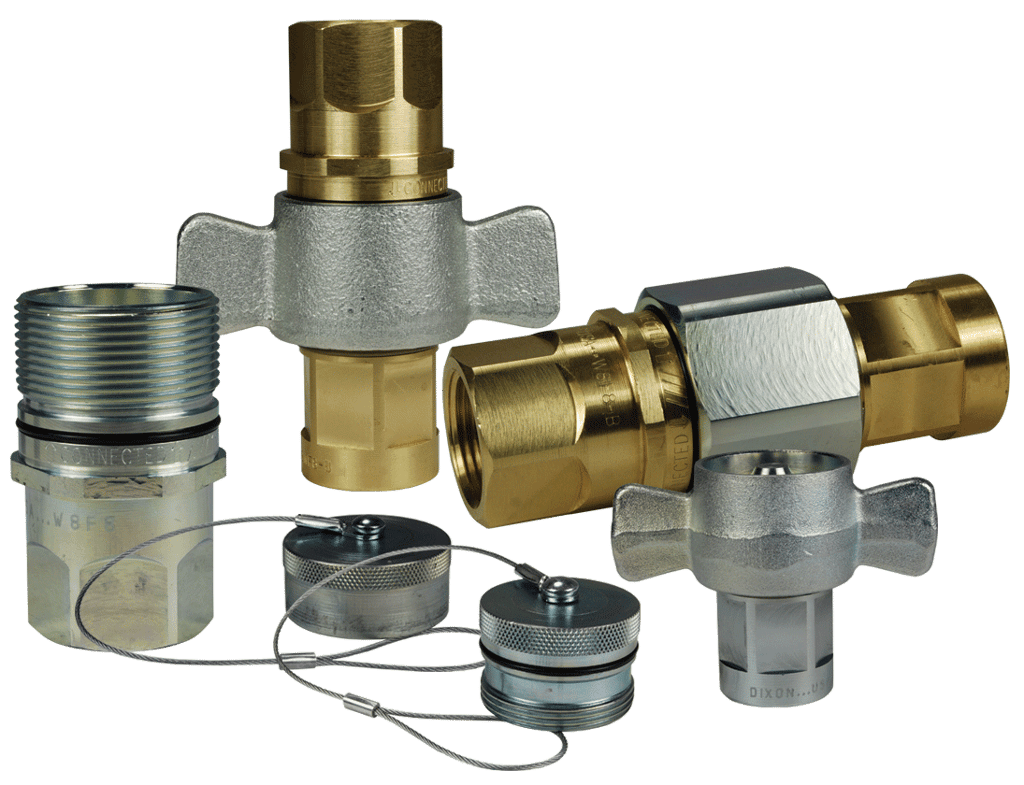 Operators of this equipment frequently run into problems of excess heat, which prematurely wears seals, cylinders and pumps and degrades the hydraulic oil. One cause of excess heat: not connecting the threaded wingstyle quick disconnect fully so that the valve can open all the way. If the valves on the quick disconnects aren't opened fully, this creates restriction and turbulence, which leads to heat in the hydraulic system. A pump manufacturer once told me, "If the customer tells me the power unit and hoses are getting really hot, the first thing I tell them to check is the wingstyle quick disconnects."
It seems simple, but how far do you go? Until it's hand-tight? Maybe a little past hand-tight? Do you need to put a wrench on it … or hit the wings with a hammer? Who knows? Just get it done quickly!
Have you thought about the time it takes to replace those leaking or damaged wingstyle quick disconnects? To do that, there are myriad questions to answer first: What body size do you have? Is the end configuration female pipe thread? Where do you get the disconnects? Do they have your size in stock? How do you put them on correctly? Most important: How long is your pump or trailer out of service, and how much hydraulic oil was spilled? Will you be able to get your job done quickly and meet your project deadline?
As a coupling manufacturer, Dixon Quick Coupling worked to solve this problem with an easy fix: a visual indicating connection O-Ring. It's simple: Thread the wing coupler onto the male plug until you can't see the O-Ring any more. That will open the valve all the way and won't contribute to any more heat for your hydraulic system.
There's an added benefit: When connected, the connection O-Ring protects the threads and coupling from dirt and debris while the pump head is pumping a sewage bypass or the truck driver is having his trailer filled with rock at a dusty quarry.
I recently had a distributor tell me he bought the wingstyle quick disconnect (W Series) from Dixon solely because his end users preferred the Connection O-Ring. "The Connection O-Ring provides the seal necessary to prevent dirt and dust from damaging the threads," he told me. As a result, "Guys aren't having to replace the couplings as often as other models."
So, when it's time to get your next job done "quickly," think about making The Right Connection with Dixon Quick Coupling.