While driving down the road it's easy to identify different types of vehicles. Cars, SUVs, and trucks are all easily distinguishable. You can even take it a step further and classify each vehicle based on make and model. But when it comes to rail cars for freight shipping, identifying the different types may not be as simple.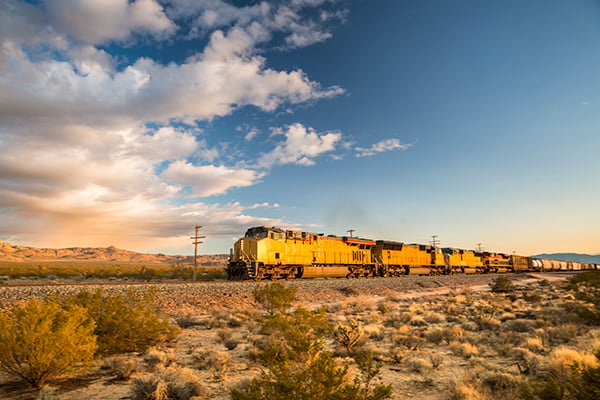 Photo courtesy of iStock/Pgiam
Freight train hauling goods travels on the tracks in the dry California desert.
Trains have been used in the U.S. for almost 200 years. In 1827, the Baltimore & Ohio Railroad was the first railroad in North America. Only 13 miles long, the railroad was chartered for the transportation of freight and passengers. By 1860, the U.S. had more than 30,000 miles of railroad. Today, there are 140,000 miles of railroad.
When shipping goods and materials by train, it is important to have the proper shipping container for efficiency and to preserve product integrity. Just like there are different types of vehicles on the road, there are different types of rail cars. Ride the rails with us as we explore the most common types of rail cars for freight shipping.
Types of Rail Cars
Boxcars
Hopper Cars
Flatcars
Tank Cars
Gondolas
Coil Cars
Refrigerator Cars
Specialty Cars
Photo courtesy of iStock/

vad_123
Boxcars
Making their debut in the 1830s, boxcars are the oldest type of rail car. They make up the majority of many trains, making them easily recognizable. As their name suggests, boxcars are similar to a box. They are rectangular in shape and enclosed with a solid roof and sliding side doors, making them ideal for transporting anything requiring protection from the weather. Boxcars range in size from 50 to 60 feet long and are a minimum of 9 feet wide. This design makes them easy to load and unload pallets and other bulk items. Some of the items transported by boxcars include, but are not limited to, packaged goods, auto parts, paper reams, canned goods, and bagged products.
Photo courtesy of iStock/

jldeines



Two hopper-style train cars used for hauling various products.
Hopper Cars
Hopper cars are divided into two categories: covered and open top. Appropriately named, covered hopper cars have an air-tight roof while open-top hopper cars do not. Before hopper cars, bulk commodities were transported in boxcars. While this method worked, the use of hopper cars simplifies the loading and unloading process. Hopper cars are loaded from the top and then gravity works to unload the commodities using the opening in the bottom of the rail car.
Bulk commodities unaffected by weather, such as coal, sand, and wood chips, are transported by open-top hopper cars. Sugar, rice, corn, and other dry commodities are transported by covered hoppers to eliminate exposure to the elements. Fun fact: One covered hopper car can carry enough grain to bake 258,000 loaves of bread!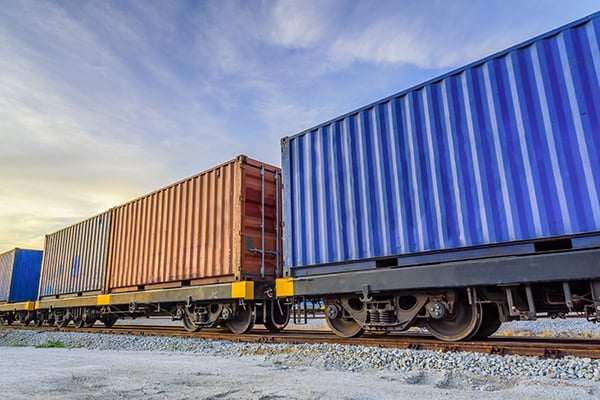 Photo courtesy of iStock/teppakorn tongboonto

Flatcars
While their name is self-explanatory, and they don't sound special, flatcars play an important role in railroad history. They were the first type of rail car used by the railroad industry. The simple, open-deck design made of wood or steel has not changed over time. Flatcars are designed to transport unusually large, long, or irregularly shaped freight. They are frequently utilized in intermodal transportation. Some flatcars have center beams or other tie-down points for increased stabilization. Military equipment, construction machinery, farm equipment, wind turbines, and railroad ties are all transported on flatcars.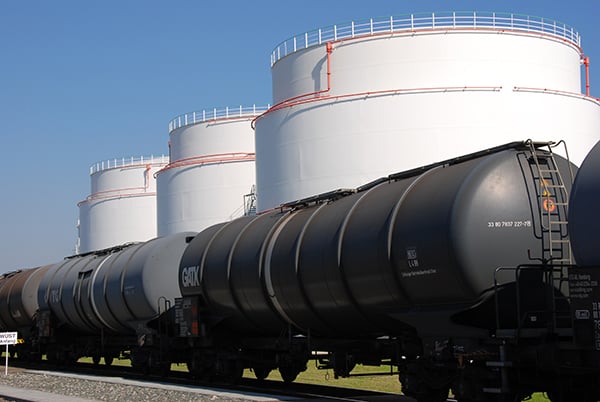 Photo courtesy of iStock/esemelwe

Tank Cars
Tank cars, or tankers, were first used in the U.S. during the Pennsylvania oil rush in 1865. Today, they carry all types of liquids and gases. The long, cylindrical tubes have a valve on top for loading and a drain on the bottom for unloading. There are two types of tank cars: pressurized and non-pressurized.
Pressurized tank cars transport compressed gasses such as chlorine and anhydrous ammonia. They are built with thicker steel and extra head protection. The Association of American Railroads requires the tank cars to have a heavy steel plate, known as a head shield, installed on the rear of the tank car as an added safety precaution in case of impact or derailment.
From food products to chemicals, non-pressurized tankers transport a variety of liquids. The cars are designed specifically for the commodity being shipped and can be lined with steel, glass, plastic, or another compatible material.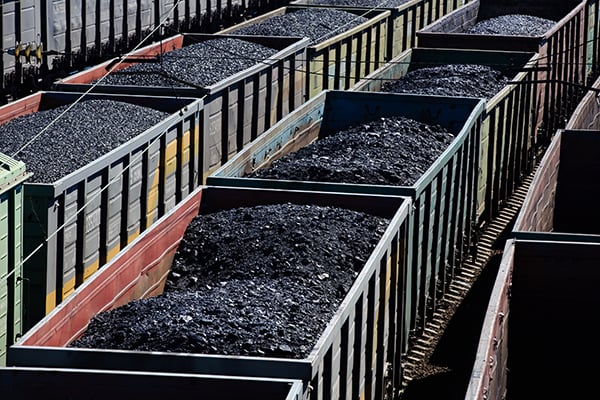 Photo courtesy of iStock/Ignatiev

Gondolas
A gondola may elicit images of a peaceful boat ride down a canal in Italy, but gondolas are also a type of rail car used in freight shipping. Gondolas are open-top rail cars with low sides, ideal for carrying high-density bulk cargo. There are no side or bottom release doors, making them different from hopper cars. The cargo transported by gondolas is manually loaded and unloaded from the top using a crane, backhoe, or magnet, depending on the materials being shipped. Gondolas transport an assortment of rugged commodities used in manufacturing and construction, including scrap metal, gravel, and steel.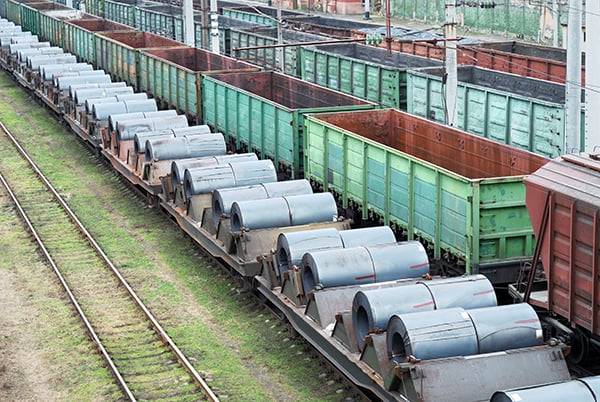 Photo courtesy of iStock/soleg

Coil Cars
Although we may not give it much consideration, coiled steel plays a vital role in our everyday lives. From the appliances in our homes to the cars we drive, coiled steel keeps the world moving. This important commodity is transported by a specially designed rail car called a coil car.
Coil cars have troughs with compartments to securely accommodate coils of different materials and sizes. The steel or copper is loaded and unloaded from the top with a crane or forklift. One coil car can carry up to 200,000 pounds, providing a safe and efficient method of freight shipping.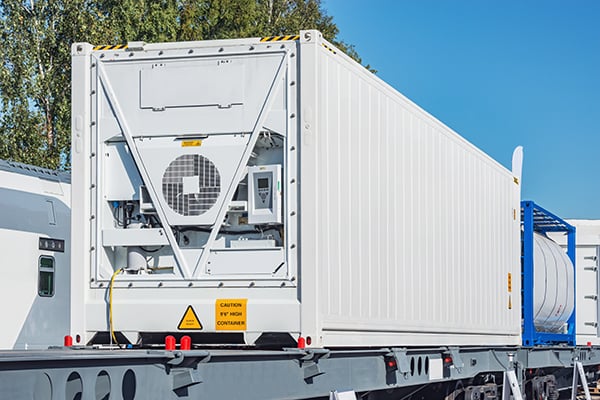 Photo courtesy of iStock/Serjio74
20-foot refrigerated container on rail tracks.
Refrigerator Cars
Although they look like boxcars, refrigerator cars are different in one obvious way. Refrigerator cars are climate-controlled to maintain optimal temperature while transporting perishable items. Dairy products, fruit, vegetables, beer, and meat are all shipped on refrigerated rail cars. According to the Association of American Railroads, approximately 1.6 million carloads of food products are shipped by railroad annually.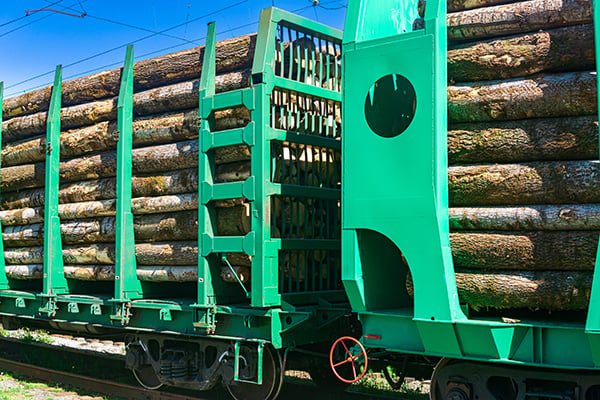 Photo courtesy of iStock/Евгений Харитонов
Specialty Cars
When cargo doesn't fit or work well with any of the rail cars mentioned above, a specialty car is used. There are a wide variety of specialty rail cars used to ship diverse items.
Autoracks: Finished vehicles
Centerbeams: Bundled goods like lumber and fence posts
Well Car: Intermodal containers that stack and transport apparel, electronics, and more
Dixon's Transportation Products for Rail Cars
Dixon is proud to provide solutions for the transportation industry, including rail tank cars. We offer safe and reliable solutions for loading and unloading crude oil from rail cars.
AAR-approved chlorine angle valve
Chlorine institute pamphlet 166 compliant
5-year warranty
Threaded Rail Car Elbows and Adapters
Designed for tight space constrictions
Lockable dust EZLink cap
Brass, aluminum, and 316 stainless steel options
Trusted brand, a complete offering
Jump sizes available in multiple alloys
Manufactured U.S. standard, global offering available
Provides a greater flow for heavy crude oil
Safe and reliable valves will not open unless fittings are properly connected
Easy carry handle
Swivel nut has standard 5" railroad tank car thread
TTMA flange can be bolted to a sight glass or API adapter or other dry disconnects
Flange extensions are used on load arms to connect the API load coupler to the load arm
Adds a 6" space between the load arm and the tank truck
Allows for visual identification of fuel type prior to opening the valve
Works with tank truck flanged butterfly valves found on gasoline trucks
A larger I.D. 4-3/8" flow indicator allows tank truck flanged butterfly valves to connect to either end of the indicator.
The parts listed here are a small sampling of our rail car products. Visit our website to view all our rail car unloading assemblies and accessories.


Summary
When choosing a vehicle, factors such as color, size, gas mileage, make, and model are all considered. Selecting a rail car for freight shipping is mostly dependent on one factor: the type of cargo being transported. Almost anything can be transported by a freight train, so there is a rail car for almost anything.
Boxcars, hoppers, flatcars, tankers, gondolas, coil cars, refrigerator cars, and specialty cars are some of the most common types of rail cars for freight shipping. At Dixon, we understand the important role rail cars play in keeping the supply chain moving and strive to provide service, reliability, and innovation to meet your needs.
Keep your business on track with quality products built to last. Contact a Dixon specialist for recommendations on your specific application.