As an example of how international engineering and performance standards can be applied to improving ship technology and functionality, the LNG bunkering vessel M/T Coralius is a fitting case. Owned by Sirius Shipping and the Anthony Veder Group and chartered by Skangas (now Gasum), the Coralius, which completed her first bunkering operation in September 2017, contributes to an LNG infrastructure in the Baltic Sea region while boasting a fuel transfer system technology that is truly state-of-the-art.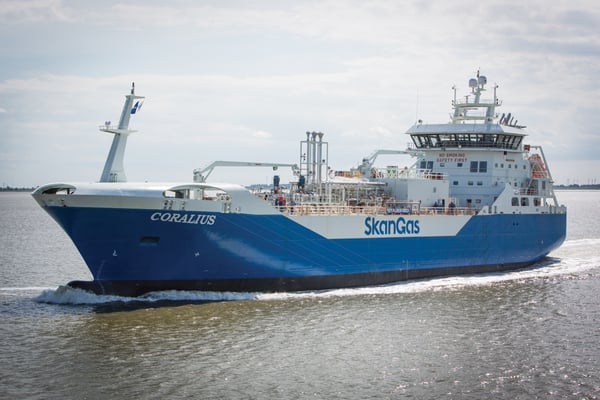 Above: Coralius's size makes it well suited for small-scale carrier and bunkering duties.
With a capacity of 5,800 cubic meters of LNG, the Coralius is highly suited as a small-scale carrier, featuring a ship design that includes a flat working deck specially engineered for side-by-side transfer of LNG.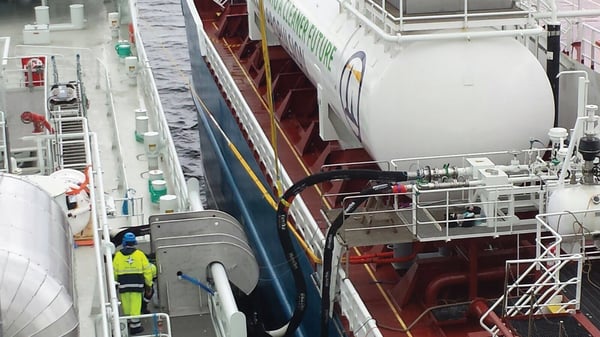 Above: Coralius performs ship to ship LNG bunker operation.
The ship's bunker delivery system was engineered to meet the latest SGMF guidelines ensuring safe and responsible use of LNG as a commercial marine fuel. It also meets the requirements of numerous regulatory bodies – among them SIGTTO, ISO, EN, Class approval with DNV, and BV. The transfer system, supplied by MannTek, can also be provided with a SIL 2 classification.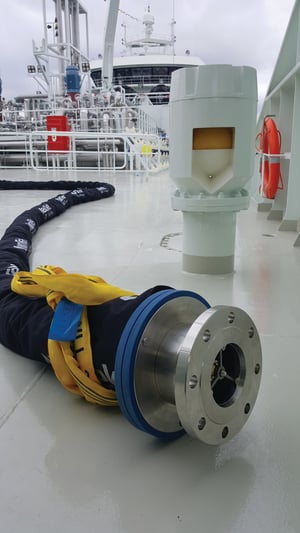 The Coralius represents the newest addition to a fleet of Sirius bunkering vessels that provide the M/S Viking Grace cruise ship with LNG. The first of these vessels was the LNGF Seagas, which was brought into service in 2013 and features a MannTek transfer system. The MannTek system design is notable in that it lessens weight and minimizes the space required for LNG bunkering onboard.
For the Coralius installation, MannTek worked in close collaboration with Sirius Shipping, Anthony Veder Group and Skangas. Due to the volume of LNG that needs to be bunkered in a short interval, the system includes a 6" dry disconnect coupling (DDC) plus a 6" power emergency release coupling (PERC) for bunkering the LNG (as well as 4" dry disconnect couplings and a 4" PERC for smaller volume bunkering). Completing the system are LNG hoses plus an emergency shutdown vessel wire drift-off system that activates in case the ship would drift off position. As important as its proven credentials, the LNG transfer system on the Coralius delivers a lower cost of ownership in that both initial purchase price and ongoing maintenance costs have proven more attractive compared to alternative systems.
Above: Coralius is fitted with MannTek 6-inch PERC and wire drift ESD system.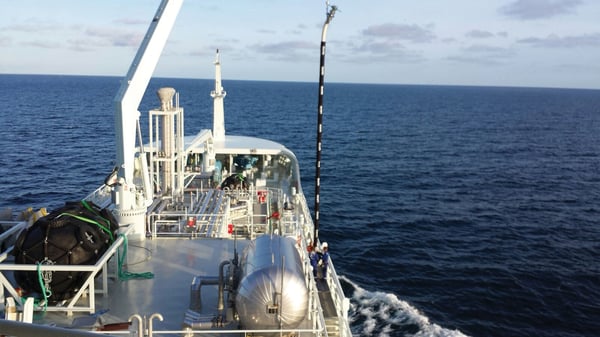 Above: With over 1,400 bunkers performed, Coralius is a notable success.
The success of the Coralius continues the notable success of LNG bunkering activities for Sirius Shipping, with nearly 1,400 such operations carried out to date thanks to MannTek's innovative system engineering. Indeed, MannTek is the most important supplier of LNG transfer equipment to the major LNG fueling facilities throughout the world. In addition to the M/S Viking Grace (the world's largest passenger ferry), other notable MannTek LNG transfer system installations include Tote Maritime's M/S Isla Bella (the first LNG-powered container ship) and Harvey Energy (the first LNG-powered OSV in America). Dixon supplied the couplings for the Harvey Energy project.
This blog post was excerpted from our whitepaper, Building a New International Standard for
LNG Bunkering Hose Transfer Assemblies. Read all our whitepapers here.