Paint is pretty powerful.
Not paint-ings, like Picasso or Monet. Just paint. Painting beige walls a "dusty rose" transforms a room from a boring home-office to an expectant nursery, while a coat of "sage green" on wooden cabinets takes a dated kitchen into the twenty-first century. Paint can change a familiar space into something totally unrecognizable, but it can also serve as a form of self-expression: agonizing over two shades of green allows those of us who are artistically challenged to tap into our inner Rembrandt.
But the power of paint doesn't stop there. Color choices can be linked to culture, history, tradition, and identity. A study from 2018 showed how the color of a room can affect your mood (think twice before painting a room a dark color—it could leave you feeling sad). It has even been a symbol of wealth and status. In European countries such as Norway, houses were traditionally painted with colors that were readily accessible. ​Norwegian barns and homes have been painted red as far back as 1700, and possibly before. The red likely came from Falun, Sweden, which was making the pigment as early as 1600. Most of the barns are still painted a traditional color today, with some areas even having laws in place dictating what colors you're allowed to use on outdoor walls. Reds, yellows, and browns could easily be created using natural ingredients like clay. White was more expensive to produce than other colors, so painting a home white was a symbol of wealth.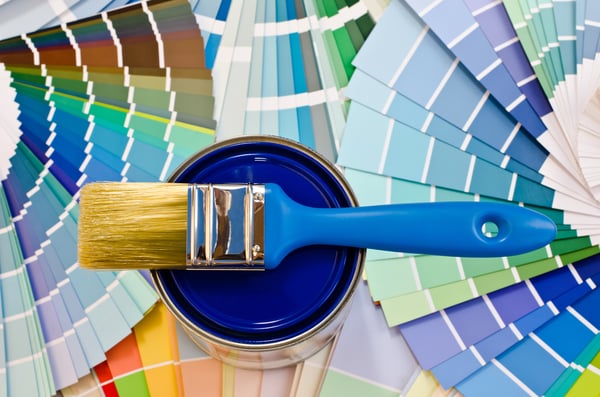 Above: Blue paint sample.
These days consumers care more about what's "on trend" than about what their neighbors think. Chip and Joanna Gaines, the infamous Property Brothers, and other HGTV reality superstars are getting the average homeowner excited about DIY, and a fresh coat of paint is one of the easiest, budget-friendly ways a non-experienced "flipper" can get their hands dirty. Painting is all the rage, with Sherwin-Williams reporting a revenue increase of 5% in North American markets from the second quarter of 2018 to the second quarter of 2019.
Americans love to paint: we roll it on our bedroom walls and brush it into hard-to-reach bathroom crevices. But what do we know about what's in it, how it's made, or what to do with it when we're finished?
Originally, paint was made by mixing together natural materials, like linseed oils or beeswax. It was colored with everything from blood to charcoal and could be slathered onto any surface without a thought toward toxins or chemicals. But today's paint is produced for the masses. It's sophisticated, durable, and synthetic, and requires more care when using, storing, and disposing of.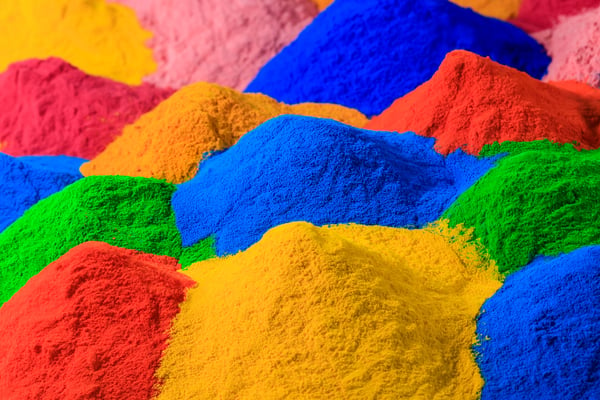 Above: Colorful powder coating.
Most paint contains four main ingredients: pigment, resin, additives, and solvents. The process begins with pigment, either from natural or synthetic materials, which is made into a dry, powder form. This is added to a large vat containing the solvent, additives, and resin in liquid form. The pigment is carefully blended into the liquid with a mixing blade until a smooth and consistent texture is achieved. The resin, serving as a binder, prevents the pigment from clumping. Additives make the paint easier to roll or brush onto the wall, prevent mold and scuff, and accelerate drying time. The solvent is the vehicle that holds it all together. Once combined, each batch is carefully lab-tested before being packaged into cans, shipped, and made available for purchase.
Producing the paint is straight-forward enough, but there are some underlying complications when it comes to modern-day paint. For starters, paint is considered a "Volatile Organic Compound," or VOC for short. That "fresh paint" smell that we associate with a newly remodeled room is actually an unstable gas, capable of causing dizziness, headaches, and nausea, which is why it's recommended that you paint in a well-ventilated room.
It's also difficult to store. Garages across America are tiny stockrooms of unused paint, often sitting for years before eventually getting tossed into the bottom of a garbage bin. Proper storage remains a mystery to many: is it safe to store outdoors? Indoors? Where should we be keeping it?
Because paints can be affected by extreme temperatures, storing them anywhere that is either very hot or very cold is a bad idea. High temperatures can change the viscosity of the paint, while temperatures below freezing can cause the paint to gel. In both cases, the temperature extremes render leftover paint unusable. For those with an industrial level need for storage, purchasing hazardous material storage containers is a good idea, but the average homeowner can store leftover paint in a cool, dry place. Even better, leftover paint can be donated or recycled (check earth911.com to find out how). Whatever you decide, never, ever, toss paint into a garbage can. If no other option is possible, check your state's policies on how and where to dispose of paint at paintcare.org.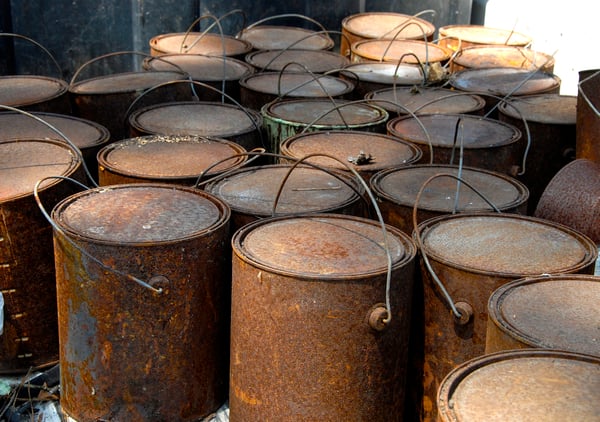 Above: Old, rusted paint cans.
That answers the storage and disposal questions, but it leads to another: if paint can't be safely tossed away, could it be potentially dangerous to our health? Rest assured, the government regulates VOC levels in all paints, so anything available for purchase has met these requirements. Some brands have produced a low VOC option, so consumers have more choices than ever. However, it's possible for VOCs to be present up to five years after the paint has dried, leading some painters to seek out more "green" options—and we don't mean the color.
"Green paint" is on the rise, with several companies successfully experimenting with more eco-friendly options. These non-VOC paints have very little odor—a huge pro for those who suffer headaches from regular paint fumes—and harken back to a more natural time. Brands are once again creating paint from raw materials like linseed oil, chalk, and clay, in an effort to create eco-friendly options for designers and consumers. Manufacturers are also exploring renewable energy sources to support the manufacturing process. Edward Bulmer Natural Paints, based in the UK, is producing its 90 shades of paint with the help of solar energy.
Colors, trends, and design may change, but the power of paint isn't going anywhere. It will continue to tell a story, and Dixon will continue to be part of it. Our ADS Industrial Fluid Controls and Bayloc dry disconnects go into producing gallons of "royal blue" or "burnt orange," and we're proud of what that represents. Whatever production challenges lie ahead for the paint industry, we will be here to find solutions and carry on the great tradition of paint.
Do you have questions about your specific application? We're here to help,