Is sand drop out causing flow restriction in your pumps? Are you experiencing regular leaks along weld seams? You're not alone, many hydraulic fracturing companies experience pump cavitation due to proppant dropout which causes destructive flow restrictions. Dixon's research with end users has uncovered valuable feedback that helped guide us to an economical solution.
Manifold Design Flaws
Sand dropout causing flow restrictions and pump cavitation
Traditional welded pipe manifolds create turbulence causing excessive abrasion on internal walls
Regular leaks along the weld seams
Acidizing well treatments attacking weld seams
Temperatures below -30°F (-34°C) can cause performance issues
Repairs consist of re-welding and/or using rubber washers with screws
Within the hydraulic fracturing operation there are multiple scenarios where down-time and pump failure can be avoided. Figure 1 shows a traditional welded pipe manifold, and Figure 2 exhibits sand dropout and internal weld erosion.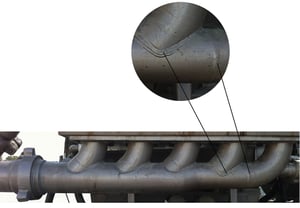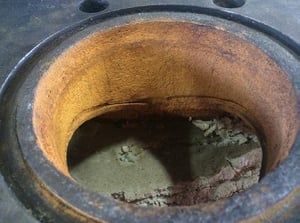 Dixon's Economical Solution
Dixon innovation was demonstrated in the development of the one-piece suction manifold that feeds slurry into high pressure pumps. The design combines unique flow geometry with one-piece iron manufacturing technology to increase flow, and eliminate 7-18 leak-prone weld seams. The 3-Port and 5-Port suction manifolds are patented for use with HHP pumps, and have been lab and field tested. The flow profile simulation demonstrates the differences between the standard welded pipe and the Dixon manifolds.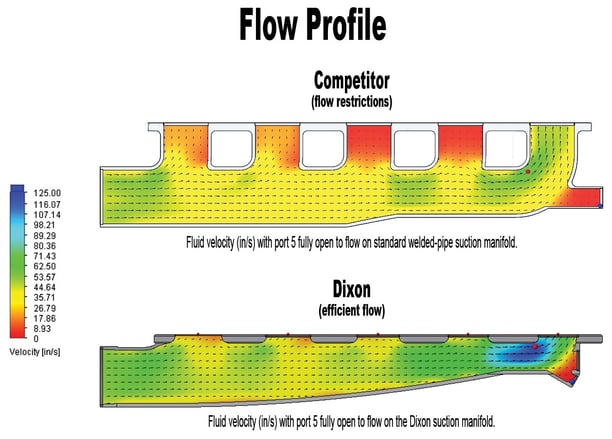 Open communication with customers and following through with solutions strengthens trust as a supplier of both current and future products.
Read our case study Why Use Dixon Triplex and Quintuplex Manifolds on HHP Hydraulic Fracturing Pumps?