The US Chemical Safety Board released a case study which examines a mixture of incompatible materials at the MGPI Processing Plant. The mixture resulted in a chemical release that traveled into the community containing chlorine and other compounds.
An excerpt from the CSB findings:
The CSB's investigation found that on the morning of the incident, a tanker truck arrived at the MGPI facility to deliver sulfuric acid. A facility employee escorted the driver to the locked loading dock and unlocked the gate to the fill lines and the sulfuric acid fill line.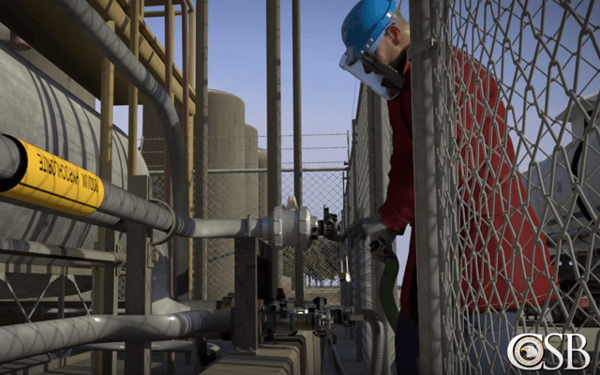 But unknown to the operator, the sodium hypochlorite fill line was also unlocked. And the two lines, which were only 18 inches apart, looked similar but were not clearly marked. The driver inadvertently connected his truck's sulfuric acid hose to the sodium hypochlorite line and sulfuric acid began flowing inside.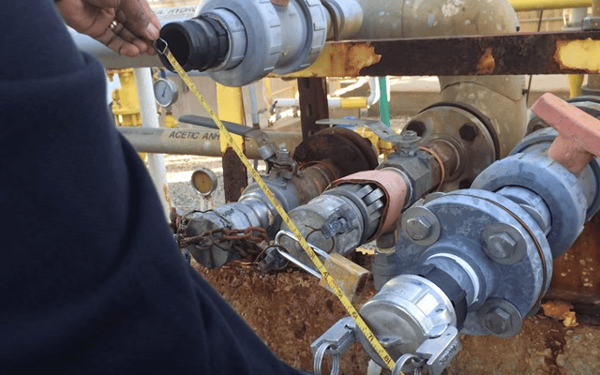 As a result of the incorrect connection, thousands of gallons of sulfuric acid from the tanker truck entered the facility's sodium hypochlorite tank. The resulting mixture created a dense green cloud that traveled northeast of the facility until the wind shifted the cloud northwest towards a more densely populated area of town.
View CSB's safety video detailing the events below:
Chairperson Sutherland said, "Every day facilities throughout the country receive bulk amounts of chemicals by cargo tank motor vehicles. Industry needs to review their own safety practices to ensure that every delivery is executed safely."
The sulfuric acid example is just one of many instances of cross connection that spans countless applications. We all share the responsibility of protecting personnel and our environment and Dixon can help.
We offer a wide variety of products such as MannTek and Bayloc™ dry disconnects, Vent-Lock™ safety cam and groove and other threaded connections that make cross connection nearly impossible.
Our SureDrop™ system was designed and tested to provide a reliable, affordable, and easy to use system to prevent cross drops during petroleum delivery. It requires the driver to perform the product drop tasks in a specific sequence every time, and tag scanning and confirmation are aligned with the normal product delivery procedure.
Dixon is also developing and expanding other systems and electronic solutions such as our ADS product line designed specifically for liquid terminal operation on batch loading and overfill protection, tank cars, tanks trucks and marine barges.
Contact
for information on your specific application requirements.