The salesman from XYZ Hose received an email from one of his long-standing customers. He was smiling as he reviewed the order for more chemical hose assemblies, but the words "We've been going through these more quickly the last several months" suddenly gave him an unsettled feeling. With hopes of resolving the problem, he quickly emailed his customer, thanking him for the order and apologizing for not stopping by in almost a year. After setting up a meeting for the next week, he phoned in the details of the order to his office.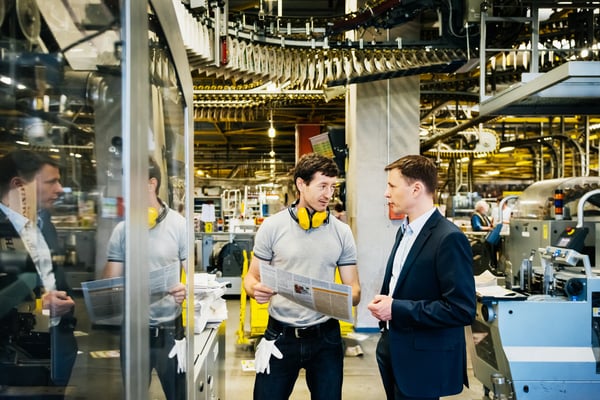 Above: Mechanic and manager talking in factory. Credit: iStock.
On the scheduled day and time, the salesman walked into the meeting room, and was met by the plant manager and purchasing agent. After exchanging pleasantries, the salesman started the meeting saying, "We've supplied you with the same hose and banded-on fittings for almost eight years without any problems. Your email said you're going through them faster than before.
That has me concerned. Why do you think that is?
The purchasing agent added, "Your company has been a valued vendor for a long time. You've given us great service at a reasonable price."
"But," chimed in the plant manager, "something's changed in the hose. It looks the same, but some of 'em sure aren't lasting as long as they used to."
The salesman interrupted, "Did I hear that you're only having problems with some of them?"
"Yeah, the ones we use in Process Building Three. Not long after your last visit, we started making another product that's thick and heavy. The only way we can get this stuff to move is to heat it. It comes out and goes into a holding tank and gets heated to about 160 degrees. Then it's pumped to a storage tank built just for this stuff. The hoses from the pumps to the storage tank are where we're having problems."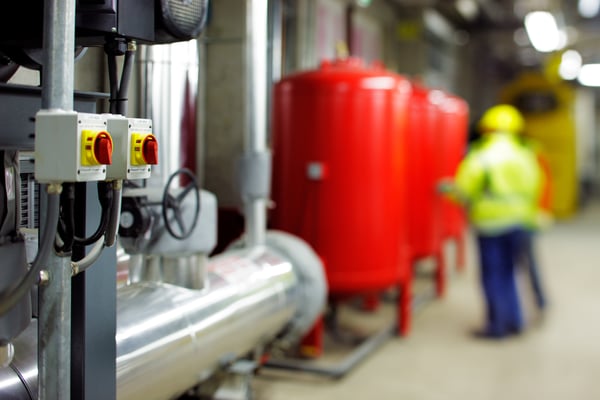 Above: Workers in room at factory. Credit: iStock.
Suddenly, the plant manager's assistant barged into the meeting room yelling, "Boss, you have to go to Process Building Three now! Fred went on break and left the pumps running and one of the hoses blew! I don't know how long they were running, but you're not going to believe your eyes!"
As the four rushed into Process Building Three, they encountered a surreal scene. The product was dripping from the ceiling and slowly sliding down walls; water was leaking from pipes; sparks were flying from a breaker box; lights were randomly blinking. The equipment and everything in sight was covered with product.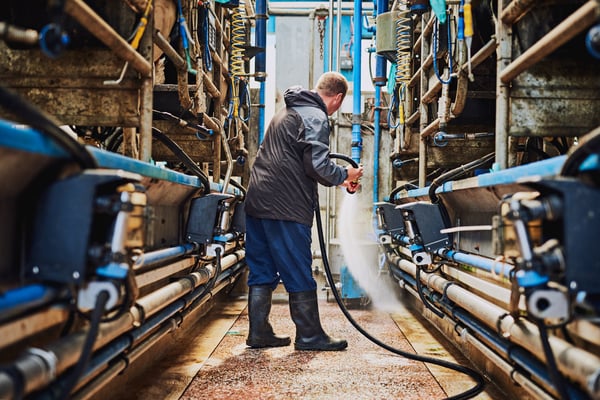 Above: Worker cleaning the factory floor. Credit: iStock.
Manufacturers continually review their products and update instructions and warnings as needed. In the past few years, most hose manufacturers have placed some type of temperature related warning regarding chemical hose in their product literature.

For example, a warning may say "for temperatures above 125˚F, permanent fittings must be used." Heat has a devastating effect on coupling retention, particularly plastic-lined chemical hose. The STAMPED acronym, (Size, Temperature, Application, Media, Pressure, Ends, Dixon) must always be heeded, even in repeated orders.
Do you have questions about your application? We would love to help.
Find more information by reading our Safety Guidelines including Stamped information here.