Travel ain't cheap-ask anyone with a bad case of wanderlust. So, when it comes to shipping consumer goods, rail and truck are by far the most cost-efficient options. But in an ever-shrinking world where consumers ask for mangos in Alaska or expect their heirlooms to be overnighted, the demand for air freight services is on the rise.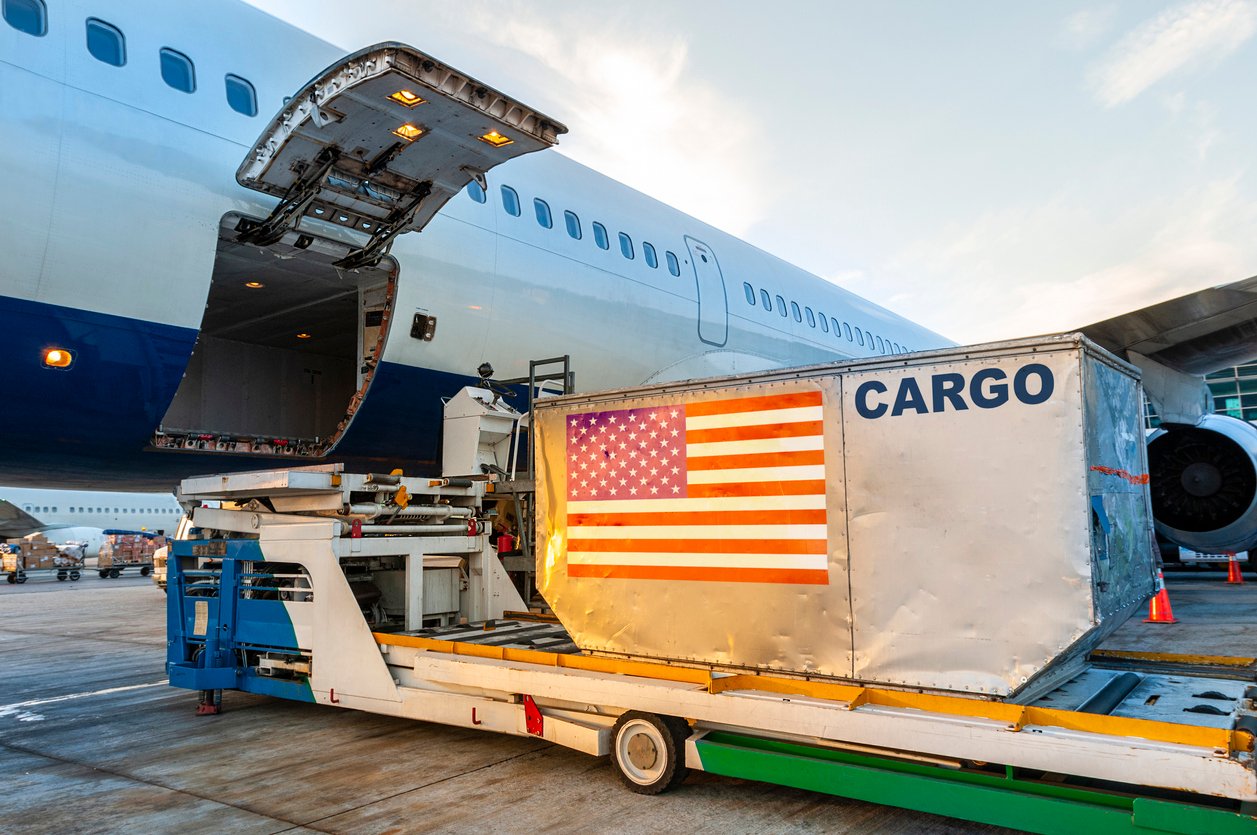 Photo courtesy of iStock/ugurhan
Loading the container in the cargo airplane.
State of the Industry
Chemicals, pharmaceuticals, valuables, and perishable products are best shipped via the airways. Plus, with companies like Amazon offering free two-day shipping—and often same-day shipping—air traffic is sometimes the only shipping option fast enough to meet customer demand.
In fact, North America is home to one of the fastest growing air cargo markets and showed significant increase in 2018. A healthy U.S. economy kept consumers spending, prompting growth of 6.4 percent in 2018 in North America—nearly double the global average. After a rough 2019, the industry, along with the rest of the world, is now dealing with COVID-19 and it is nearly impossible to predict the long-lasting effects the virus will have.
What's the Supply Chain?
Let's say you're shipping a package via airmail to a friend who lives in Scotland. The supply chain starts with you: you walk to the post office, wait in line, and hand the parcel over to the USPS worker, who is the next link in the chain. That person gets the package into the right bin, which is moved by someone else onto the correct truck, later driven to the next Europe-bound flight, which then takes off for Scotland.
That's the supply chain.
Now add in private airlines, warehouses, trucking companies, customs workers, etc., and you start to get an idea of why the average time to move goods by air is six days.
Integrated companies—companies like UPS, FedEx, DHL, or Amazon that employ their own workers at every link in the chain—ensure better on-time deliveries than others, making them the preferred choice for time-sensitive deliveries required in processes like just-in-time purchasing.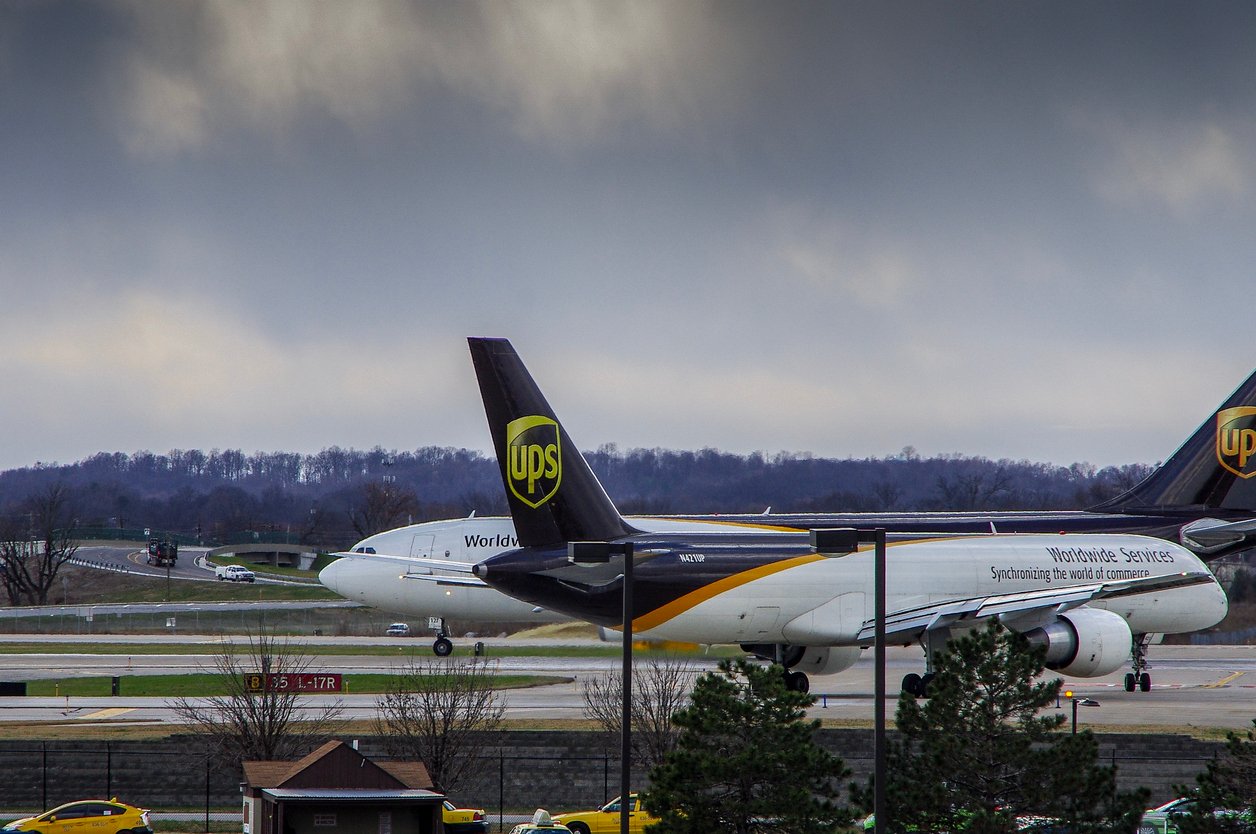 Photo courtesy of iStock/Philip Rozenski
United Parcel Service cargo aircraft pass each other while taxing prior to taking off.
What to Watch in 2020
1. Digitized Supply Chains
Digitizing that complex supply chain is in our future. Truckers, logistics providers, and carriers are beginning to integrate technology into their systems, streamlining the process and reducing shipping times.
Using e-waybills instead of paper speeds things up, as does analytics programming, and artificial intelligence such as robotics.
2. Optimized Augmented Reality (AR)
Imagine wearing a pair of glasses that help you with your day-to-day life. They pull up reviews of an item you're looking at in a store while comparing prices for you at nearby locations. Or perhaps your car breaks down and you don't know how to fix it, but the eyewear identifies the problem and guides you through the steps necessary to get the engine running. This is an example of augmented reality.
What does it have to do with air cargo?
Companies are starting to use AR to improve their supply management systems. In the warehouse, AR gear integrated with GPS provides order pickers with the best routes to the items and helps them quickly find items on shelves. AR speeds up "picking times"—the process of getting an item from the warehouse and bringing it to the plane to be loaded and shipped—and reduces errors.
AR has potential to be used for a number of other optimization purposes, like finding the best delivery routes and cross-checking international shipping regulations.
3. Rise of Autonomous Flight
In June of 2019, Airbus tested Vahana, a self-driving air taxi. Vahana is a single-seater plane, capable of flying 99 miles per hour and distances of up to 35 miles. Airbus is considering joining forces with Uber and Audi to get the project off the ground.
But air taxis aren't the only self-flying planes on Airbus's radar. The company is also working to keep up with competitors' autonomous cargo planes.
Pilotless cargo planes would lower the costs and risks of air shipping. Operating like an oversized drone, Elroy Air's vertical take-off and landing aircraft (VTOL) is an electric hybrid, capable of carrying more than 300 pounds of cargo for 300 miles. It can even load and unload its cargo.
With companies like Amazon promising lightening-speed delivery, autonomous aircraft might be the only way to keep up with consumer demand.
"We believe that now is the moment in history when autonomous VTOL aircraft can be developed to expand the reach of air cargo at scale," says Elroy Air in a communications blog. "The enabling technology is ready, and regulators are on board to help."
And, with no passengers on board at risk, the air cargo industry could prove to be the ideal sector to develop this revolutionizing technology.
4. Non-Traditional Logistics
With so many consumers placing orders online and expecting one- or two-day shipping, companies will continue to innovate new ways to keep up with the demand.
Amazon, for example, uses independently contracted drivers to deliver packages—similar to Uber or Postmates—in their program called Amazon Flex. Delivery drivers complete what's called the "last-mile" in the supply chain, meaning that they are the final link to delivering a product to the purchaser.
Like Uber, workers use their own cars to deliver parcels in their specific area for up to four-hour shifts. They're responsible for picking up items at local stores, grocery markets, or the Amazon distribution warehouses. After that, it's their job to get the package to the client within the allotted time.
Here to Serve
Whatever the future brings, Dixon is here to support the air cargo industry. We're dedicated to improving safety, raising overall quality of life, and providing the best in customer service.
Let our aviation fueling products like loading arms, API couplers, FloTech® overfill detection, rack monitors, and dry disconnect couplers give you a hand. They'll help eliminate accidental spillage ensuring reliable and time-saving fuel delivery.
Read how our overfill detection systems can also help you comply with NFPA 407.
Learn more about Dixon products used in the Aviation market, or call 877.963.4966 or
with specific questions or to place an order.

Sources: