No, this is not a blog about expanding a company by creating internal growth. Internal expansion as it pertains to the manufacturing industry is the process of internally expanding a hose coupling to allow for "full flow" in a hose assembly. A full-flow hose assembly reduces the amount of buildup in the hose at the hose/stem interface and is best suited for thicker media that includes plaster, concrete, and slurries.
How is full flow achieved?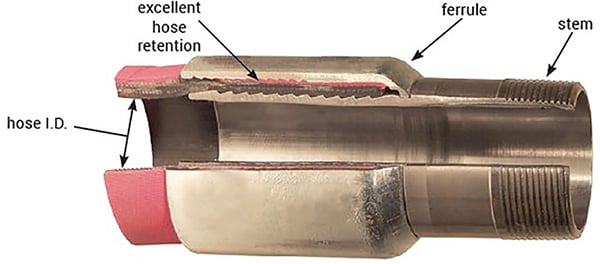 Cross-section of Holedall® internally expanded assembly
With internal expansion, the coupling body is pushed from the inside out, permanently locking the hose between the ferrule and the expanded hose stem. Internally expanded hose couplings typically yield a longer service life and can handle higher pressures than other coupling styles, however, the internal expansion process does require special equipment and instruction for installation, and they are not field repairable.
What are the benefits of internal expansion?
Creates full flow of media
Lessens turbulence in the hose
Allows for higher working pressures
Reduces wear on the hose end when transferring abrasive materials
Excellent sealing and retention characteristics
Consistent installation
Only one expansion tool is needed for each hose I.D.
Interested in internal expansion for your applications? Dixon® can help!
We offer a wide array of hose couplings, hoses, and equipment developed for the internal expansion process. These products include rams, stems, notched fittings, and ferrules. Dixon supplies three different sizes of rams that meet the majority of hose service requirements. Rams are powerful and finely engineered machines designed specifically to internally expand Holedall couplings by hydraulic pressure. Since each ram generates all the hydraulic pressure required to attach the Holedall coupling, one person can easily operate the equipment.
Dixon Rams
15-Ton Ram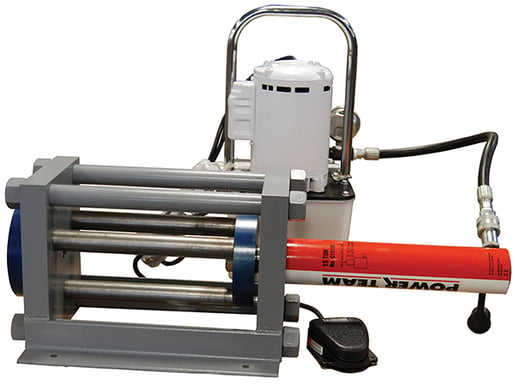 Specially designed ram for internally expanded couplings only. Bench-mounted model (optional stand available), producing up to 10,000 PSI, for up to 15 tons of ram force. Capable of expanding 1" through 3" steel fittings and 5/8" through 4" brass Holedall Petroleum fittings. The motor is a 1/2 hp, 115-volt 60-cycle, single phase with a foot pedal.
25-Ton Ram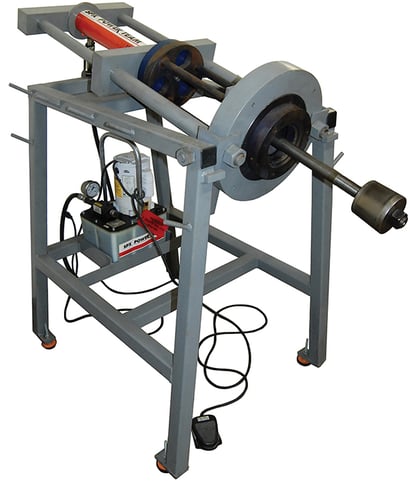 Dixon's 25-Ton Ram is a free-standing model producing up to 10,000 PSI of line pressure for up to 25 tons of ram force. Capable of external swaging 1/4" through 4" I.D. hose and internal expanding 5/8" through 4" I.D. hose, with proper equipment. The motor is a 1/2 hp, 115-volt 60-cycle, single phase with a foot pedal. A high-speed pump kit option is available.
100-Ton Ram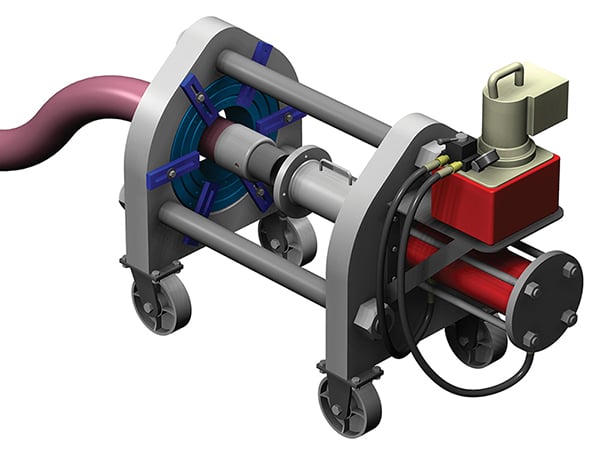 Used for externally swaging Holedall fittings to hose from 1-1/4" through 10" I.D. With optional accessories, this ram may be used for internally expanded couplings on hose from 1" through 6". This machine can produce up to 100 tons of ram force. A 1-1/8 hp, 115-volt, 60-cycle, single-phase motor is standard with a remote (220/440-volt motors are available).
Prefer to See the Process in Action?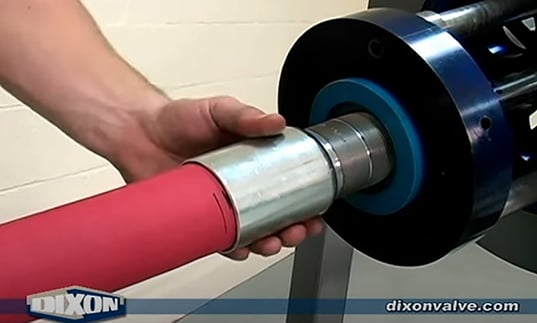 If you are more of a visual learner, check out our step-by-step video on how to set up, swage, and internally expand with the 25-Ton Ram.

Expand your hose assembly, expand your efficiency

Overall, internally expanding your hose assembly can maximize flow, reduce turbulence in the hose, enable higher working pressures, and minimize hose-end wear. If you have any questions about Dixon's rams or internal expansion products, please call a Dixon representative at 877.963.4966.

If you enjoyed this blog post, please share it with your friends and colleagues!