In Part 1 of this blog, we dove into airport fueling systems including what a fueling system is, best options based on the size of an airport, and how a freight-based operator (FBO) operates - read that post here. Now, we continue with a focus on specific topics that help us understand this area in more detail.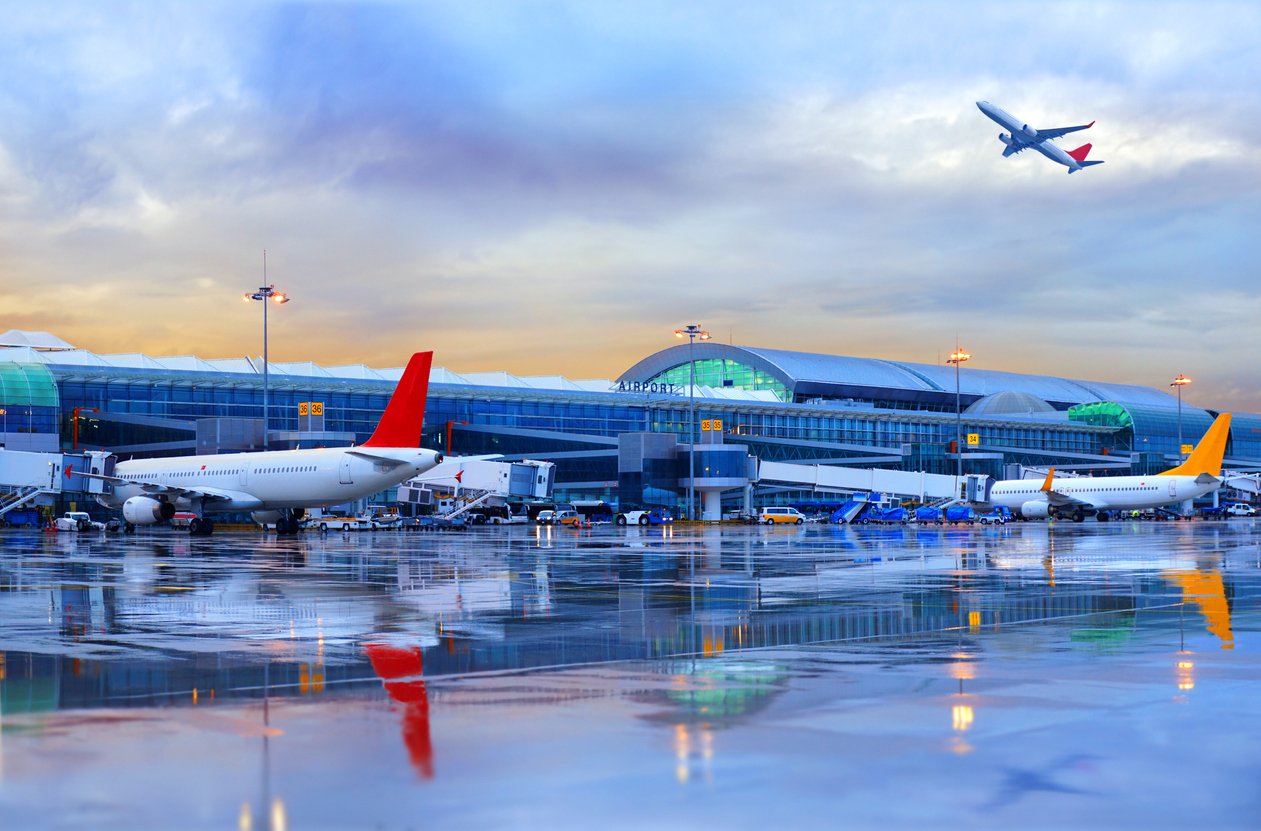 Photo courtesy of iStock/ugurhan
An airplane departs a busy airport.
The aviation fueling industry is highly competitive on global, regional, and local levels. Pilots can have a huge influence over who an FBO purchases from, so fueling companies are highly motivated to provide clients with a high-quality product.
A few companies, in particular, are dominating the market. According to the current global aviation fuel market report by Technavio, the top five aviation vendors are Air BP, Shell, Exxon Mobil, Chevron, and Gazprom. These major players power a staggering amount of air traffic— Air BP alone fuels more than 6,000 flights per day.
Technology advancements, government policies, and changing environmental regulations keep the fuel market evolving. In recent years, the future of jet fuel has started to move toward biofuels. American, European, and Chinese governments are requiring reductions in carbon emissions, forcing the aviation industry to create sustainable jet fuels. Several airlines are already using blended fuels (traditional jet fuel that has been blended with a sustainable fuel), and it's expected that 1 million flights will have been powered by a blended fuel by 2020.
With different managing systems in place, who is responsible for safety?
Whether an airport chooses to internally operate their fueling systems or hire an FBO, there is one thing of extreme importance to keep in mind: The airport is ultimately responsible for the fuel on their property, regardless of who purchased it.
Airport managers don't always know about the consortia arrangements, or how well an FBO's personnel are trained, but they are responsible for any fuel accidents that might occur. Because of this, trust is vital between airport operators and those managing fuel. This relationship requires open communication, including sharing proper documentation and inspecting fueling activities, as well as ensuring that fuel-handling agents are well trained.
No matter the size of the airport, one thing is certain: preventing mishaps from fuel transfers is of utmost importance. The mishandling of fuel at any point could cause fires, explosions, contamination, and environmental damage. This is why regulation and proper safety measures are in place to prevent these dangerous accidents.
What kind of fueling system standards exist?
Much of the fueling process is standardized for safety, and airports are obligated to maintain proper standards against explosions or fire. Regular inspections ensure those standards are met. As you might expect, the employees who handle fueling operations are also required to undergo and maintain proper training.
In addition to these regulations, the aviation industry is beholden to several different environmental regulations. Any fuel spills or leaks could result in serious damage to the environment, both in the short and long term, so fuel operations and facilities are asked to follow a host of laws like the Clean Water Act and the National Environmental Policy Act.
It's worth noting that general aviation airports (GA) and noncommercial airports are not held to the same standards as commercial airports. There are hundreds of GA and noncommercial airports spread across the country, all of which are permitted to develop and adhere to their own safety standards. GA and noncommercial airports are encouraged to adopt the same practices as other airports, but they are not required to do so.
No matter what, the airport is always responsible for the fueling systems on the premises, even if it isn't involved in daily operations. Trust between the airport and fuel operator is key; however, safe and risk-free fueling is the responsibility of everyone involved in the aviation fueling system.
Do you have additional questions? We are here to help.
Source: