In previous Dixon® blog posts, we have discussed pipe flanges, swivel joints, dry disconnects, cam & groove couplings, and more. Now it is time to look at a different type of connection: compression fittings.

What are Compression Fittings?
Compression fittings are a type of coupling used to connect two pipes or a pipe to a fixture or valve. They are a strong and reliable connection that tightens down a sleeve over a joint to prevent a leak. Compression fittings are wrench tightened and do not require any flaring, soldering, or other preparation of tubing to assemble. The fittings are made from a variety of materials including plastic, stainless steel, and brass. Brass is the most common material for compression fittings because it provides strength and corrosion resistance without increasing costs.

Compression fittings are made up of three basic elements: a compression nut or screw, the sleeve/ferrule, and the compression fitting body.

Common uses for compression fittings include connecting a waterline or pneumatic lines. They are also commonly used in plumbing applications.
How to Assemble Compression Fittings
One benefit of compression fittings is the ease of assembly and disassembly. The installation process varies depending on the manufacturer and the specific fitting. The procedure is specified using nut rotation rather than torque.

Watch this video for a quick tutorial on how to install compression fittings on nylon and copper tubing.
Step 1: Slide the nut, then sleeve, onto the tubing. The thread of the end of the nut must face outward.

Step 2: Insert the tube into the compression fitting. Be sure the tube is bottomed on the fitting shoulder.

Step 3: Assemble the nut to the fitting body and tighten it to hand tight.

Step 4: Use a wrench to finish tightening. Follow the number of wrench turns as indicated in the table below. Keep in mind tighter does not mean better. Overtightening will deform the sleeve, which weakens the seal.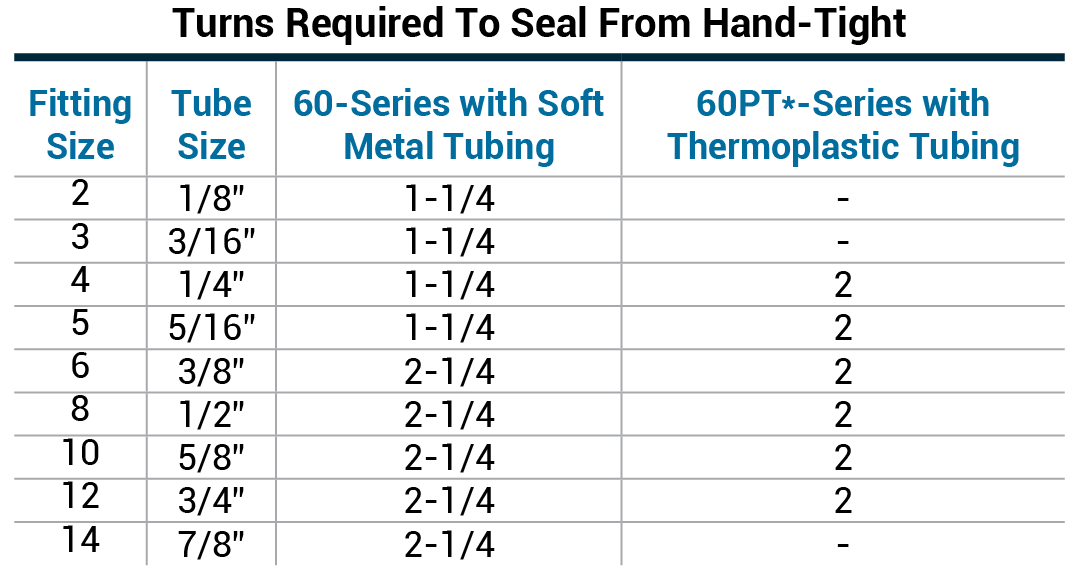 To disassemble compression fittings, loosen the compression nut or screw. Reassemble in the same manner as the original assembly. Compression fittings can only be disassembled and reassembled a few times before the sleeve and/or fitting body should be replaced to ensure a leak-proof seal.
Dixon's Compression Fittings
Dixon offers a variety of compression fittings to ensure you always have The Right Connection®.

Application
Designed for use with annealed copper, aluminum, or thermoplastic tubing
Features
No flaring, soldering, or other preparation of tubing is necessary to assemble
Manufactured for connection to low and medium-pressure tubing connection work where excessive vibration or tube movement is not involved
Approvals
UL listed for flammable liquids
Compression fittings meet the function requirements of SAE J-512 and ASA
Materials
Brass: Alloy 360 and 230 for straight fittingsBrass: Alloy 377 for forged shapes
302 stainless steel or 304 stainless steel: for 63PT series (3 sizes)
Specifications
Temperature: from -65°F (-54°C) to 250°F (121°C) with soft metal tubing and manufacturer's recommendations for thermoplastic tubing
Working pressure at 73°F (23°C), refer to the following table: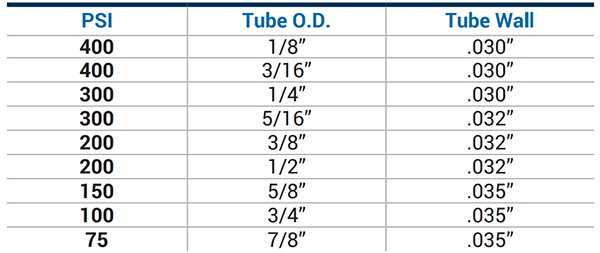 Configurations:
* Acetal Sleeve 60PT-series and Inserts 63PT-series allow for standard compression fittings to be used with industrial grades of thermoplastic tubing.
Dixon Brass
Located in Westmont, Illinois, Dixon Brass is a proud U.S. manufacturer and supplier of a variety of products such as brass ferrules, compression fittings, welding connectors, pipe, push-on, and DOT air brake fittings. For more information, email brasssales@dixonvalve.com or call 800.323.4440.
Summary
From their ease of assembly, even in tight spaces, to their ability to resist corrosion, compression fittings are used widely across a range of industries. To learn more about Dixon's compression fittings, visit dixonvalve.com.