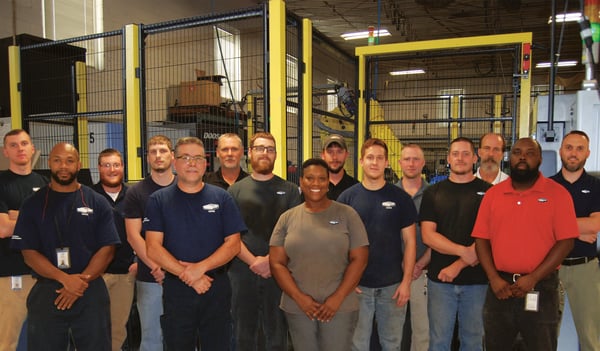 Above: Apprentices, steering committee members and the on-the-job trainers for Dixon's competency-based, Maryland state recognized program.
It's a common story these days that many manufacturers find it difficult to recruit talent with the technical skills necessary for today's modern plant. Dixon is working toward a solution. By implementing its own CNC (Computer Numerical Control) machinist apprenticeship program, the company is now able to grow a highly trained workforce from within.
Shaking Up Tradition
Since the 1980s, Dixon has offered an apprenticeship program to its employees. But beginning in 2015, the company began retooling the program from a traditional one, in which apprentices completed a regimented 8,000 hours of training over four years, to a self-paced version based on achieving different competencies as they progress.
In the new program, supported by the Maryland Manufacturing Extension Partnership, apprentices work their way through three levels of hands-on skills, combined with 144 hours per year of online learning and other experiences. Graduates of the program emerge after approximately two years as certified CNC machinists fully trained to work on Dixon's cutting-edge equipment.
"A traditional apprenticeship program is kind of like going to college, coming out with your degree, but maybe not knowing what to do with it," says Chip Williams, assistant vice president of human resources at Dixon and a member of the steering committee that helped redesign the program. "The competency-based one is far more hands-on and when you complete it, you're a certified machinist who knows how to do the job."
There are surprisingly few apprenticeship programs available at manufacturing companies nationwide, and even fewer that are competency-based. When it launched in 2017, Dixon's was the first in the state of Maryland. Maryland Department of Labor Secretary Kelly Schulz recognized the program last November at Dixon during National Apprentice Week.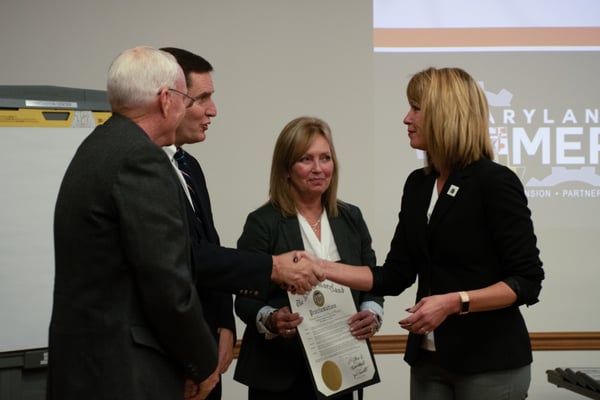 Above: Richard L. Goodall, CEO, Bob Grace, president, and Mary Price, Senior Vice President of Human Resources receive recognition plaque from Maryland Department of Labor Secretary Kelly Schulz.
The Competency-Based Program at a Glance
Getting into the program is the first challenge for potential apprentices. Five applicants were selected when the company first offered the new program, based upon several tests of their knowledge and skill.
Mike Mench, 31, started with Dixon in 2010 as a welder. When the new apprenticeship program was announced, he immediately applied. "I had a background as a machinist, but I figured the apprenticeship would help me learn a lot more," says Mench. "And it has."
The first year of the program—Level 1—involves basic "operator-level" skills such as starting a machine properly and changing cutting tools. "These are skills every shop operator is expected to do," says Eric Lemon, organizational development specialist and apprenticeship coordinator. Apprentices rotate among various machines in two of Dixon's Chestertown manufacturing divisions, until they possess basic knowledge of each.
After they achieve a specified degree of competency, they can move onto Level 2, which involves producing a finished product. Apprentices must prove they can fully set up a CNC machine, take a piece of raw material and create a finished part to spec in a specified amount of time. Level 2 should take approximately four months to complete before apprentices move onto Level 3. That level entails more advanced skills, such as proving competency on several machines as well as troubleshooting error codes or material variances in a casting or pipe.
All told, the program takes roughly two years to complete. When the apprentices emerge, they'll be trained to operate every machine in both Dixon's Boss and Specialty Products divisions.
"Basically, what we did in creating this program was to break down the process from starting the machine all the way to higher-level tasks and we standardized every step," says Don Seago, tooling department supervisor. "We analyzed everything from start to finish for quality and safety. It's a turnkey machinist in a box."
Consistency is Key to Program's Success
Standardizing operating procedures was paramount to the program. Examining how tasks were done allowed members of the steering committee to produce exacting procedures for best practice results. Previously, on-the-job trainers (OJT) often would impart their own personal knowledge or experiences when it came to instructing employees how to perform a task.
"Back in the day, you would work with different people who would show you different ways of doing things," says Arlington Wilson, who has served as an OJT for 15 of his 21 years at the company. "Now everything is standardized and documented. It's way better because everybody is on the same page."
Apprentice Mench agrees. "Before if there was a problem, someone might say, 'Oh, I'll just show you how I do it real quick.' But now because we have the standards, it's a much more efficient and effective way of doing things."
Standardizing procedures also will allow Dixon to transfer knowledge to its other manufacturing facilities across the nation, as part of its learning management system, Dixon University. "The goal is that all of these components will be a living organism as part of Dixon University," says Lemon. "We'll eventually take all Level 1 skills and classwork and have them available to all of our manufacturing locations."
Expanding to the Community
For now, the apprenticeship program, which will graduate its first cohort this year, is only open to current employees of the company, but Dixon hopes to use it to attract new employees as well as start a youth apprenticeship program for those in community schools near the company's headquarters.
"The fact that a high school student can graduate and get into this program and in two years be a journeyman making very good money with no debt is a very valuable option other than going to college," says Williams.
"Involving the community is an example of Dixon's commitment and investment in Chestertown and in Kent County, Md.," says Dan Lessard, assistant vice president of human resources, safety and training at Dixon.
For Mench, he hopes to finish the program in the coming months and plans on continuing his work as part of the Process Team at Dixon Specialty Products. He's appreciative of the new skills he's picked up as well as the company's willingness to invest in its employees.
"The program was a big investment in terms of time and resources," says Williams, "but we did it to build a future. This is what the future of manufacturing looks like for Dixon."
Related Article: 2018 Dixon Advanced Manufacturing Engineering Summit
Related Article: Selling with Pride on US Manufacturing Day
Do you have questions about your application? We would love to help.