In an earlier blog post on natural gas, we introduced LNG. Next, we will discuss Dixon's role in the LNG transfer and bunkering sectors. To begin, let us review the characteristics of LNG. LNG is natural gas methane that is composed of one Carbon atom and four Hydrogen atoms (CH4), then cooled to -260°F (-162°C) to enter a liquefied state. By converting natural gas methane into a compacted liquid state, it reduces the volume by roughly 600 times allowing larger amounts to be safely stored and transported to remote areas all over the world.
LNG Transportation and Bunkering Methods
Ship-to-ship: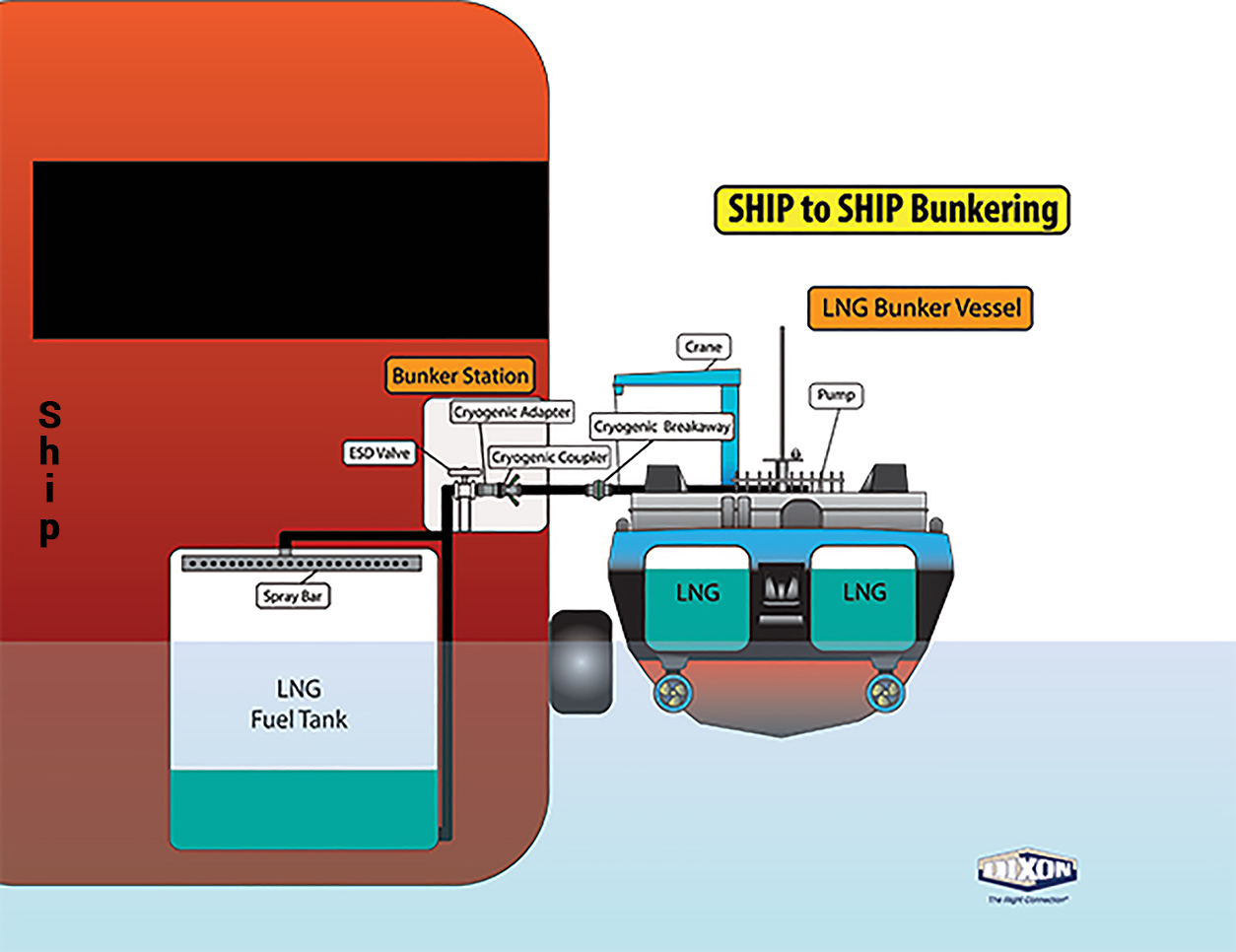 The ship-to-ship method is the transferring of LNG cargo or refueling of an LNG-powered vessel when at the dock, the LNG bunker vessel then positions itself along the waterside for LNG transfer. Since this method is carried out while the ships are underway, it requires permits, strict safety standards, and flawless execution.
Land-to-ship: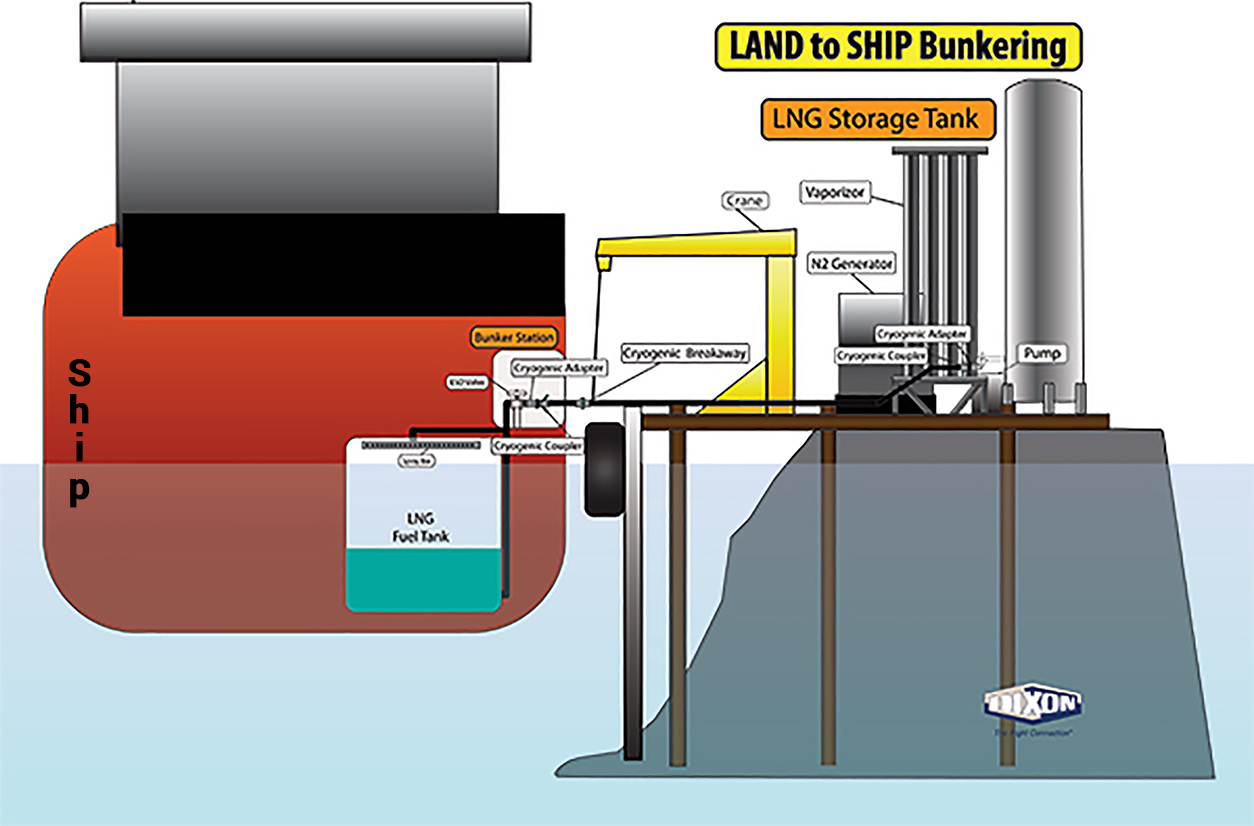 The land-to-ship method takes place while the ship is docked at an on-shore LNG storage terminal. When using this transfer method, safety and operations are critical. Just like with logistics on land, time is money, and efficiency is key to lowering overall operating costs. Minimizing the time in port during transfers/refueling helps keep costs down and other operations such as loading/offloading cargo and crew changes running smoothly.
Truck-to-ship: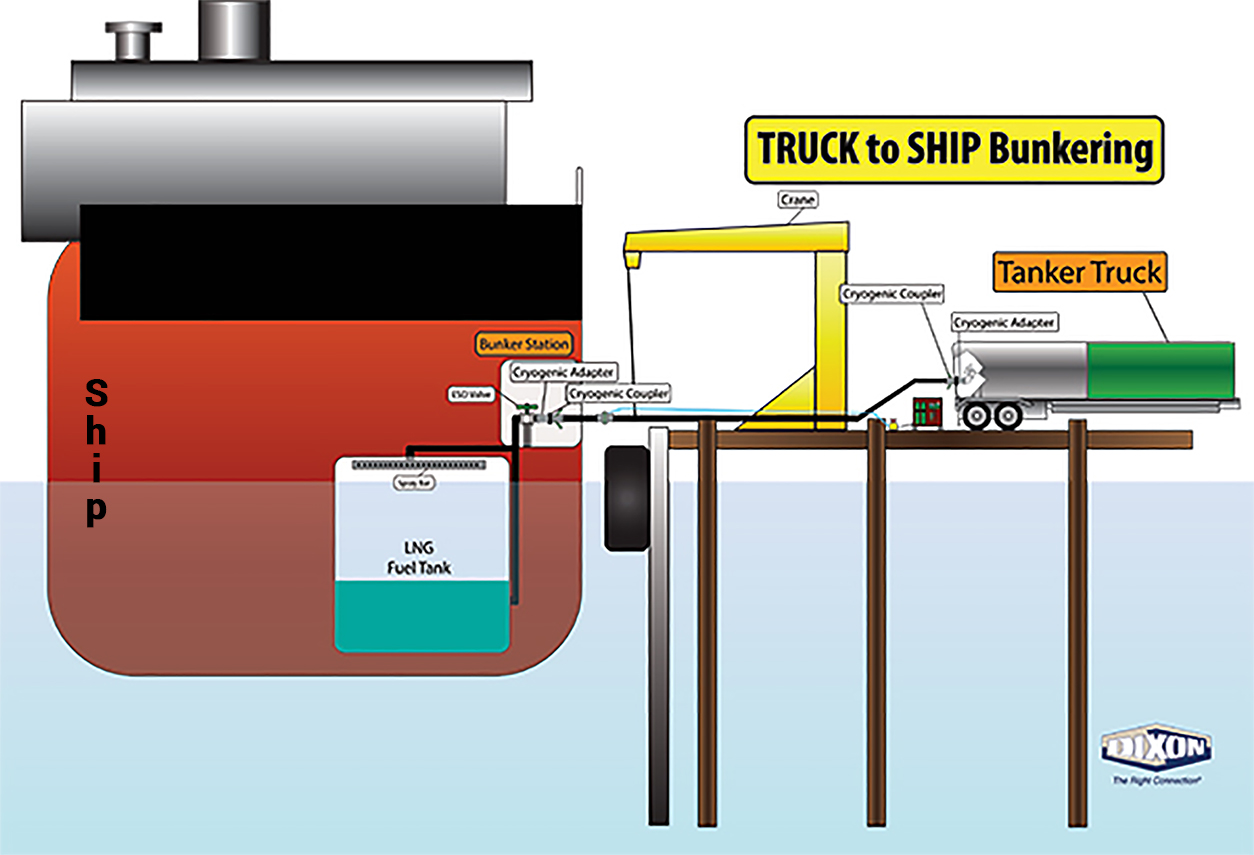 The truck-to-ship method takes place at the port with a truck onshore loading/unloading the LNG to the ship. Typically, it will either be one LNG tank truck transferring, or a system of lines transferring from multiple tank trucks. As with all other methods of LNG transfer. Safety is the number one priority. With many tank trucks moving in and out during the transfer process, execution becomes critical to ensure the job is done safely and on time.
Over the Years Dixon's Footprint in the LNG Industry Has Grown
Transferring LNG at such low temperatures requires specialized cryogenic products to safely get the job done. Dixon specializes in supplying cryogenic couplings for the transfer and bunkering of LNG.

Dixon's Innovation Center in Chestertown, MD conducts comparable "in the field" testing of these cryogenic LNG products. Since LNG transfer typically requires distinct specifications, we also invite our customers and their engineers to collaborate with Dixon specialists to develop products that meet their application needs.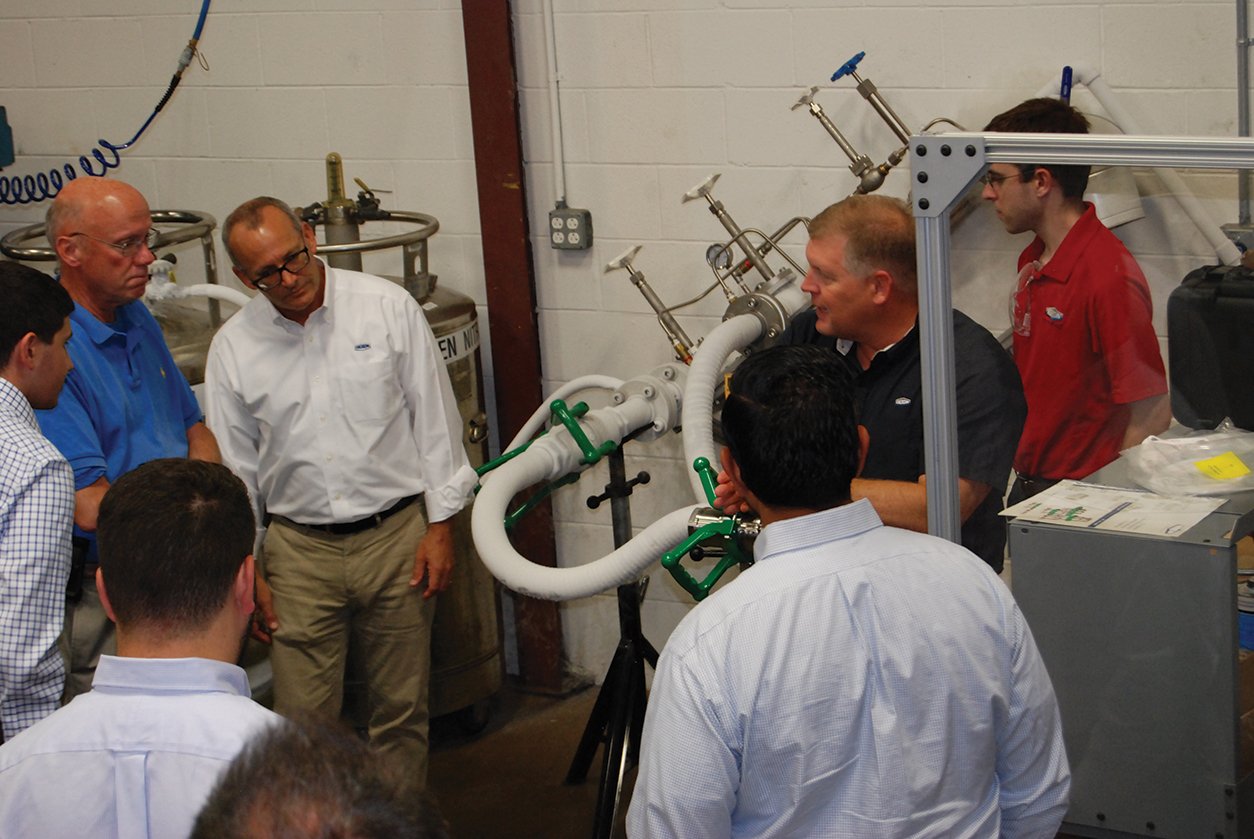 Cryogenic product training at the Dixon Innovation Center
Safety Leads the Way
Dixon's line of cryogenic LNG products includes dry disconnects, breakaway couplings, and power emergency release couplings (PERCs). Let's review how these parts can protect your product and workforce.
Cryogenic Dry Disconnects
These fittings are used for container discharge, fuel bunkering, loading/unloading, and also on vapor recovery lines.
How it Works
The cryogenic dry disconnect's single-action operation uses a straight-forward turning motion to connect the couplings and open the flow path.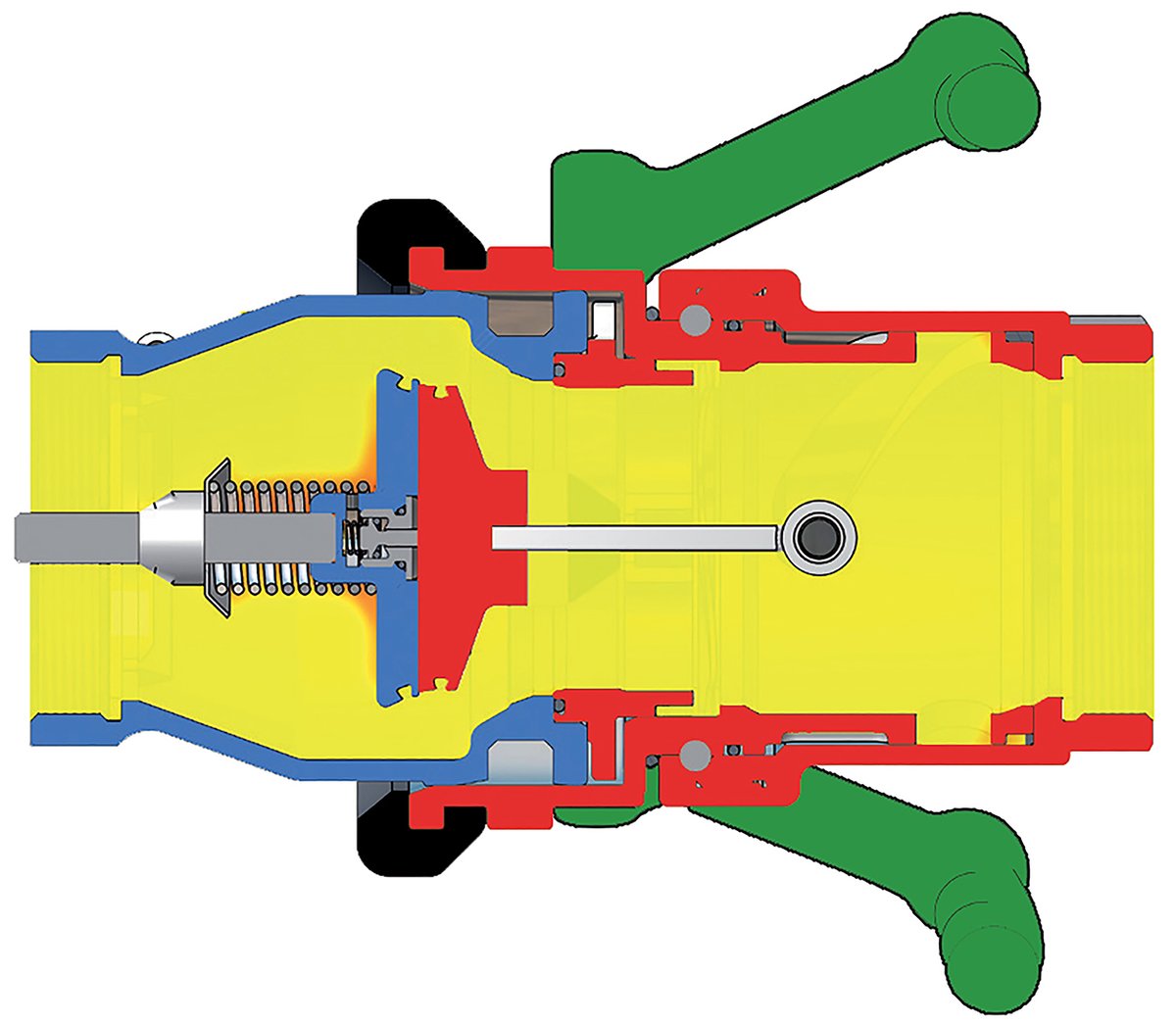 To connect: Push and turn - it's coupled at full flow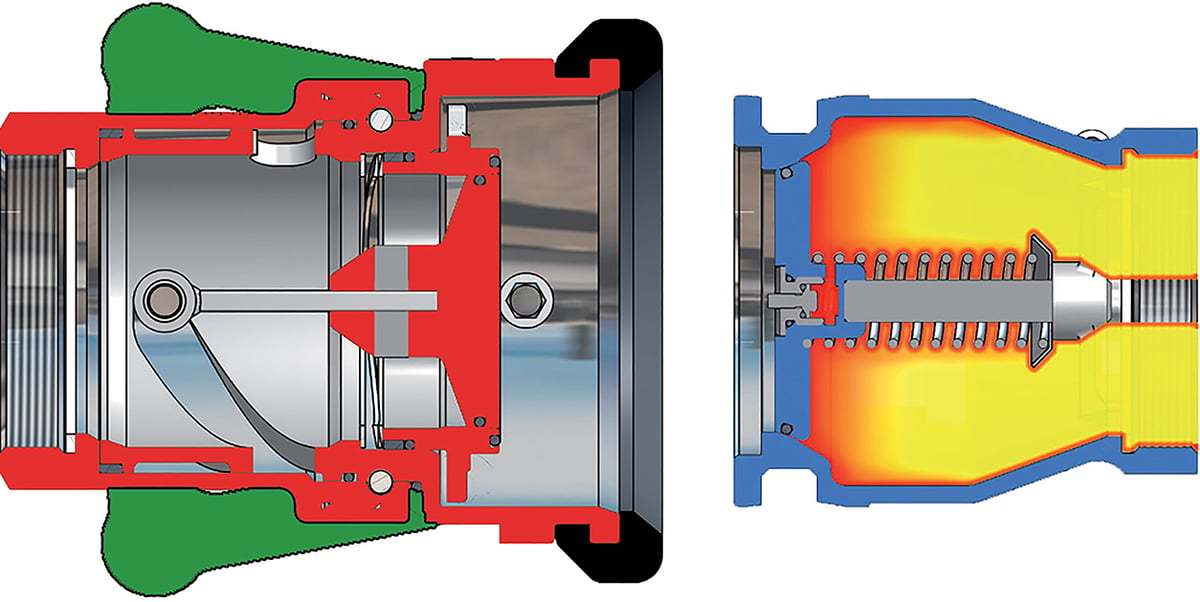 To disconnect: Turn and pull - it's released, with no spillage
The coupling process is quite simple. Align the coupler with the adapter's notches, then put the coupler onto the adapter and rotate above 100 degrees. This process secures the connection, forms a self-seal, and opens the internal valves to allow full flow with little pressure loss. The dual poppet design cutoff mechanism safely seals liquids and gases behind the valve, minimizing emissions as well as the risk of an LNG fluid spill.
Cryogenic Breakaway Couplings
Like cryogenic dry disconnects, cryogenic breakaway couplings are also used for container discharge, fuel bunkering, loading/unloading, and vapor recovery lines.
How it works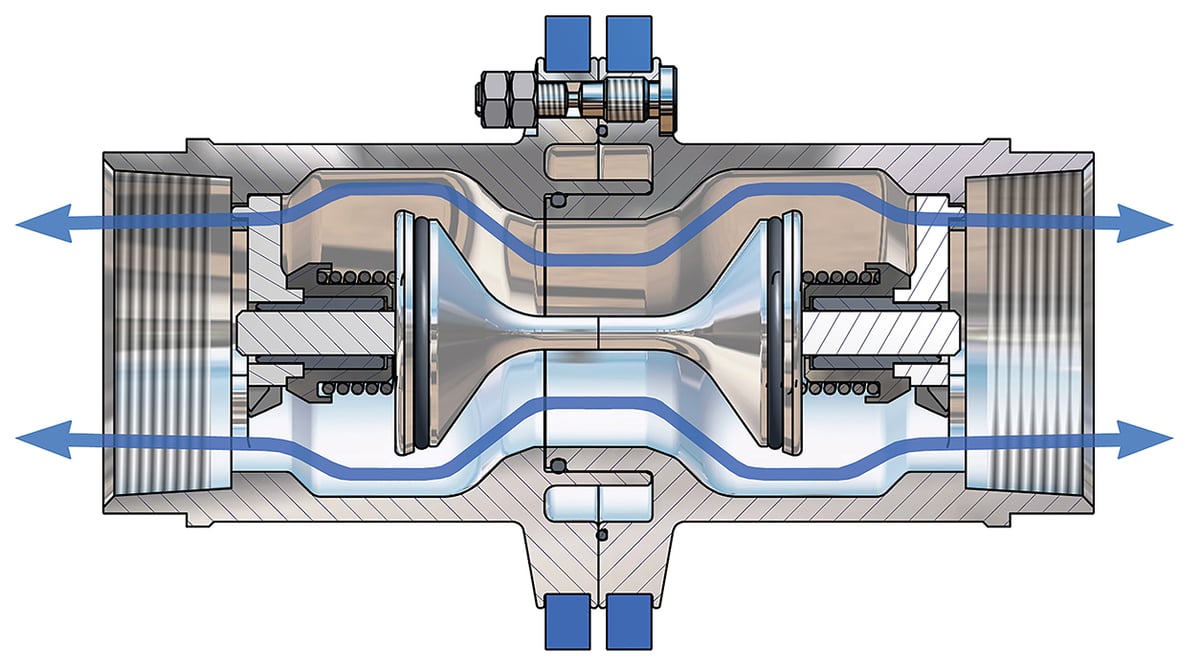 BEFORE emergency disconnect. The safety breakaway valve consists of two halves, each with a valve that has an O-ring seal.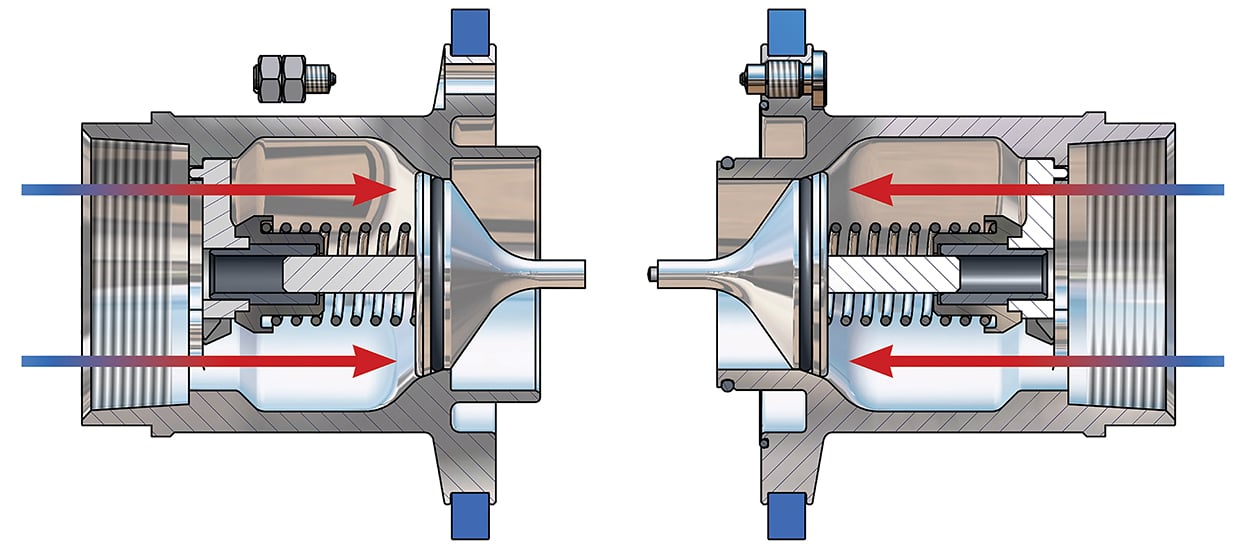 AFTER emergency disconnect. When the cryogenic breakaway couplings separate, the valves are able to close. The two valves close rapidly, minimizing exposure to personnel and the environment.
These cryogenic breakaway couplings have three external breaking bolts. In the case of axial tension, all the bolts will absorb the force coinciding with the breaking force on the hose. Non-axial forces concentrate the tension forces more strongly on one bolt so that the breakaway coupling reacts in a natural way to the reduction of the hose break forces.
Power Emergency Release Couplings (PERC)
Power emergency release couplings, also known as PERCs, are used for fuel bunkering, loading/unloading, and vapor recovery lines.
How it Works

A more complex option than the rest, the PERCs provide the ability to release the couplings immediately without any pressure on the transfer system. This occurs when two halves close due to excessive force or when pressurized nitrogen is introduced to the coupling halves from a control unit to break the bolts and separate the couplings in the event of failure.
In Closing
Overall, transferring and bunkering LNG requires flawless execution and standardized safety procedures. As the LNG industry continues to grow into new sectors, always feel free to contact a Dixon Specialist at 877.963.4966 to see how we can help.

We hope you enjoyed reading this two-part blog covering natural gases and learning about Dixon's products in the LNG transportation and bunkering industry!