Overview
Swivel joints are a critical component of Dixon loading arms and are used wherever a leak-proof swivel connection is needed in pipelines or in combination with hoses to eliminate hose twisting. They feature full 360° rotational movement and are available with a variety of end configurations, seal options, and ball-bearing materials. Read our blog post on swivel joint fundamentals to learn more.


There are three main types of swivel joints: O-ring, V-ring, and split flange. Previously we covered the six steps to safely replace O-ring and V-ring swivel seals, but now we need to focus on changing the seals in a Dixon split flange swivel joint. The pressure seals are wear items and must be changed periodically to maintain optimal performance.

It is important to follow your company's safety and PPE guidelines during this repair. Replacing the seals on a split flange swivel joint does not require the unit to be fully removed from service since only one of the nose pieces needs to be unbolted. Follow your company's guidelines for shutting down, locking out, and tagging out the line. Support any components that extend beyond the swivel joint you intend to repair.
Materials/Supplies
To change the seals in a Dixon split flange swivel joint you will need the following items:
1/2" wrench or socket wrench with 1/2" sockets
Torque wrench
Application-appropriate grease
Repair kit
The grease you will need depends on the application. Dixon swivel joints come with standard-quality lithium grease. If you have any questions consult the Dixon customer service team. The part number etched on the swivel joint will help determine the type of grease that was installed in the unit when it left our factory.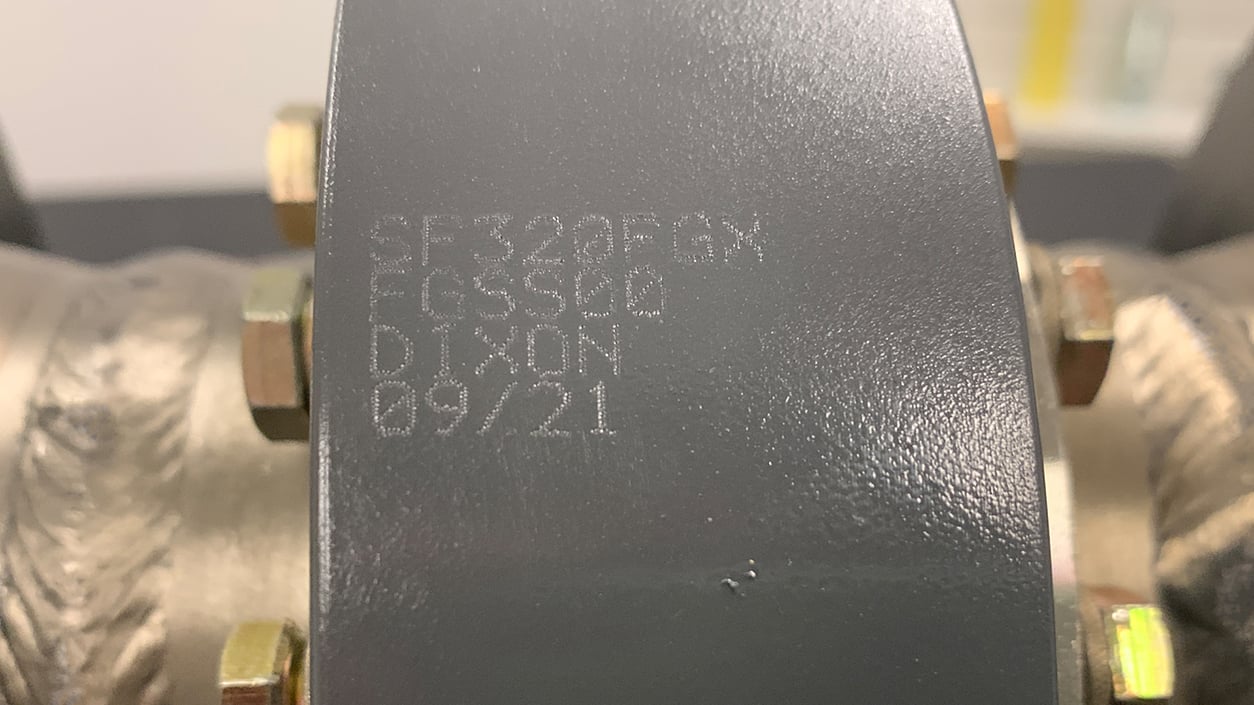 As for the repair kit, it is a good idea to verify the seal replacement kit is labeled with the correct materials for your application, and that all necessary parts are included. For a Dixon split flange swivel joint, the repair kit should include two (2) O-rings, a PTFE H-shaped packing ring, and replacement bolts and lock washers.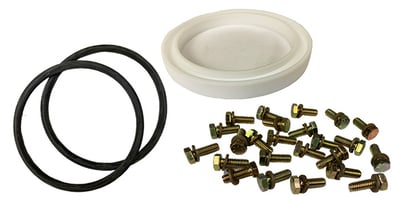 The number of bolts and washers in the repair kit depends on the size of the swivel joint. The 2" kits include 16 bolts and washers, the 3" kits include 24 bolts and washers, and the 4" kits include 32 bolts and washers.
Split Flange Swivel Joint Seal Replacement Process
Watch this video for a step-by-step demonstration of how to change the seals in a split flange swivel joint.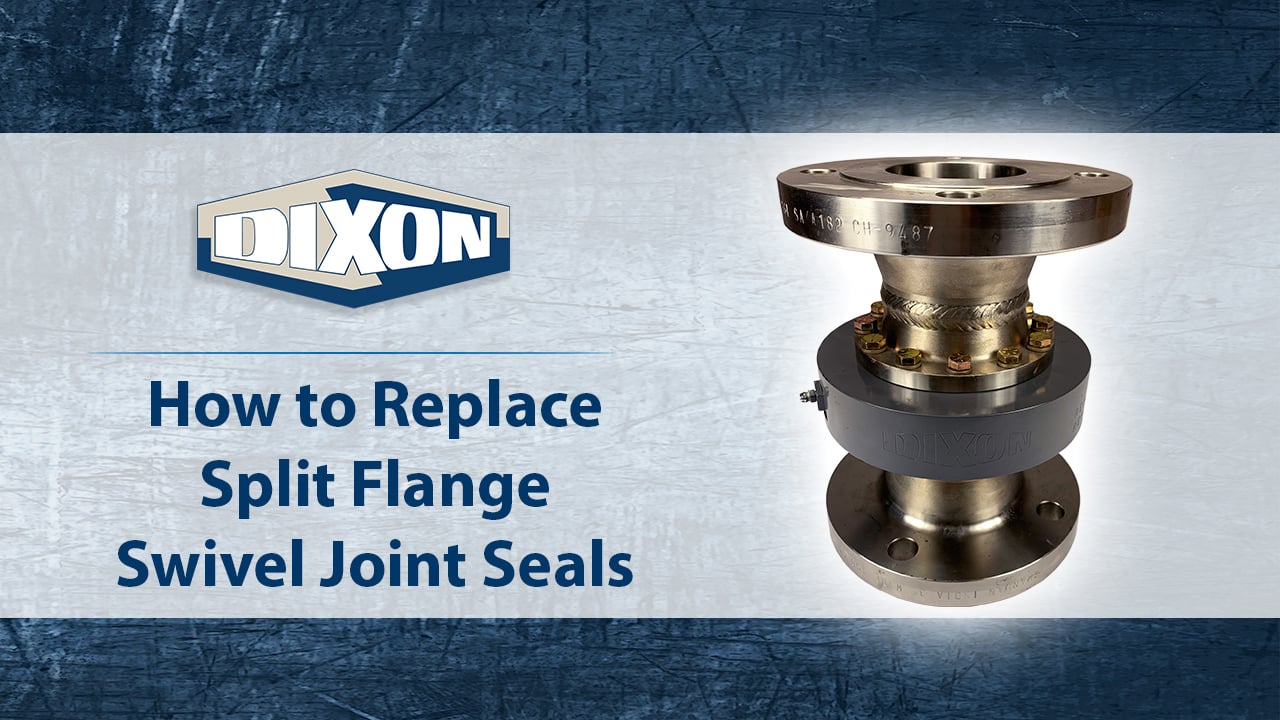 Step 1: Follow your company guidelines to properly shut down the system and confirm there is no residual pressure in the line. Make sure to support or remove any components necessary to disconnect at least one nose piece.

Step 2: Remove all of the bolts and washers from one of the nose pieces. Pick the side that gives the best access to the seal gland.

Step 3: Remove and discard the old O-rings and PTFE H-ring. Clean the seal gland area.

Step 4: Install the replacement O-rings and the new H-ring. Make sure the O-rings are set in on each side of the H-ring. Be careful not to pinch the O-rings during reassembly.

Step 5: Reinstall the nose piece using the new bolts and washers in the replacement kit. Do not reuse old bolts and washers.

Step 6: Torque the bolts to 25 ft-lbs in a star pattern.

Pressure testing is recommended prior to returning the swivel joint to service. If needed, this is a good time to clean and repaint any carbon steel or malleable iron parts to help protect them from the elements.

Once the seal replacement and testing are complete the unit can be returned to service.
Contact Us
Loading arms, and thus swivel joints, play an important role in a variety of industries, including railcar and tank truck terminals, refineries, chemical processing, and food and beverage facilities. Therefore, it is important to keep up with regular maintenance and replacement of swivel joint seals to continue operating efficiently and effectively.

Dixon strives to provide quality parts you can trust backed by exceptional service you can count on. If you have any questions, visit dixonvalve.com or contact the Dixon Specialty Products customer service team at 888.226.4673.