F. Scott Fitzgerald once famously said, "It's never too late, or too early, to be whatever you want to be. You can change or you can stay the same. There are no rules."
It is this time of the year when we always search for inspiration, something that will allow us to follow through on the goals we have set and the resolutions we have made. But before we wipe the slate clean and look ahead, this is also the time of year for self-reflection. What worked well for me last year? What can I learn from the mistakes that I made? Who did I influence and who influenced me?
Personally, we should always take time for self-reflection. We can learn. We can grow. We can improve.
At Dixon, we agree with F. Scott Fitzgerald. We believe we can be whatever we want, if we stay true to our core values, make customer focused decisions, and be willing to change so we can improve. What do we want to be? Put simply, we want to be the easiest company that our customers do business with every day. With that in mind, let me share some of the self-reflection we are doing at Dixon in 2017, and then look ahead at some exciting initiatives for 2018.
2017 Dixon Highlights
New Product Launches – Here are 5 new products from Dixon in 2017 that our customers are now buying:
EZLink Cam and Groove – our new armless cam and groove coupling began to find market acceptance, and even excitement from some distributors and end users.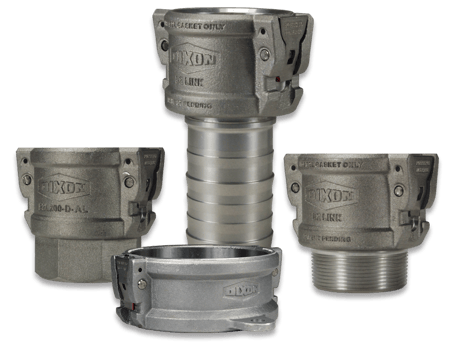 ADS Industrial Controls – A small acquisition at the end of 2016, these overfill probes and sensors found their mark with liquid chemical totes, tank trucks, terminals, and other places that require monitoring when filling storage vessels.


Frac Pumps – With a few modifications to Dixon Sanitary's positive displacement pump, we introduced a PD pump that is being used to aid in the process of blending chemicals, water, and proppant on frac sites.


3A Sanitary Crimped Fittings – We became a 3A-certified hose assembly fabricator in 2017. By going through this certification, we can now verify that the Dixon crimped sanitary hose ends, when coupled by a 3A fabricator, comply with 3A's standards.


Flush Face "connect under pressure"hydraulic couplings – Dixon's HTE Series is popular with rental companies and contractors that struggle with connecting hydraulic quick disconnects, especially in cold weather.

"New and Improved" Dixon Price List Catalog, DPL417 – As we reflect on 2017, this was not actually a highlight. Many customers shared their concerns over some of the format changes, as well as the removal of some technical and reference material from the prior catalog. We listened. We learned. And we are making positive changes to the 2018 catalog that we believe will be met with approval by our customers.


New Markets to Explore – In September, Dixon hosted a Cryogenic Class at our Innovation Center in Chestertown. Industry leaders gathered and learned about what LNG is, and why it is a cleaner burning "fuel of choice" for shipping and transport. We are developing products and solutions for the LNG transfer market, which includes, ship-to-ship, shore-to-ship, and truck-to-ship scenarios. Dixon is excited to be "out in front" of this emerging market, and helping our customers find product and application solutions.


New Manufacturing Technology and Systems – Dixon invested in North American Manufacturing in 2017. Automation and robotics continued to be a key factor in improving machine capacity and staying competitive. Dixon initiated a continuous improvement project that we named The Path to Uncommon Excellence™", which centered around improving manufacturing processes. The year in manufacturing was highlighted by a visit from the U.S. Speaker of the House, Paul Ryan, in October on U.S. Manufacturing Day.


Sales Growth! – 2017 finished with an increase in sales, thanks to our loyal customers. Like many other companies in our markets, we rode the wave of an improving economy, especially in the oil and gas sector. Dixon plans to continue the positive momentum into 2018.
Speaking of which:
2018 Initiatives
New product launches – Dixon loading arms may be the most significant new product launch for Dixon in 2018. For several years, our sales team has focused on terminal related products, including API couplers, swivel joints, and vapor couplers. This year, we add fabricated loading arms to our offering, which positions us well for continued growth in the terminal market. There are other exciting products that will be introduced through Dixon's new product catalog, scheduled for release in April.


New DPL (Dixon Product Catalog) – After listening to our customers, we have made some tweaks (we hope our customers will say improvements!) to our DPL418. The sections have been reviewed and changed to reflect the intuitive way our customers search for products. Our index will be more comprehensive and easier to use. And technical and reference information has been put back into the catalog. One major change – no list prices. After much deliberation and debate, we decided that list prices are not as relevant as they once were. Since multipliers could vary in some sections of the DPL, it is harder for distributors to discount off list prices. We will be supplying an alpha-numeric list price supplement, for those distributors who want to continue to refer to list prices.


New website enhancements - Look throughout the year for continued enhancements to the Dixon website. We will be shifting from a product to a market-based homepage. Online ordering will be made even easier for our customers (we grew our online sales by 2.5% in 2017), and more 3D models of Dixon parts will be available for distributors, end users, and engineering firms alike. (Distributors can register for an online account here). Our customers will begin to see our website reflect one of Dixon's marketing slogans for 2018, "Real Solutions for Real Challenges", as we continue to evolve from a once simple product-oriented supplier to a real solutions provider. And look for the popular, but short-lived, "Live Chat" feature to return to the website in February!


New Dixon retail packaging – We refer to it as the "Dixon store concept". Many of our loyal distributors have invested in storefronts and/or retail counter areas. We will introduce a selection of products that will be packaged for retail, and offer our distributors the opportunity to improve sales and profits, as we collectively promote the Dixon brand.

New Distribution Center in Chestertown – In an exciting first phase of commercial development for Dixon, 2018 will see the construction of a brand new, 150,000-square-foot distribution center. This state-of-the-art facility will continue to drive our value proposition of being the easiest company our customers do business with every day. The structure will also include 20,000 square feet of training space. And it is just the first phase of a plan that will ultimately move our company headquarters from our current site to a new Dixon Business Campus across town. This will position the company well for our "next 100 years", as we come off our centennial celebration back in 2016.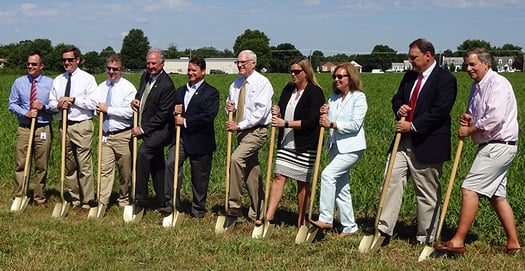 My friend runs a summer camp and on the back of every tee shirt he gives to his campers, it reads, "Get better or fall behind." I love that quote. It's simple, and it sends a message about improvement that is essential to success. We at Dixon intend to get better this year. If we do not, the consequences will not be desirable.
Here is to a happy and healthy and prosperous 2018. Thank you to our customers that allowed Dixon to be successful in 2017. We sincerely appreciate your business and look forward to working together with you to grow our businesses in 2018.