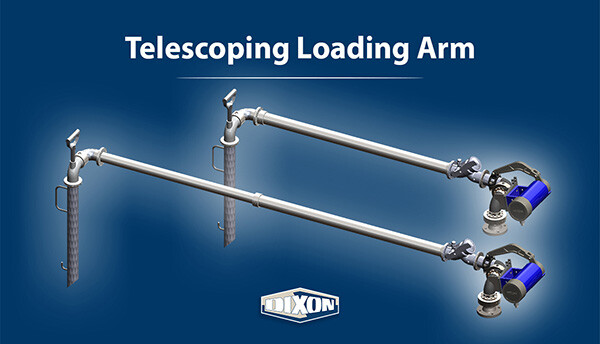 Watch this video to learn more about Dixon's telescoping loading arm.
What is a Telescoping Loading Arm?
Loading arms allow liquid to be transferred into trucks, railcars, vessels, and barges using an articulated pipe system. Telescoping loading arms are a specific type of loading arm used for top-loading truck mounts. The telescoping element of this particular type of loading arm allows the aluminum pipe to extend and retract as needed. Dixon's telescoping loading arm offers 66 inches of reach when compacted and 114 inches of reach when fully extended.
Benefits
There are numerous benefits to using loading arms. Regardless of the type, loading arms improve safety. Telescoping loading arms, however, provide the added benefits of convenience and efficiency.

Short trucks are commonly used in transport. These trucks can have five compartments to be filled. The design of a telescoping loading arm allows for multiple compartments to be filled while the truck is parked in one position. This prevents the driver from having to go from the top of the truck to the ground, and back several times to reposition the truck. Instead, the driver can remain in place and fill all of the compartments in one session.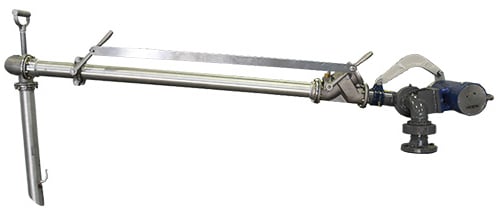 Compacted loading arm
The Dixon Difference
Most telescoping sleeve designs include a brass compression nut to tighten or loosen the arm's ability to seal and slide. This is the main wear and failure point. Operators slamming the outer and inner sleeves together will cause the brass to deform over time, resulting in a leak path. Tightening the nut to stop the leak is a temporary solution, but as a result, operators will have to use extra force to pull on the sleeve to extend it into position for loading. Fighting to extend the arm while on top of the truck is a safety hazard. If the operator pulls on the sleeve and loses their grip on the arm, they can potentially fall. This also applies to pushing to retract the arm.

At Dixon, we pride ourselves on innovation. Our proprietary design eliminates the brass compression nut which makes all the difference. Operators can smoothly and easily slide the loading arm from its retracted position to full extension and vice versa. An all-aluminum configuration removes the risk of deformation and a leak path. The result? More uptime, more product flow, and less maintenance time and expense. The telescoping sleeve is used in tandem with a top-load valve, assisting the operator to control and monitor the flow of product into the truck.

Dixon's telescoping loading arm is available as a drop-in replacement, or our loading arm specialists can work with you to develop a complete custom configuration.

Extended loading arm
Specifications
All aluminum construction
Currently available in 3", with 2" and 4" in development
PTFE retaining ring
Nitrile rubber seals
Proprietary design
Ergonomic handle
Summary
Utilizing telescoping loading arms at liquid terminals plays a vital role in improving safety and efficiency. Dixon's proprietary design creates a reliable product built to last. Having the right connection for your terminal product needs is essential to a successful operation. Dixon's team of loading arm specialists are eager to work with you to determine the correct configuration for your application. To learn more, contact a Dixon specialist.