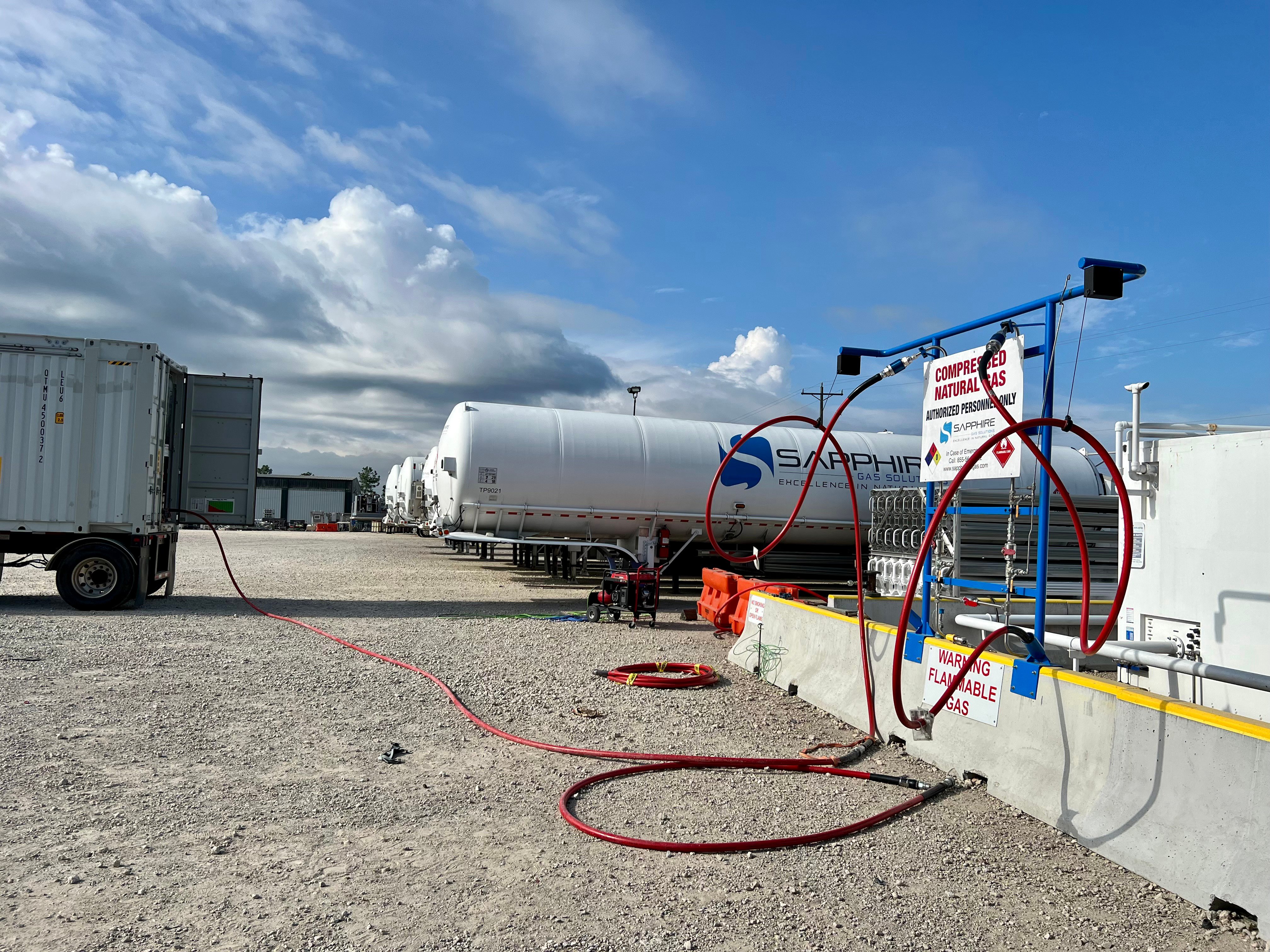 Photo courtesy of Sapphire Gas Solutions, LP
Sapphire Gas Solutions compression station
Everything these days is virtual. From doctor's appointments and meetings to school and conferences, the ability to take an event and make it virtual is commonplace in today's society. But did you know gas pipelines can also be virtual?
What is a Virtual Pipeline?
A virtual pipeline, in simplest terms, is a method of transporting natural gas to locations with limited or no access to an actual gas pipeline. Virtual pipelines can be utilized in various ways throughout a wide range of industries to provide companies with a cleaner way to operate, save on operating costs, and even supply supplemental gas to existing infrastructure during times of extreme demand.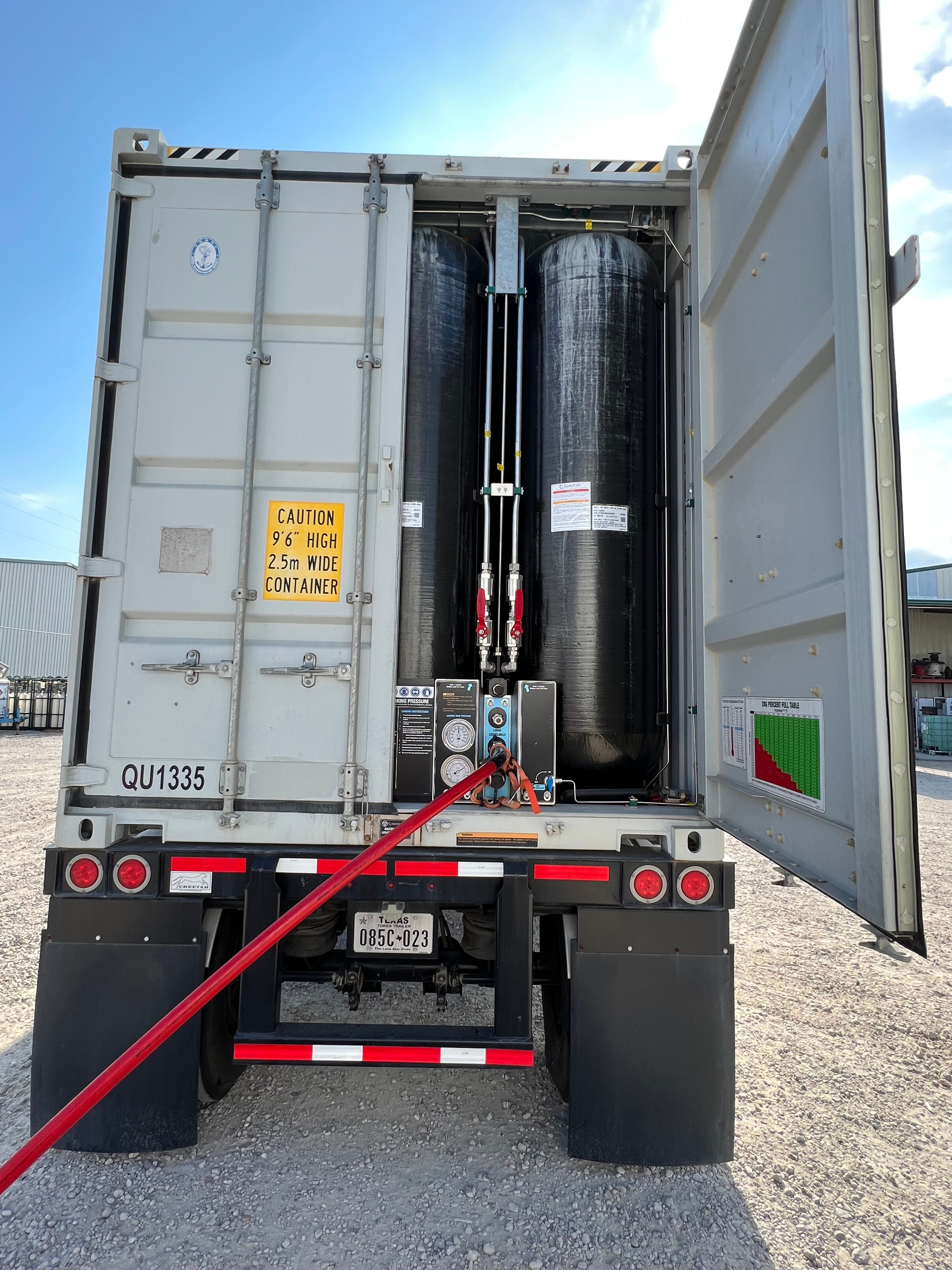 Photo courtesy of Sapphire Gas Solutions, LP
Back of a CNG trailer
How Does a Virtual Pipeline Work?
The process cycle starts with gas supplied from a source. The source is typically a pipeline but can also be a filling station or a liquefied natural gas (LNG) truck. From there, large volumes of gas are compressed at high pressure into a network of cylinders mounted on a transport module, such as a towable trailer, for transportation to the desired location. Gas is decanted or decompressed at the site using a pressure-reducing skid (PRS). During the off-loading process, pressures can reach upwards of 3600 PSI. For this reason, the gas must be regulated to a pressure suitable for the desired application. For example, fueling an engine could require approximately 100 PSI, while supplying gas to a neighborhood may be less than 60 PSI.
Who Can Benefit from a Virtual Pipeline?
Virtual pipelines are beneficial for a wide range of applications and industries, including agriculture, disaster/emergency relief, oil and gas, off-grid/remote communities, pipeline maintenance, and peak shaving.
Agriculture
Virtual CNG pipelines can be used in the agriculture industry for low-carbon energy to dry crops, heat barns, and power facilities.

Disaster Relief/Emergency Response
During natural disasters and emergency situations, virtual pipelines help temporarily restore gas service to neighborhoods, hospitals, and emergency response centers.
Oil and Gas
In the oil and gas industry, utilizing CNG virtual pipelines can displace traditional fuels, such as diesel, with the use of dual fuel in hydraulic fracking operations. This helps lower carbon emissions and overall operating costs.
Off-Grid/Remote Communities
Remote, off-the-grid locations need access to gas, too. Virtual pipelines offer support to these communities where no gas pipeline infrastructure exists.
Pipeline Maintenance
Virtual pipelines can support utilities with supplemental gas during planned and unplanned maintenance.
Peak Shaving
In the energy industry, peak shaving manages energy to meet demand spikes. Virtual pipelines are utilized for peak shaving to provide supplemental gas during seasonal times when demand may overwhelm the utility supply.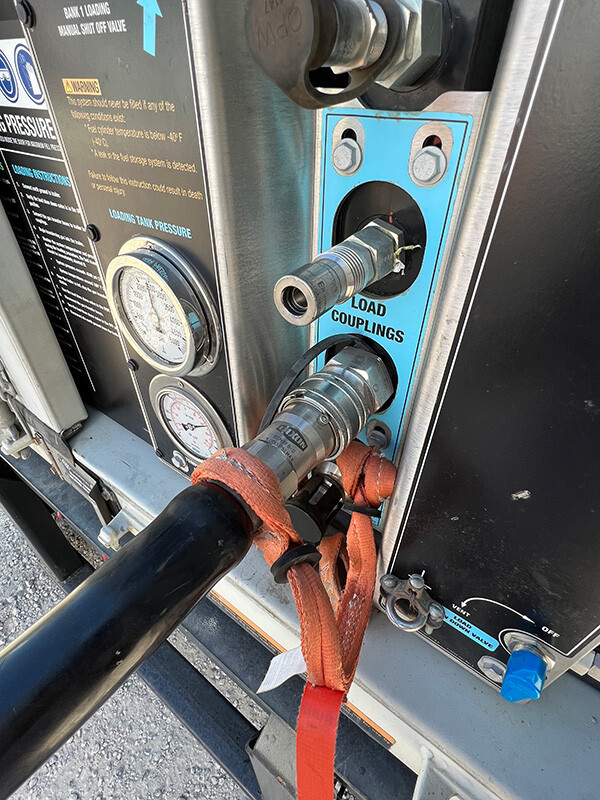 Photo courtesy of Sapphire Gas Solutions, LP
Trailer manifold showing Dixon CNG-Series quick disconnect coupler, part number 8CNGF8-S


Dixon Quick Coupling's CNG-Series
Dixon's CNG-Series are a quick coupling designed and manufactured domestically at Dixon Quick Coupling located in Dallas, North Carolina. These quick disconnects are designed and qualified specifically for compressed natural gas service. The couplings help facilitate the transfer of large volumes of CNG at high pressures. They are typically installed on hoses, pressure-reducing skids, or on the trailer manifold. The couplings can be used to transfer gas in other applications, as well, such as mining, oil exploration, well site development, and remote location natural gas delivery.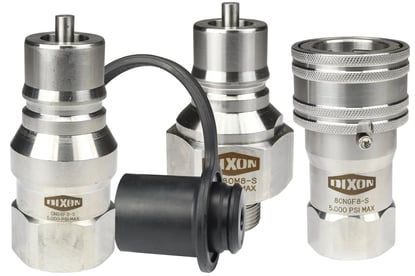 Features
The improved body and valve design of Dixon's CNG-Series provides a 30% increased flow performance over standard ISO-B designs. The latch mechanism, machined from 17-7 high-strength stainless steel, provides brinelling resistance and helps accommodate the higher working pressures, up to 5000 PSI. The locking sleeve design helps prevent accidental disconnection. The valve contains a captured O-ring design for reliability in high-flow conditions. Dixon's CNG plugs are supplied with a combination dust cap/plug. The overall design is machined from 303 stainless steel bar stock providing a non-sparking component.
CNG-Series Quick Disconnect Options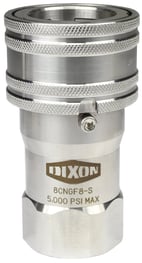 Coupler with 1" female pipe thread
Typically installed on the CNG hose
Plug with 1" female pipe thread
Installed on the CNG hose or the manifold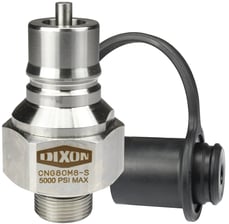 Plug with 1-5/16" male SAE O-ring Boss connection
Typically installed on the truck manifold or pressure-reducing skid
Summary
With the increased interest in cleaner and more cost-effective fuel sources, the demand for natural gas continues to grow every day. With the mobilization of virtual pipelines, more people and businesses in more places can rely on natural gas thanks to pipelines on wheels.

Dixon is committed to providing The Right Connection® for virtual pipelines and other oil and gas applications. For more information, visit our website or call 877.963.4966.