If there's one potential mishap on your work site or plant that's particularly damaging--but easy to avoid--it's an improperly crimped hose. Ensuring a properly coupled hose assembly is critical to providing an effective fluid-handling solution. Making an error measuring hose dimensions or incorrectly choosing the ferrule or sleeve will result in lost time and money. Worst-case scenarios result in injury to workers or environmental damage when a hose assembly fails as a result of being incorrectly crimped.
To attain the perfect crimp, it is crucial to make sure you first select the proper hose and coupling combination that meets your specific application. By fully understanding our S.T.A.M.P.E.D requirements and following the steps in Dixon's King Crimp system, you'll achieve the perfect crimp.
What Makes King Crimp Unique
You may have been in this situation before; You measure a hose's outside diameter with a diameter tape and then consult a chart to see what size ferrule or sleeve you need to complete the crimp. You hunt for the matching ferrule and sleeve. Sometimes, you might not choose the right one.
That's what sets Dixon's King Crimp system apart. The proper hose O.D. and crimp recommendations are etched on the sides of most Dixon ferrules and sleeves, making it far easier and quicker to grab the right ones for the job, without using a crimp chart. "It makes it easier and also safer while helping to avoid improper crimp dimensions," says Scott Spurrier, product manager for Dixon. "It's a nice added feature."
When using Dixon ferrules and sleeves there are no die alignment issues. All welds on the ferrules and sleeves are processed to eliminate buckling and cracking.
The King Crimp system is interchangeable; it uses the same ferrules or sleeves for crimp-style King combination nipples as for crimp-style cam and groove. "The King Crimp system offers a wide range of coupling configurations to meet the customer's requirements out in the field," says Spurrier.
Compared to using band clamps, the King Crimp system is far faster, safer, and offers higher working pressures. When a quick fix is needed in order to avoid costly downtime, Dixon still provides traditional clamps and banding tools that can be employed in the field without using a crimping machine.
After choosing the correct sleeve and ferrule, you're ready to begin the crimp process. Please check out our blog, "3 Quick Tips for Crimping Hose Assemblies" or watch our video overview for more information on using the King Crimp system.
Testing, Testing - and More Testing
When Dixon developed the King Crimp program a decade ago, we spared no time or effort to get things right. We collected more than 60 different brands of hose from major hose manufacturers, subjecting the hoses and fittings to more than 2,000 tests. All told, more than 4,000 hours of engineering and design work went into developing the King Crimp program, including 900 hours of hydraulic and thermal testing.
A Part for Every Connection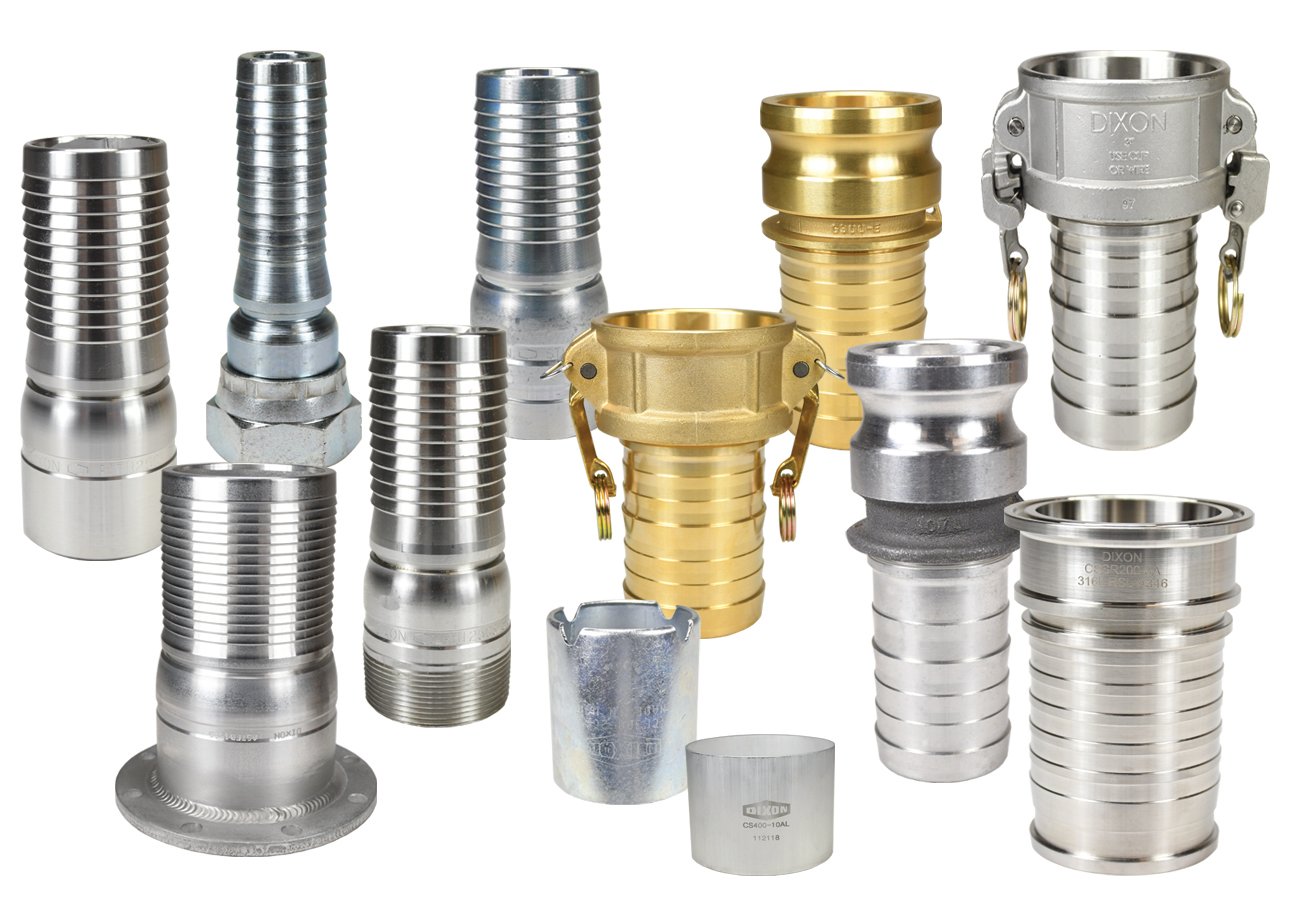 Dixon offers an abundance of coupling combinations to suit nearly every application.
To learn more about Dixon's King Crimp system, visit dixonvalve.com or contact our sales team at 877.963.4966.