Rack monitors are an integral part of terminal loading racks. They are crucial in preventing costly spills from overfilled tanks and loss of product during the loading process. Thus, it is important to have an efficient and effective rack monitor such as the Dixon FT7000-Series Rack Monitor.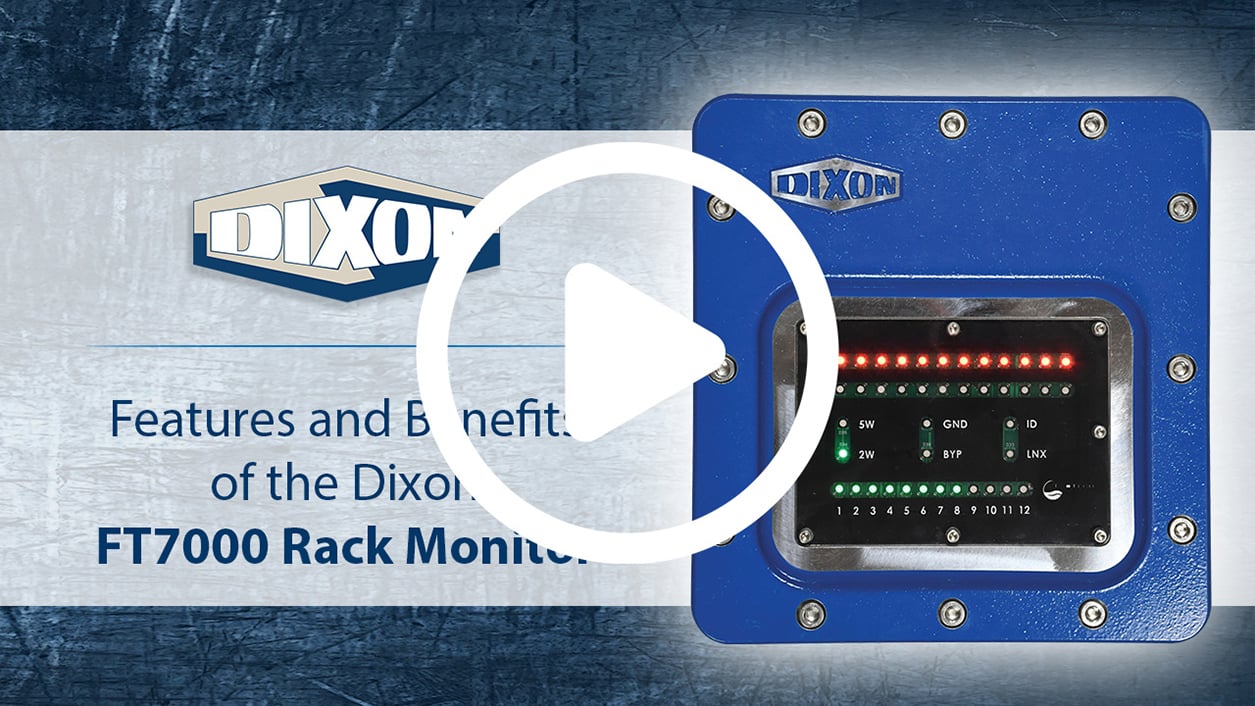 Overview
The Dixon FT7000 rack monitor is capable of reading both thermistor 2-wire and optic 5-wire sensors. The monitor provides overfill and grounding protection with separate outputs for each, ensuring a safe loading operation.

The rack monitor is designed to meet the requirements of API RP 1004 to ensure the safe loading of DOT 406 tank trucks. The Dixon FT7000 can be used on any mobile tank, such as DOT 407 tanks, rail tank cars, or ISO tanks, provided the monitor is installed correctly using the steps outlined in the instruction manual.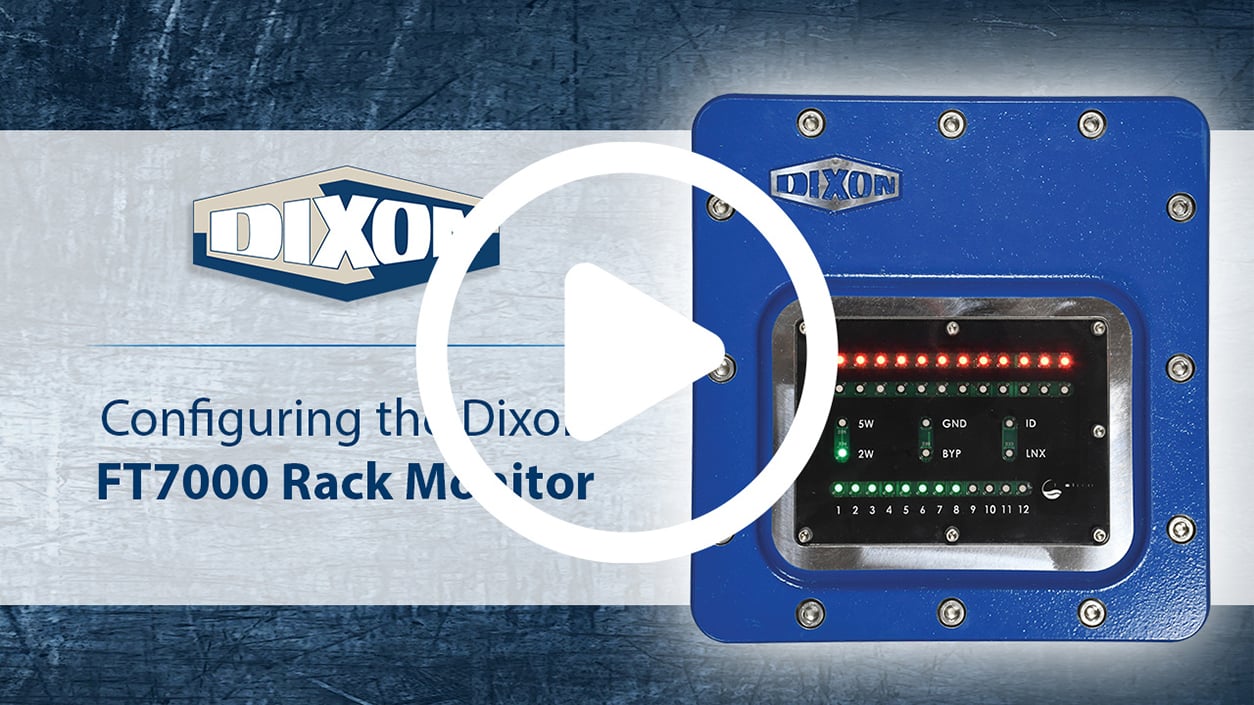 When a predetermined level is reached in the tank the rack monitor sends a signal to the preset, terminal automation system, or pump to shut down the load operation. Based on NFPA 70 and NFPA 407 guidelines, the rack monitor is typically used as a secondary emergency shutdown device and is suitable for Class I, Division 1, Group CD, and Class I, Zone 1, Group IIB.

The FT7000 rack monitor can be used for bottom-loading applications with vehicles that have sensors installed in each compartment of the tank truck, as well as for overfill protection during top-loading applications.

Redundant output relays ensure there are no single-point failures and provide a failsafe system. The relays feature a hardware feedback safety check that constantly monitors for any stuck or welded contacts. Should any relay contacts become stuck or welded, the rack monitor will switch to non-permissive and de-energize all relays. The rack monitor also includes an auxiliary relay contact that can be wired into a programmable logic controller (PLC) that will give an input reflective of the API cable attachment status. If the cable is still attached, it can be programmed to prevent the BOL from printing. This indicates to the driver that the truck is still connected.

Auxiliary contacts, normally open (NO) and normally closed (NC), send feedback to PLC to make sure the connection is operational.
Features
Dixon's FT7000 rack monitor can automatically recognize and switch between 5-wire and 2-wire type sensors. While idle, the FT7000 will continually check for both 2-wire and 5-wire trailers. Once a trailer is attached, the monitor will automatically detect what type of sensors are outfitted on the trailer, then switch to the appropriate mode of operation.

Combined with the RS585 communications port and RackView software, the monitor can read trailer identification modules (TIM) and search its internal list of valid trailers.

Ground verification is another feature of the FT7000. The ground relay will energize when any of the enabled ground devices have been found. This relay will match the ground indicator on the front display. Removing the ground device will de-energize the relay.

Trailers attempting to load may have a failed sensor or grounding device. In these situations, the terminal operator may deem the trailer safe to load and authorize a bypass using a bypass card. There are two types of bypass cards: overfill and ground/TIM. The overfill bypass card will bypass all safety checks and can place the rack monitor into a permissive state. The ground/TIM bypass card will only bypass the ground-checking function of the rack monitor. The overfill sensors must still be operational.

The wireless bypass key system for both the ground and overfill system removes key switches or locked switches at the rack to reduce vandalism or unauthorized overrides. The rack monitor also provides the ability to detect the difference between a wetted probe and a failed system.
Applications
Installed on the gantry to control the loading process of petroleum fuels or other hazardous liquids into cargo tanks, the FT7000 rack monitor can be used in a variety of applications. These applications include petroleum bottom-loading terminals on DOT 406 cargo tanks, and chemical top or bottom loading of DOT 407 cargo tanks or rail cars. The monitor is typically part of the metering and automation system in terminals.

Compatibility
The FT7000 is compatible with overfill sensors and systems designed to meet the API 1004 and/or EN13922 standards. Most industry-standard equipment will fall under one or both standards. Another added benefit of this rack monitor is it meets CSA, CSA US, ATEX, and IECEx approvals and can be used worldwide. The monitor works with sensors made by Dixon, Scully, OPW, Liquip, and other API 1004 or EN13922-type sensors.
Dixon Bayco
Dixon Bayco is a proud North American manufacturer and global supplier of petroleum, dry bulk, and overfill detection products. ADS overfill detection, tank truck bottom-loading equipment, butterfly, swing check and air relief valves, pneumatic filtration systems, sight flow indicators, and tank truck vapor equipment are all included in the wide variety of products offered. You can contact Dixon Bayco by email at baycousasales@dixonvalve.com or call 513.874.8499.
Summary
At Dixon, we pride ourselves on the quality of our products. Our tank truck equipment is designed to withstand the harsh environments tankers are exposed to. Safety, usability, and customer satisfaction are our top priorities.

Our overfill prevention equipment has been in use in the field since 2000 and continues to set the standard for reliability in the tanker industry. The FT7000 rack monitor, along with Dixon's other overfill prevention products, covers the full spectrum of loading and unloading a tank truck safely and efficiently. With Dixon products end-to-end, terminal racks and haulers can operate with less downtime and greater confidence in the reliability of their racks.

For more information visit dixonvalve.com or call 877.963.4966.